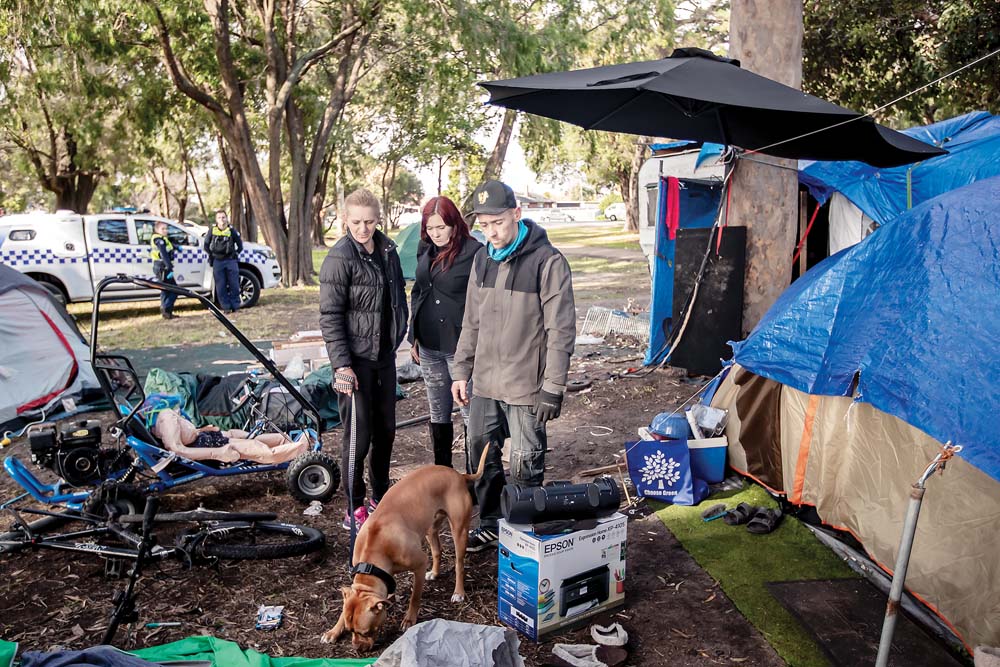 By Stephen Taylor and Keith Platt
POLICE intend to shut down the Rosebud camping ground being used by homeless people.
Evictions began last week, with Mornington Peninsula Shire sending a truck and bobcat to clear rubbish from campsites.
While the arrival of homeless people at the camping ground is an annual occurrence, the COVID-19 pandemic is being blamed for the number of campers being higher than normal.
The mayor, Cr Sam Hearn says although the shire is trying to find alternative accommodation for the campers, it was a state government issue.
He said the government was able to avoid responsibility because the shire and welfare agencies were trying to solve the problem.
Nepean MP Chris Brayne said the government was "supporting local homelessness services to work with the council and reach out to people sleeping rough".
"They are offering people safe and secure hotel accommodation while COVID-19 restrictions remain in place."
Cr Hearn said he had thought about "sleeping outside [the Premier] Daniel Andrews' office to get some attention and help" ("Homeless on a merry-go-round – mayor" The News 9/6/2020).
Acting Sergeant Steve Drew, of Rosebud police, said police had worked alongside council officers using a bobcat to move illegal campers from the Rosebud camping ground on Wednesday 3 June.
"It's not entirely cleared [yet] because a number of campers have been given more time, but it's our intention to shut down that camp site," he said.
Police were "organising more suitable accommodation" for rough sleepers at the camping ground where perhaps 22 people had pitched 12 tents over the past few weeks.
Acting Sergeant Drew said the evictions followed "concerns raised by members of the public" and "lots of aggression shown to officers of foreshore management agencies".
"We are actively working with shire officers and foreshore committees of management to provide emergency assistance," he said.
Initially a small number of homeless people were allowed to camp there. However, when extra people arrived the situation was deemed unsatisfactory.
"People have illegally camped there for the past three years and we routinely serve them with notices to move on [and] then we go down and clean up abandoned materials," Acting Sergeant Drew said.
"We've had no complaints until recently. Last week we noticed an increase in the number of people there and police were required to attend on various occasions.
"As a result we increased our efforts [to move them on]."
Camper Amy Williams said she was shocked to see her camp site bulldozed.
"They never said anything to me," she said. "They just walked around tapping tents and telling everyone to get out and then they sent the bulldozer through.
"People's personal items just got thrown in the truck and off to the tip."
Ms Williams, a disability pensioner, said she was "sick of moving" and would "rather stay on the street" than face the trauma of eviction again.
"I'm going to call the Salvos this afternoon but I am not hopeful of a bed tonight."
Ms Williams said she and her partner Ricky Meyer – a boilermaker working at Blairgowrie – had found it hard establishing a sound rental history because "personal issues" meant they were always being asked to leave.
First published in the Southern Peninsula News – 9 June 2020