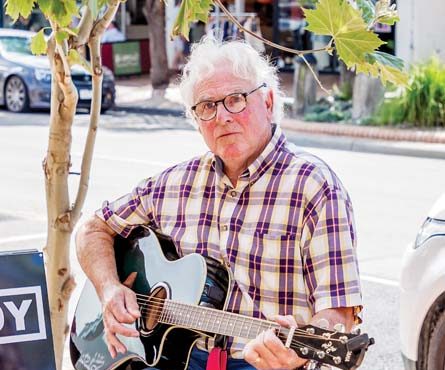 MAN of many facets – secondary school teacher, sports psychologist, author, artist, and these days, "muso" – Robert Klaas Kalma says he will use all his skills as a busker at Mornington's Wednesday market.
Kalma, 80, who lives with his wife Sue at Mount Martha, has in recent years overcome prostate cancer and a major heart attack. However, he is not deterred by these setbacks and sees music as an "opportunity towards making a full recovery".
After joining the ProBuskers and playing for audiences around the Mornington Peninsula, Mr Kalma saw a bigger picture: "I wanted to do more after the terrible bushfires and now the coronavirus outbreak."
He won approval from the Red Cross, Mornington Peninsula Shire and Mornington Chamber of Commerce to raise money for the Red Cross by busking.
Now he is looking forward to being able to restart his career at the Wednesday market in Main Street after the long lock down.