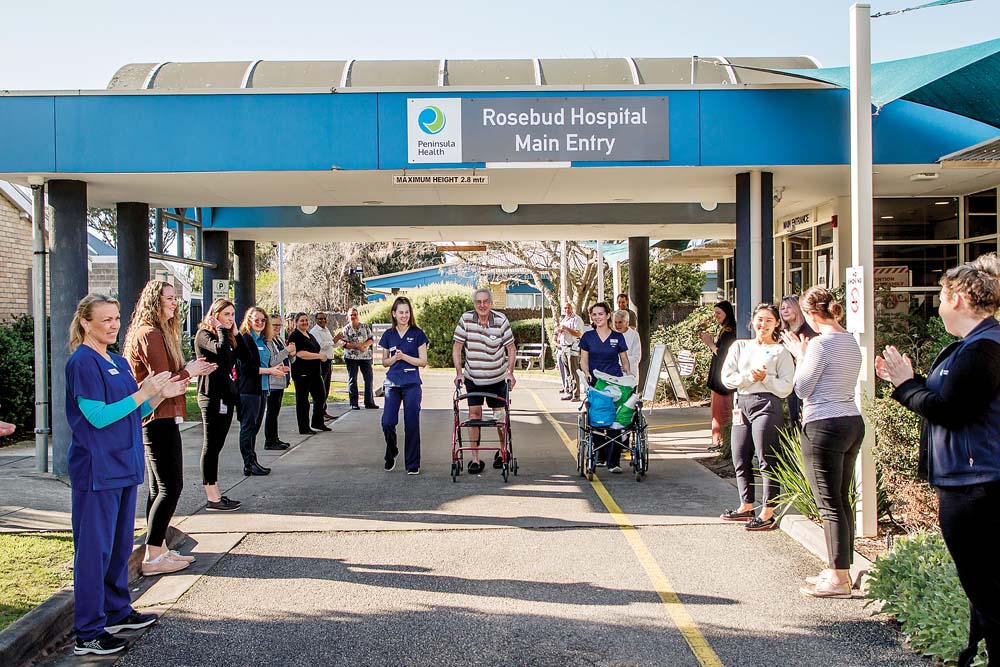 IT'S not an accomplishment he aspired to, but Rosebud man Glen Grumont's long road to recovery from illness has set a record.
He was released from Rosebud Hospital last week after a combined seven months' treatment and rehabilitation.
Mr Grumont looks back at those lengthy stints first at Frankston and then Rosebud hospitals with a sense of satisfaction and a high regard for the medical professionals who brought him back to health.
Along the way he proved to everyone that is a fighter and worthy of a little respect himself.
The journey began when Mr Grumont walked into his GP's office in December showing signs of jaundice. "As soon as I walked through the door he said: 'You're going to Frankston Hospital'."
After his admission on 24 January, the 81-year-old spent 47 days in the intensive care unit and more than 100 days with the health service.
Mr Grumont had a brief stint with Peninsula Health in December, and treatment for a Whipples procedure for suspected cholangiocarcinoma, otherwise known as bile duct cancer.
Specialists then detected deeper issues, including a gastroduodenal perforation, intra-abdominal haemorrhage, atrial flutter and critical illness myopathy. More surgery followed and a long ICU admission.
Doctors also discovered a "leak" in an area joining the stomach to a part of the small intestine, called the jejunum.
Despite undergoing surgery to have the head of his pancreas, gall bladder, and bile duct removed, Mr Grumont was not yet out of the woods.
The leak caused pancreatic and biliary fluid to seep out through his drain tubes, leading to multiple infections. As a result, he went on a long course of antibiotic treatment.
"He's a really complex case," clinical dietician Zhoe Warrington said. "We put what we call a feeding jejunostomy tube into his small intestine below where the leak was and we were feeding him through that for three months.
"He was unable to eat, so this was a way we could keep meeting his nutritional needs.
"The nursing staff were re-infusing pancreatic fluid from his drain tube every two hours to ensure absorption – the nurses were exceptional."
While in the ICU, the medical team stemmed an intra-abdominal haemorrhage or bleed. "It's almost unheard of that he'd be here that long, but it's purely because he'd had quite a few complications," Dr Sasha Kotsimbos said.
"It's why we're all so excited that he's done so well, that we're at a stage where he's undergoing rehab."
Mr Grumont's recovery was aided by a team of nurses, physiotherapists and dietitians.
The most satisfying moment of all for the team was when their patient breathed the outside air for the first time – 88 days after his admission on 21 April.
Four days earlier he had eaten his first meal since treatment began.
"While he didn't lose much weight, Mr Grumont's time in hospital meant he lost a lot of muscle mass," nurse unit manager Wendy Jupp said.
"The ICU-acquired weakness meant he didn't even have the ability to sit up in a standard chair.
"It was a big journey to get him out of bed, and when we finally did he could only tolerate 10 minutes sitting upright, so we had to gradually build up his body strength to get him outside.
"They took him outside for 20 minutes and I don't know whose smile was bigger? His physios' Georgie and Mel, or Glen's?"
If you ask Mr Grumont, a former foundry foreman, it was another win for him: "I love the outdoors. It was literally a breath of fresh air."
First published in the Southern Peninsula News – 14 July 2020