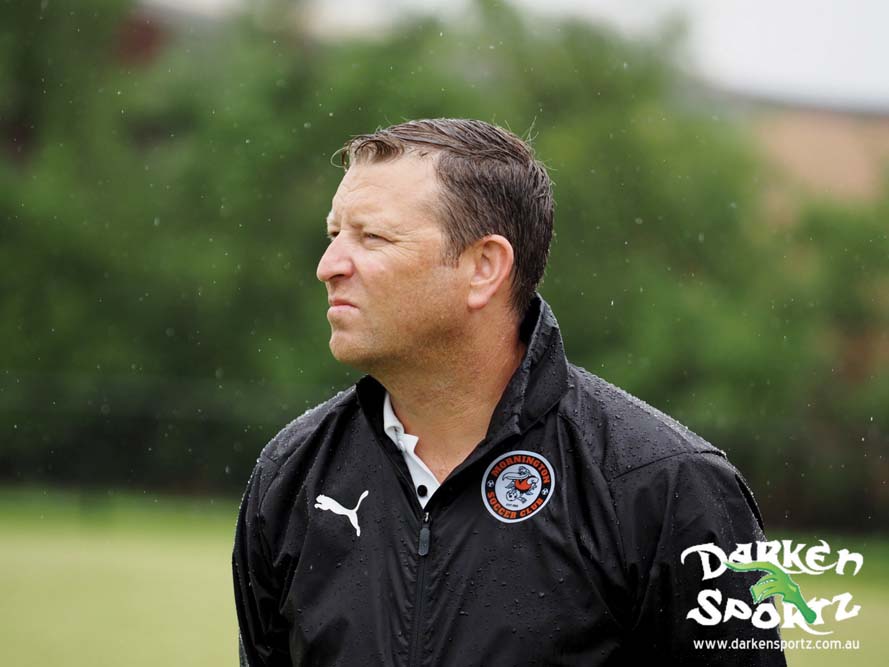 SOCCER
WHILE Adam Jamieson thinks the 2020 season is all but a write-off he has an idea how Football Victoria could salvage something from the wreckage.
The Mornington gaffer has called for the state body to make the most of the opportunity to align elite junior and senior competitions for 2021.
"I think the season is pretty much done now," Jamieson said.
"But this is a chance for FV to address what I think is a real disconnect between what they've done with the NPL junior season and what the seniors are doing.
"I don't understand how juniors play 33 games and (State 1) seniors play 22.
"Here's a chance to start early next year, say February, and at least revamp some of the higher leagues into 16-team competitions.
"If seniors then play a 30-game season that makes sense to me but the way things are I don't know how we are supposed to continually produce players with that disconnect between the lengths of the different seasons."
Last week FV announced another suspension of all football activity for six weeks in line with Victoria's return to stage 3 COVID-19 restrictions.
It's the second suspension this year and it came on the same day that Football Federation Australia called off the 2020 FFA Cup and the Australia-wide NPL finals series.
Just three local clubs were still in the Cup – Langwarrin, Mornington and Seaford United.
At senior level it's believed that FV is holding on to the rapidly fading prospect of organising an 11-game season where clubs in leagues of 12 play each other once.
Promotion still would be up for grabs and there would be no relegation.
"That could happen only if they (FV) were prepared to play midweek games and I don't know if they are," Jamieson said.
"I think they've got the venues to play midweek games and if they went Saturday, Wednesday, Saturday, Wednesday then maybe have a week off then back to Saturday, Wednesday they could get six games played in three weeks but how far down the leagues does that happen?
"Probably only NPL1, 2, 3 and maybe State 1 and I'm tipping they'd want everyone involved in it if they are still going to try."
Jamieson belongs to a select group of observers not prepared to buy into the criticism of FV's stewardship of the game throughout the pandemic.
"I think a lot of people don't understand that it's a business and they have employees so they have to make money to pay their employees," he said.
"I run a business myself so I know it's bloody hard in these times.
"To be fair to them (FV) I think they've been pretty good.
"I think a lot of the criticism they've received is unwarranted because none of us know what's going on out there."
Much has changed since Mornington realised last season that its promotion prospects were over and switched its gaze to 2020 little knowing what it would face both on and off the field.
"We started planning back in August when we pretty much knew our fate last season and where we were at as a football club.
"Pre-season started and we played games before Christmas then ramped it up in January and February.
"We aimed at a lot of NPL and State 1 clubs for pre-season practice matches to really test ourselves then with about a week to go we had the tragedy of losing Tony (McKay, senior team manager)."
Jamieson paused, took a deep breath and continued.
"Then a few days out from the start of the season and suddenly we're stopped.
"It's been a shocking 2020 I can tell you.
"But through the first lockdown our boys have been so diligent in sticking to the program we mapped out for them then we ramped that up a few weeks before training started again and they were absolutely brilliant.
"So you come back and it's no-contact training and you get so close to contact training again and then it changes again.
"I think the hardest thing to manage has been the players' mental state – and our own."
Jamieson spoke to his players last Tuesday after FV's suspension announcement. It was an emotional meeting for a group with such high hopes of success.
"To be perfectly honest there were a few tears there after what we've been through this year because we'd set ourselves to try and win things not just personally but for Tony.
"We just want to play so, yeah, mentally it's been very, very hard."
Prior to the forced suspensions of training and playing Mornington was one of the favourites for the State 1 South-East title but nearby rival Casey Comets has been rumoured to have gone on a spending spree and agreed terms with a number of top-flight players.
Jamieson isn't fazed.
"I would have said before COVID that we would have been one of the teams to beat over a 22-game season but the changes since then and what some of our rivals have done I'd hope we still would be a top two or three side but if we have any sort of season it becomes more like a cup competition than a half-marathon," he said.
"I've heard the rumours about Casey and it looks like they've signed some very good players.
"We actually spoke to the players that have been linked with them.
"To be honest it doesn't bother me at all. We know what it's like to get labelled as the club that throws the money around but we're in a different position nowadays.
"We've gone out and recruited some quality kids and that's where we want to be.
"We don't pay overs any more and our sustainability is for the long term.
"We want to be as high as we possibly can but we want to build it from our kids because we're now an NPL junior club and you've got to give pathways to kids.
"It's the only way football clubs like Mornington will survive.
"I'm not saying that we don't go out there and buy players every now and again – that's football – but we've got to produce young talented kids.
"Look I've got nothing against Casey – they can do what they want."
What Mornington's rivals do is their business and Jamieson is focussed on his own club and what he can control.
That focus has brought multiple promotions and championships since 2009 and we should soon find out whether or not he'll be given another chance to bring success to Dallas Brooks Park this season.