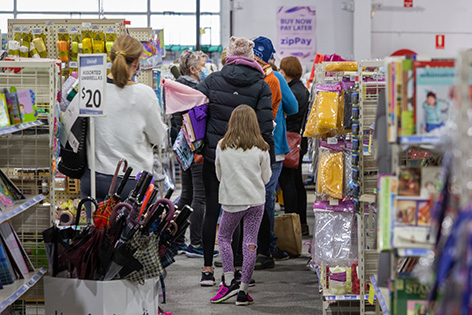 EVERY cloud has a silver lining – just ask Lincraft Mornington assistant store manager Dianne Ansell.
Demand for material to make face masks in the fight against COVID-19 is so strong that customers have flocked to the store at the Peninsula Home lifestyle centre all day.
"We've been flat out with people buying 100 per cent cotton and a polyester mix to make the masks and the elastic to tie them on," she said.
"There's a long queue winding its way down the aisles almost to the back of the store.
"We haven't seen sales like this since we opened 10 years ago."
Elastic, too, is in high demand. A shoplifter reportedly stole a $120 roll of elastic from Dromana Wool & Craft, Monday 20 July.
The News has also heard reports of a run on sewing machines.
Wearing a mask will become compulsory after midnight Wednesday with those that flout the law liable for a $200 fine.