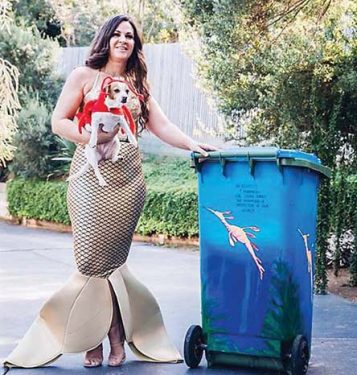 WITH state government restrictions urging everyone to stay home, Mornington Peninsula Shire is encouraging residents to paint their wheelie bins in any style they choose, drawing inspiration from their area or any part of the community.
The competition was inspired by Josie Jones, 2020 Victorian Local Hero Australian of the Year and 2019 Mornington Peninsula Australia Day Citizen of the Year, along with artist Jackie Green who "brought her own bin to life".
Ms Jones took the idea to council as a way for residents to think about their community connection and taking care of the environment.
Mornington Peninsula Shire mayor Cr Sam Hearn said one of the "best things" to come out of the COVID-19 pandemic had been seeing the community "stay connected and support each other".
To get involved in the bin-art project, participants will need to upload a photo of their painted bins to their own Instagram account tagging the shire's Arts and Culture Instagram page (@mornpenartsandculture). Uploaded photos will need to include the hashtag #MPBINspiration.
Photos will then be shared on the Arts and Culture Instagram page and the community can vote by "liking" a favourite bin design.
The bin with the most "likes" will win a $150 Zero Waste Living Pack that includes a keep cup, reusable kitchen and shopping products and their choice out of a compost bin, worm farm or bokashi bin.
Keep up to date with entries by following #MPBINspiration on Instagram.
Those without Instagram can message a photo of their bin design to the Mornington Peninsula Shire Arts and Culture Facebook account.
Bin art entries close Monday 17 August 2020.
First published in the Southern Peninsula News – 28 July 2020