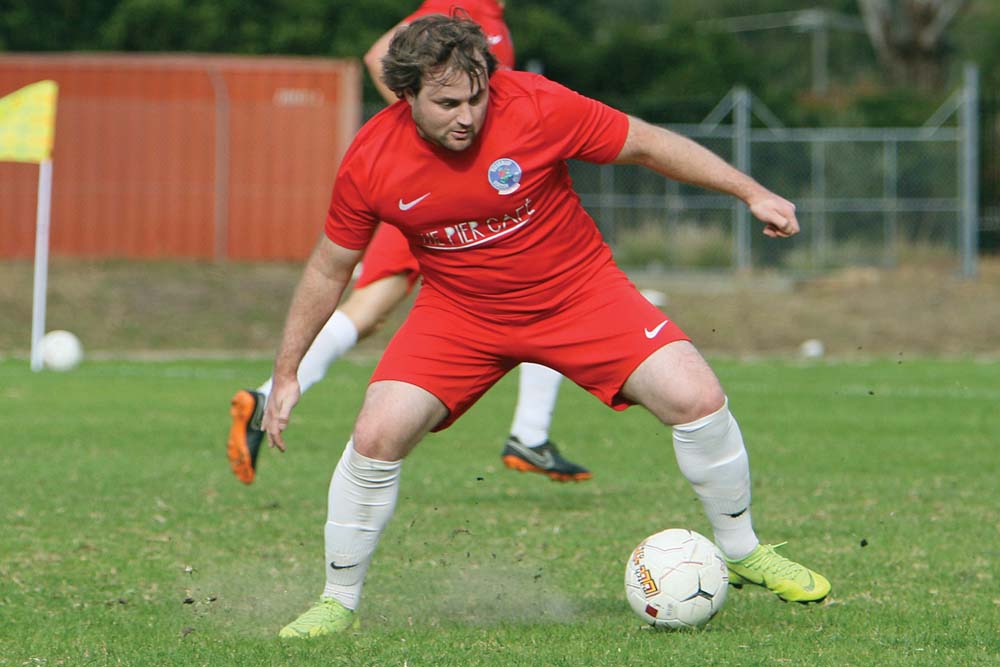 SOCCER
WHEN it became clear that there would be no senior season this year Blake Hicks took it harder than most.
He had high hopes for 2020. It was to the year that Rosebud made their mark in State League 5 by clinching promotion.
"We really thought we were in with a good chance of going up," said Hicks.
"We'd had such a good pre-season and we'd gone undefeated.
"I was on a goal a game and 'Pags' had scored in just about every appearance."
Mark Pagliarulo had been the club's marquee off-season capture after joining from Somerville Eagles and there was growing belief in coach Pat Sabatino's squad that this would be Rosebud's year.
"Me and 'Pags' had really developed a good partnership," Hicks added.
"I'd only ever played against him so I knew he was a kind of back to goal, hard at it centre forward and I'd been doing that role at Rosebud.
"So I started playing as the 10 in behind 'Pags' with Cory (Osorio) playing a deeper role and it was working great.
"It really looked like things were coming together so the shutdown hit us pretty hard."
Hicks is just 28 but he's crammed a lot into his career including a history-making season in 2016 with Rosebud Heart.
His soccer journey started with Rosebud's under-10s coached by his father Troy.
He played with Casey Comets at under-13 and under-14s levels and his senior debut came as a 15-year-old with Rosebud in the Bayside League in 2007.
When Hicks was 18 he joined Casey Comets where Dougie Chisholm and George Hughes were coaching.
Hicks won the reserves best and fairest that year (2010) and made a major impact as a substitute in a senior game in the back half of that season.
"We were 2-0 down against Frankston Pines and I came off the bench.
"We came back to 2-2 and I set up Negus Henry for the winning goal."
Chisholm promoted Hicks to the senior squad the following year but just eight games in the teenager switched clubs.
"Dougie and George are definitely two of my favourite coaches and they were great for me but I guess I wanted too much too soon."
He joined Henry at Strikers then coached by ex-Kiwi international Billy Wright.
"One thing that stands out was an away game against Kingston.
"I'd given the ball away too many times and in the change rooms Billy gave me an absolute bollocking.
"I sat there shitting myself. He was the first coach I'd met who didn't really care how he got his point across."
In 2012 Hicks was on the move again after Jamie Skelly arrived from Langwarrin to take over the senior reins and overhauled Strikers' squad with a raft of new signings.
"Jim Morrison gave me a call to come and join him at Baxter and that was one of my favourite years.
"I won the league best and fairest and although we had a really good run we just missed out on promotion."
"Jim left with a few games to go after a disagreement with the hierarchy and although the playing group decided to play out the season the way Jim was treated left a bitter taste in our mouths."
Hicks returned to Strikers under Dave Reid the following season along with his brother Hayden who had been Morrison's senior goalkeeper at Baxter.
The Hicks brothers stayed at Centenary Park until partway through 2014.
"They tried to bring Stuart Webster in because the team was struggling but our problem wasn't in goal.
"Hayden knew that Stuart would take over as soon as he'd signed and Hayden got a call from Pete Schwellinger at Old Carey.
"They really needed Hayden but he didn't have a licence so he said if you want me and you want a forward then my brother will come there with me.
"That was a great year. Pete's such a nice guy and he's a really good coach."
Throughout his State League career Hicks had played with Rosebud in the Bayside League on Sundays against the better judgement of many of his coaches.
"I tore my ACL playing for Rosebud that season so eventually playing Sunday leagues as well as on Saturdays caught up with me."
He was out of action until July 2015.
By then Hayden had joined Swinburne where present-day Strikers head coach Paul Williams was in charge.
"Paul said to me to come up there and do some sessions then get myself match fit in the ressies so I did that to get back to sharpness as I was coming back from a bad injury."
When the 2016 season kicked off Blake Hicks was wearing Rosebud Heart colours.
He'd received a call from new Heart head coach Scott Morrison who left Hicks in no doubt as to his intentions.
"Scotty said he was going to sign me and there was no two ways about it.
"I went down there and there were a lot of Rosebud guys like Cory (Osorio) and Beau (Sharpe) who had been my best mates in football since under-10s so it was a pretty easy decision to make."
Rosebud Heart entered the record books by winning every league game in 2016, finishing with 18 wins, 76 goals for and 11 against.
In just its second year Heart had joined 2014 juggernaut Eltham Redbacks as the only Victorian senior teams in over 50 years to boast a perfect record in a season.
"We had the season of our lives.
"All we'd thought about was getting promotion and the win record wasn't really a concern until the second half of the season.
"It wasn't so much a problem for us, it was more a problem for the opposition because every team wanted to be the first to take points off us.
"We honestly didn't think about the perfect season till promotion was done and dusted – that's when we thought now we're playing for the record."
The following year was to be Heart's last as a senior club.
"We finished midtable and we were quite disappointed but looking back on it we should have been fairly content.
"I think it was just the aftermath of how good the previous season was.
"Near the end of the season Scotty came in after a match and told us he was pulling the pin. I think his second son was on the way.
"When the season ended we all kind of went our different ways.
"I didn't even get a phone call.
"The problem was they waited too long to appoint a new senior coach and everyone had already found new clubs.
"They didn't really arrange a pre-season and we all knew they weren't getting numbers at training.
"In the end they just announced that they were folding as a State League team."
By then Rosebud had entered the Metro Leagues and in 2018 finished second to Old Melburnians after losing just one league game.
Early last year the 'Buds received confirmation from Football Victoria that their application to join State League had been accepted and the club achieved its immediate aim by consolidating its league status with an eighth-placed finish.
"A lot of the guys had played State League before and knew what we were up against but it was a big eye opener for others – not just the playing group but for the club as well.
"How State League clubs are run are quite different to Bayside League clubs especially the attitude to winning.
"You have to be more of a results-driven club and we're not just here for a kickabout we're here to be successful.
"Getting around that mindset was our biggest hurdle."
Hicks is driven by the goal of seeing Rosebud progress in State League ranks and thinks the club can realise that aim in the next few years.
"I'll be playing football for at least another couple of years then I'll be looking for a coaching gig somewhere.
"But before that I want to see Rosebud being successful.
"They're my boyhood club and I've stayed in touch with them throughout my whole Saturday football career.
"If I had one wish in football it would be to see them established as a good State League club.
"And if I retire with Rosebud in a State 3 or State 4 spot I'll be well happy."