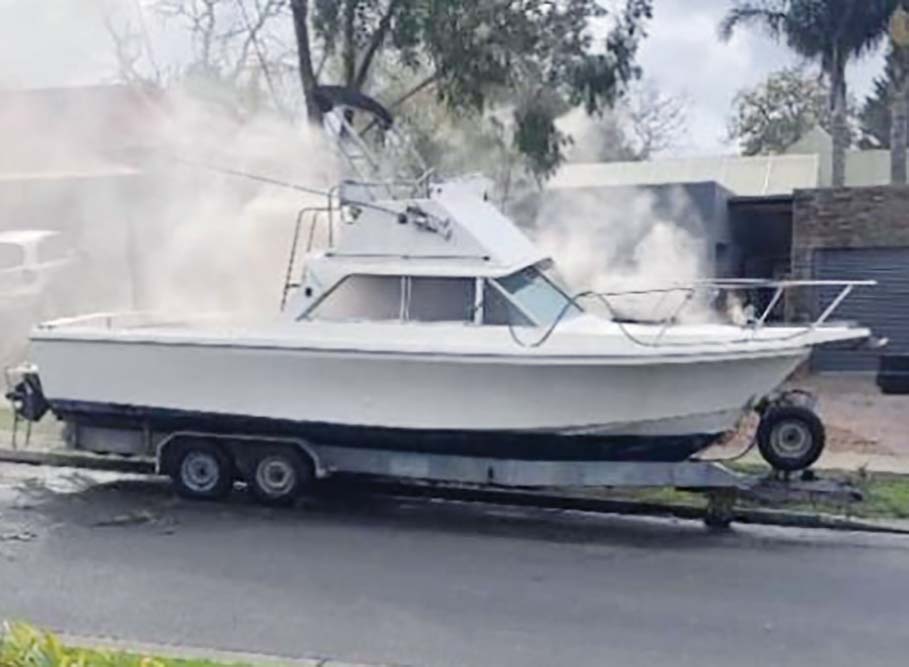 ELECTRICAL problems are being blamed for a fire on a boat parked outside a house at Langwarrin last month, above. CFA units from Langwarrin and Baxter fought the fire inside the cabin of the boat on Bevnol Road, 2pm, Monday 27 July, after a neighbour called triple zero.
The eight-metre cabin cruiser was emitting heavy smoke when crews arrived.
Langwarrin firefighter Craig Aiton said crews used breathing apparatus to get inside. "The 12-volt battery was being charged inside the cabin," he said.
"The combination of the battery charger on a seat cushion and limited ventilation caused the charger to overheat and set fire to surrounding materials.
"The cabin contained bedding, pillows and lifejackets which added to the intensity of the fire and smoke."
Firefighters were able to contain the fire to the front cabin area and contents.
"Always ensure electrical equipment, such as battery chargers, are used in a well ventilated area away from flammable materials and in accordance with manufacturer's instructions," Firefighter Aiton said.
First published in the Southern Peninsula News – 11 August 2020