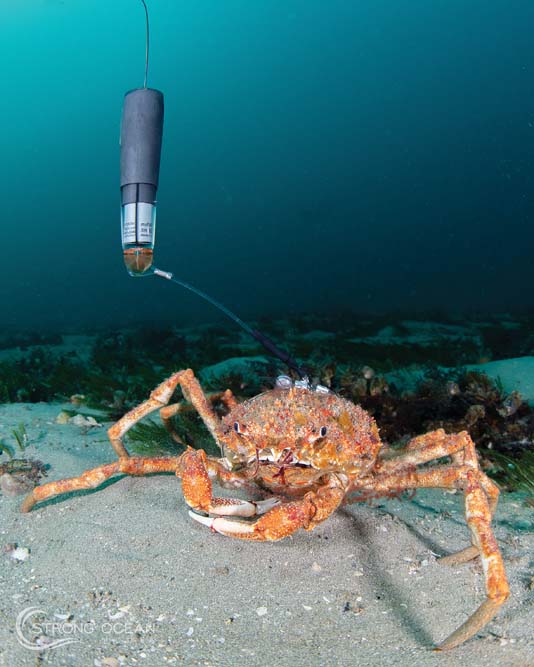 SATELLITE tagging research is keeping tabs on some of the hundreds of thousands of spider crabs off Mornington Peninsula beaches after their early winter moulting event.
Victorian Fisheries Authority officers, with help from others including Spider Crabs Melbourne founder PT Hirschfield, attached electronic tags to 15 crustaceans hauled aboard a research vessel last week.
The crabs were in 13 metres of water and beginning their annual migration into deeper waters after shedding their shells off Blairgowrie.
VFA director Dallas D'Silva said data transmitted from the tags would provide insight into the crabs' movement characteristics: where they come from; where they go; lengths of time they spend in specific locations and the environmental conditions they experience.
The US-made transmitters, adapted for use on the crabs and costing $2500 each, are designed to detach from their shells over a 16-week period. It is believed to be the first time they have been used in Australia.
"We are very excited by this development," Mr D'Silva said.
"The information gathered on both male and female crabs will help us understand more about their lives post-moulting."
Ms Hirschfield said the VFA's research efforts showed it was willing to engage with the community over the crabs' welfare and not just their fishing values.
"It's one aspect on which we agree on," she said.
"We are also advocating for a no-take season on the crabs from April-June to prevent overfishing when they are most accessible."
The moratorium would be similar to those already in place in Victorian waterways for crayfish, abalone, trout and salmon.
Ms Hirschfield said the SOS #SaveOurSpidercrabs petition supporting a crab no-take season now had more than 33,000 signatures.