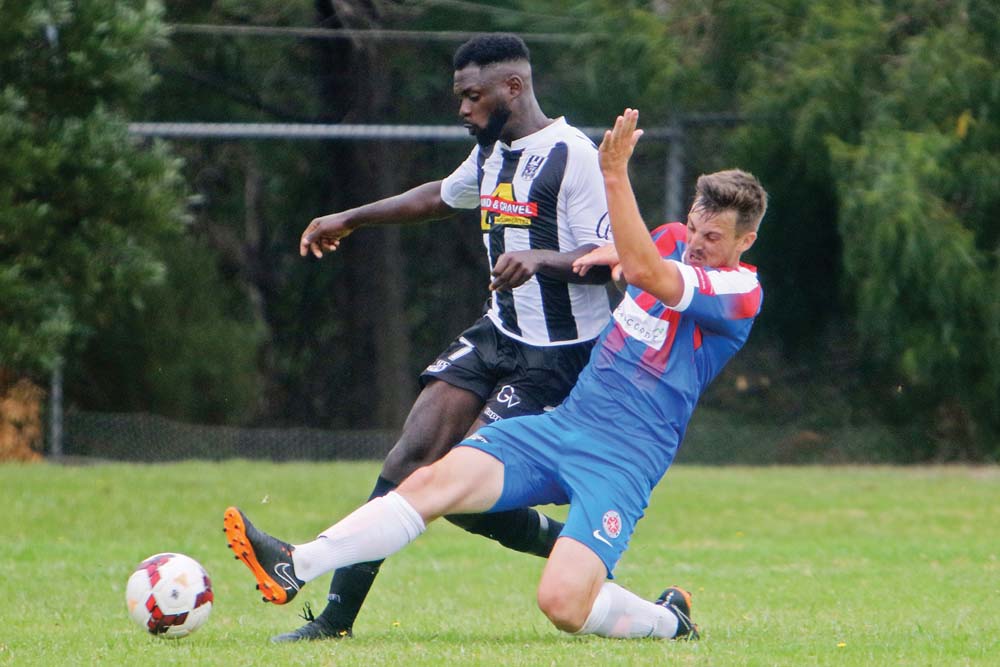 SOCCER
IT could be a scene from Kindergarten Cop.
Adam Steele is at his first training session with the newest kid on the State League block, Mount Martha.
A group of teenagers fresh out of junior ranks. A squad made up of the previous year's under-18s … and a 30-year-old defender.
Steele was immediately made aware of what lay ahead in his first conversation with Mount Martha gaffer Chris Sanderson in early January.
"Yeah Chris told me he had a young squad up from under-18s and playing senior football for the first time," Steele said.
And a few weeks later the youngsters and their new captain took their senior bow in an FFA Cup tie against Shepparton South that ended in a 5-0 defeat.
It could have been worse. Much worse. Down 3-0 at half-time Steele and the youngsters dug in and slugged it out.
"There were some promising signs," Steele recalled.
"We talked after the game about what a good education it was for us especially the younger boys finding out what to expect from a senior side.
"There were some strong tackles in the middle of the park so they got to see the strength of some of these guys they might come across in senior football."
Their leader led by example. Shepparton's English import Remell Davis can attest to that after being scythed down from behind by Steele in the second half, a crunching challenge that earned the captain a caution but set the tone for what was to follow.
The physical aspects of senior competition had made an impression on Steele at a young age back in his native England.
London-born but spending much of his early years in the Midlands Steele's first club was Uppingham Town.
"I didn't really play at school and there were no junior teams at Uppingham Town so you went straight into playing against men.
"I was a 16-year-old skinny lad playing on the right wing and I came up against some old-school English defenders.
"It made me get used to being pushed around and it made me stronger on the ball.
"I think it made me develop that little bit quicker."
After his family moved to Nottingham, Steele joined Sandiacre Town in the Central Midlands Premier League and was 22 when he arrived in Melbourne in November 2012.
"I joined Manningham United for the pre-season and I found it challenging.
"The standard was the norm for me but doing a pre-season when it was hot was really tough.
"To be honest it was a bit more professional than what I had been used to in the lower leagues back in England."
Manningham's boss for the 2013 season was Bruce Graham and he helped Steele assimilate.
"I was new to the country and he sort of guided me on the way soccer is over here.
"He'd played in the UK so he knew where I was coming from."
Graham decided to play Steele at the back and Steele embraced the switch.
"I'd rather have stayed on the wing but Bruce preferred to use me at the back and that changed my game in terms of my composure.
"I also needed to use my left foot more and that was part of my game that also developed."
During the 2013 season Steele played against Eltham Redbacks and when he moved to Lower Plenty at season's end he contacted Eltham and started pre-season there.
Paul Harris had taken on the head coaching role and when Steele signed little did he know what was to follow.
The 2014 season was a landmark in his career as he was part of the Redbacks squad that won every league game winning the championship by 15 points with 126 goals for and 13 against.
"Paul taught me a lot.
"I wasn't a starting player at Eltham and he taught me the value of working hard to earn a spot in the team.
"He told me to dig deep and work hard at it and I ended up playing about eight games that year.
"It was the first time in my football life that I had to work hard just to get into the starting line-up and it was so good at the end of the year to get that medal and the flag.
"It was really great to be a part of that."
Steele stayed with the Redbacks the following season but when the 2016 season kicked off he was in Ashburton United colours and his links with that club continue to this day.
"I love the club. I love the atmosphere. They are a real community club, very family oriented."
Steele is the coach of Ashburton's senior women's team and has been coaching at Ashburton for the past few seasons.
But that won't blur his focus on his Mount Martha responsibilities.
"I take being made senior captain seriously.
"My game won't change too much though whether I had the captaincy or not because I'd still be pushing the boys to be the best they can all the time.
"I really believe in the social aspect of being part of a squad and how that can bring you closer together.
"I think outside of the game itself it's something that helped me through the years and I'd like to think I can take control of that a little bit.
"I know when you're a bit younger you tend to have your own little group but for me I never had that growing up because it was always about sticking together as a team."
It's an approach that Steele is convinced can reap dividends next season.
"I think a midtable finish is definitely reasonable but I think we'll be up there.
"I think we'll be top four.
"The boys will be that year older and they've got the drive, they're hungry, they want to win things.
"I'll be 31 next year and I know that for me coming up against these young blokes who are going to be more physically mature and stronger would be a challenge.
"The break they have had this year could be a blessing and they are all doing their fitness work in isolation.
"From what I can tell Mount Martha has a good junior system so we could have another group coming up and pushing to play in the seniors or reserves.
"I think the club's only six years old so from what I can see its onwards and upwards from here."