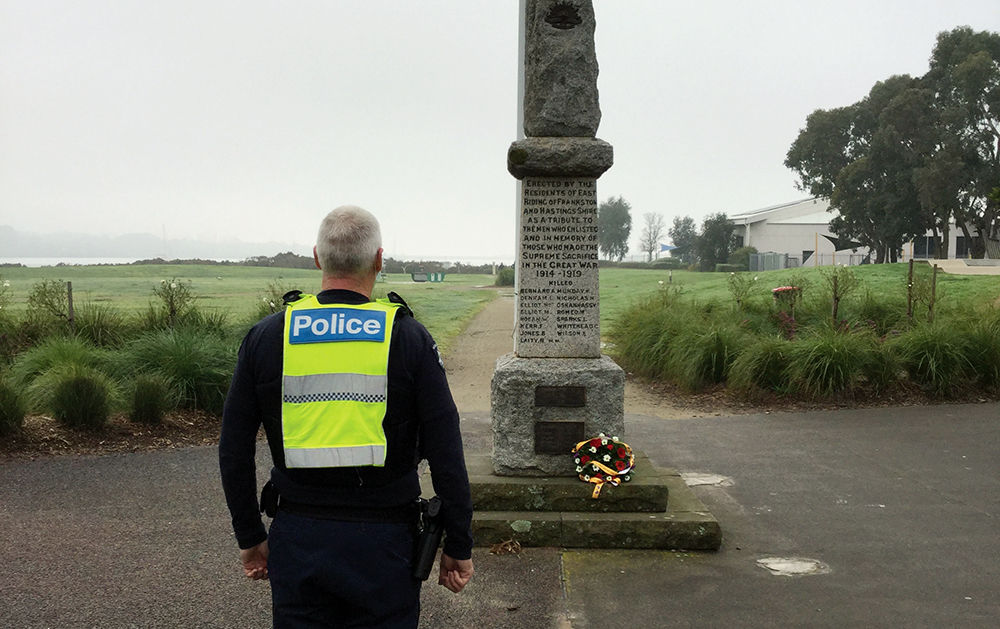 HASTINGS police laid a wreath at the cenotaph at Hastings commemorating the war service of veterans representing US Army Small Ships, Saturday 15 August.
The small service performed by Acting Sergeant David Kennedy and Constable Kip Mulvogue on the 75th anniversary of VP Day – Victory in the Pacific – referred to Japan's acceptance of the Allied demand for unconditional surrender made on 14 August 1945. For Australians, it meant World War II was finally over.
COVID-19 restrictions prevented a larger ceremony, but the wreath-laying went some way towards honouring the memories of the 3328 Australians, including one woman, who served alongside 1372 US Army personnel as well as New Zealanders, Canadians, Chinese, Danes, British, Filipino, Dutch, Austrian, Torres Strait Islanders, French and even an Eskimo in our darkest days.
Theirs is one of the most neglected histories of the war, but official recognition in the past few years is now making their service more widely known.
The vice-president of the US Small Ships Section David Lloyd said Hastings was chosen for the ceremony because "it is typical of the sleepy little seaside ports from which so many volunteer crews originated" – as well as being close to the Flinders Naval Depot, since renamed HMAS Cerberus.
The Small Ships Section was formed in response to Japanese advances in the South Pacific in 1942. Its irregular crews began landings in New Guinea, with their "attack fleet" consisting of a ragtag variety of vessels, including thousands of fishing trawlers, schooners, ketches, luggers, tugs, yachts and ferries acquired or built here or in New Zealand.
Men and boys from different backgrounds served the section on civilian contract. Their ages ranged from 15-80, with hundreds being physically disabled and other veterans of previous conflicts.
Their small ships would land troops, evacuate the wounded and carry supplies, mainly at night, in most cases without radio or charts, in unknown waters. Members achieved the most incredible nautical feats and performed acts of bravery. Officially 36 Australian members were killed in action.
Small Ships' crews had their own song: The Suicide Squadron.
After the war, Australians who served in the Small Ships Section were officially "unrecognised" and no information about their service was made publicly available.
Mr Lloyd said this lack of recognition led to shame and resentment. Many members never spoke about their service and most died long before official recognition was achieved. The US government granted veteran status to WWII merchant mariners in 1988.
Spurred on by this, and through tenacious campaigning over many years, recognition was finally achieved in 2009 when an honours and awards tribunal recommended Australian imperial campaign awards be granted to Small Ships veterans on the same basis as members of the Merchant Navy.
Anyone who believes a member of their family served with USASOS, army transport service or Small Ships Section during WWII can contact the association by emailing Vice-President@usarmysmallships.asn.au