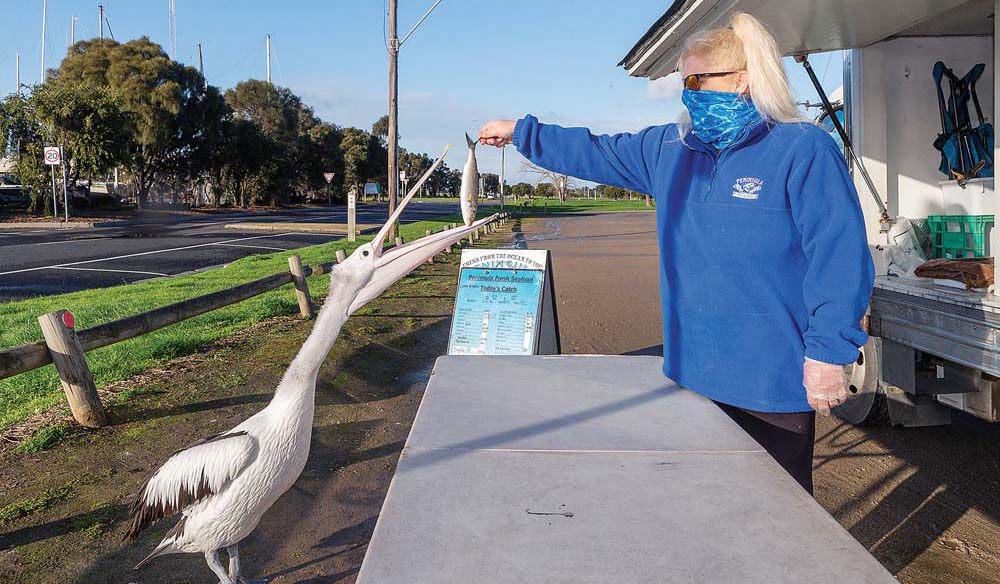 MICHELLE Potter knows she'll be warmly greeted when she arrives at the Hastings foreshore on Thursday and Friday mornings.
Waiting patiently for his breakfast outside her Peninsula Fresh Seafood,  business will be Ernie the Pelican … and she is happy to oblige him with his favourite fishy delicacies.
"Shelly" – as she is known – noticed Ernie looking disconsolate when the first COVID-19 lockdown banned boating and the usual fishers were not around to feed him scraps. When he waddled over she knew exactly what he was after.
"He was smart coming over us," said Ms Potter, who has run the trailer for the past five years.
"He makes my day. He's the only pelican who comes over and it's pretty amazing to be so close to him."
Ernie has the kind of daily bill that Ms Potter doesn't mind going unpaid.
First published in the Southern Peninsula News – 25 August 2020