POSITIVE COVID-19 tests for 51 staff at Frankston Hospital has led to another 446 staff being forced to self-isolate at home.
Early last week, Peninsula Health CEO Felicity Topp confirmed that 51 staff members had tested positive to COVID-19.
Peninsula Health, which runs Frankston and Rosebud hospitals said investigations were underway into the source of the cases.
No cases have been detected among staff at Peninsula Health's rehabilitation centre and a palliative care unit in Golf Links Road, Frankston
"Of the 51 staff cases, 40 are nursing staff, with four doctors having tested positive at this point, along with five support staff members and two Allied Health employees," Ms Topp said.
"Since the beginning of the pandemic we have tested 54,981 people, 336 of those testing positive. We currently have 48 COVID-19 positive patients in our care, with none of these patients in ICU. We are doing all we can to keep them safe and well.
"We were alerted to an increased number of staff cases at Frankston Hospital on Sunday [last week], and immediately responded by calling in external experts to support our response. We immediately closed a number of wards to admissions and all potentially affected staff and patients were tested. We also started contact tracing to identify anyone else who may have come into contact with an infected person. This process is currently in the final stages.
"We are still investigating if these cases are the result of increased community transmission of the virus, or if it has been acquired through the hospital. We are continuing to stress the importance of the correct usage of personal protective equipment which is readily available to our staff in all of our services and are doing our utmost to help all staff members do all they can to stay safe."
The Department of Health and Human services said that "an incident management team was working closely with Peninsula Health to manage this outbreak. All appropriate public health actions are being undertaken, including deep cleaning, contact tracing and testing."
Ms Topp has stressed Golf Links Road centre was still accepting patients despite reports of an outbreak.
"There seems to be a misconception that Peninsula Health is currently experiencing an outbreak at our Golf Links Road facility. This is not the case," she said.
"At the end of July, we did see an increase in cases at our Golf Links Road facility due to a patient initially returning two negative results, and then later a positive result. All appropriate infection control measures were immediately implemented including contact tracing and the furloughing of a significant number of staff at the time.
On Sunday DHHS reported that Frankston City now had recorded 203 cases of COVID-19 since the emergency started, this was up from 188 six days earlier. Frankston has 69 active cases.
The Mornington Peninsula by Sunday had recorded 162 cases overall (59 active) , up from 152 earlier in the week.
Victoria's total is 18,231 cases.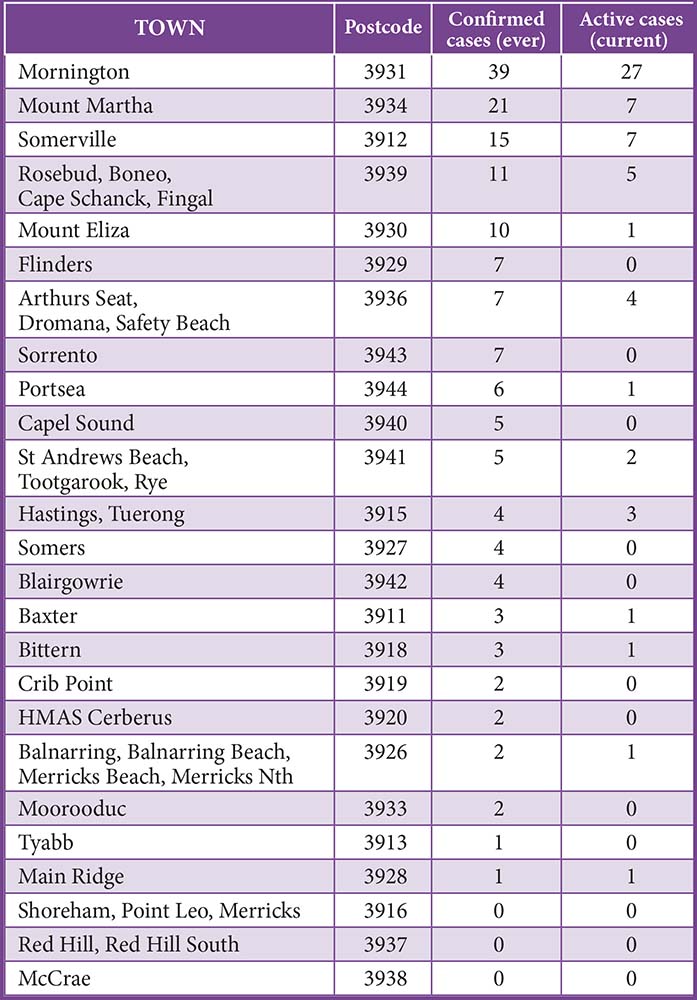 First published in the Southern Peninsula News – 25 August 2020