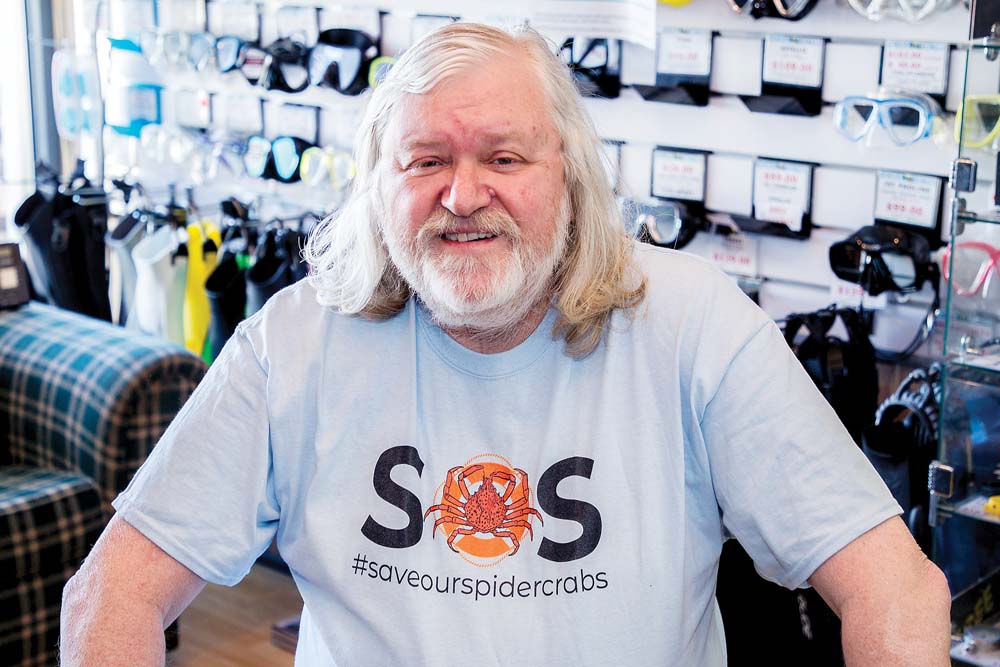 THE southern Mornington Peninsula could play host to an annual festival based around giant spider crab's if a Rye dive shop proprietor's dreams come true.
The festival would celebrate the annual migration of the crustaceans as they gather in their thousands off Rye and Blairgowrie beaches to shed their skins.
The crabs' arrival from May to June triggers a rush by drivers, sightseers and fishers who scoop them from the water by the bucket load.
While divers film under Rye pier, rays and sharks feast on the crabs made suddenly vulnerable through the shedding of their skins.
Lloyd Borrett, owner of The Scuba Doctor Australia, in Rye industrial estate, is pushing the festival plan – possibly to coincide with the Queen's Birthday long weekend in mid-June – which he says would revitalise business and tourism in the area.
"I'm a true believer in the potential to grow tourism and economic development in Rye," he said. "However, some new approaches are required."
Mr Borrett, who comes from Whyalla in South Australia, said the frenetic underwater activity generated by the crabs drew parallels with the mating habits of the giant cuttlefish in waters off the town made famous by the BBC documentary Blue Planet II. The David Attenborough production also featured giant spider crabs off Rye, with Mr Borrett's dive shop hosting the BBC natural history unit film crew on location.
"For 25 years, Whyalla held the Australian Snapper Fishing Championship. Now that's gone and, instead, they have the Giant Cuttlefish Festival which draws people from all over Australia and the world," he said.
"Whyalla is soon to get a $7.8 million circular jetty as well as open a $100 million, nine-storey hotel, and it has a lot to do with the giant cuttlefish gathering nearby to mate. That's a lot of economic investment."
Mr Borrett said marine biologists and ecologists working for Eyre Peninsula Natural Resource Management started the cuttlefest and it took a few years for Whyalla Council to realise the festival's potential. The council has now commissioned a Port Lincoln-based artist to create a giant cuttlefish mascot.
"Imagine this sort of thing happening at Rye linking the giant spider crabs and the giant cuttlefish in Whyalla?" he said. "The two gatherings overlap. We had a number of local, regional Victorian, interstate and international tourists travelling to see both events in recent years.
"If we get people excited about the local business potential with the giant spider crabs and other local marine activities, such as seeing the weedy sea dragons at Flinders pier, it should happen."
First published in the Southern Peninsula News – 1 September 2020