THE number of  Frankston Hospital staff members sent into self-isolation has climbed to 618 after an outbreak of COVID-19 cases at the hospital.
As of Saturday (29 August) the Department of Health and Human Services said there were 68 active cases linked to the hospital.
The outbreak has led to the temporary closure of the hospital's acute medical surgical and surgical short stay units and the 5GN ward.
On Tuesday (25 August) DHHS said there had been 37 cases (21 residents and 16 staff) linked to Village Glen Aged Care Residences, Mornington.
The DHHS is also investigating cases linked to TLC Forest Lodge Frankston.
Monday (31 August), the DHHS said the total number of cases ever recorded on the Mornington Peninsula was 174, with 42 still classed as being active. At the start of the week (Monday 24 August) the total was 163 cases, with 55 being active.
In Frankston, the total number of cases ever was 225, with 41 still being active. One week earlier the respective numbers 208 and 66.
The latest figures place the peninsula as having the 26th highest number of active cases among Victoria's 79 municipalities and Frankston 22nd.
Peninsula Health says it is working with "skilled prevention experts" to review its COVID-19 hygiene practices and policies following the outbreak.
Last week the DHHS reported that 449 active COVID-19 cases are attributed to healthcare workers, about 10 per cent of which are at Frankston Hospital.
Peninsula Health confirmed testing will continue for all asymptomatic staff.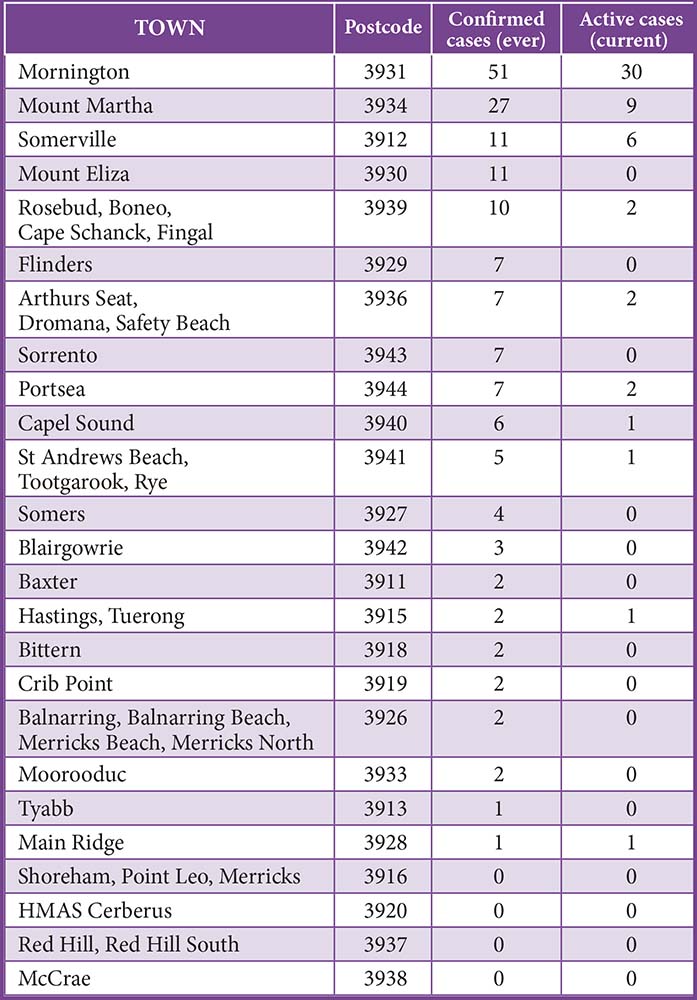 First published in the Southern Peninsula News – 1 September 2020