SOCCER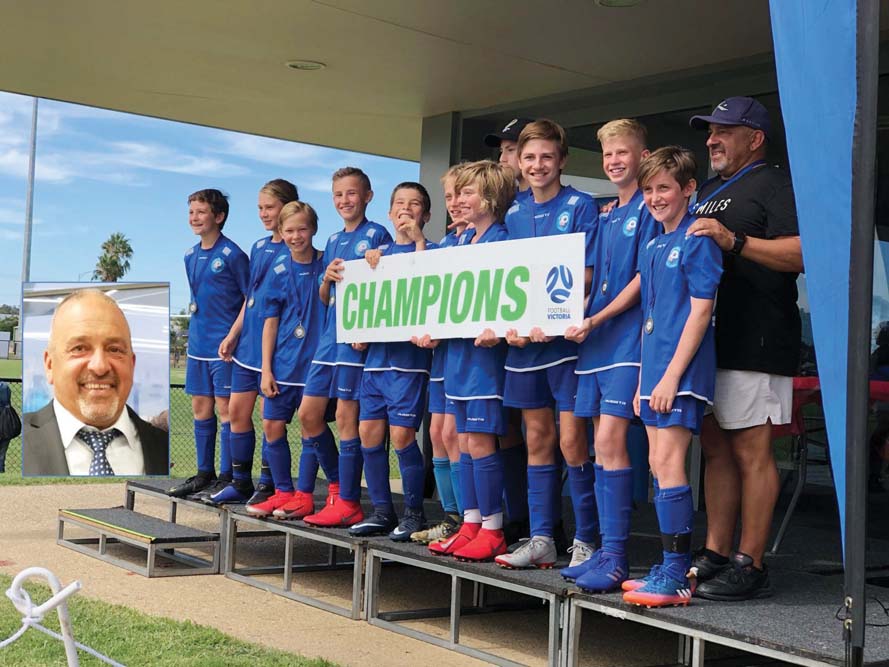 DOES Rob Giabardo ever stop teaching?
When he's not teaching phys ed or taking grade six classes at Hampton Primary School he's teaching at Chelsea soccer club.
He'd be the first to admit that a major part of his life revolves around classrooms and football pitches.
The Melbourne-born father of three has been involved at State 4 South outfit Chelsea since 2013 but his journey there was via Pennsylvania where he landed as a 20-year-old around 40 years ago.
His US experience did much to shape his views of coaching.
"I worked with kids with disabilities at a camp in Pennsylvania and through doing that I met a lot of guys who would come over from the UK and do their summers there," he said.
"A lot of them were excellent soccer coaches and one of them worked for the English FA as a coaches' instructor and had been with Chelsea, Newcastle and Carlisle.
"He was Adam Ford, a Scottish guy, an excellent bloke and we remain friends to this day.
"He taught me that coaching juniors should be focussed on their skills.
"His favourite saying was 'tools for the toolbox' and that has stuck with me for 30 years.
"His focus was on giving players the skills, the tools, to implement the tactics.
"The whole game is about problem solving, about giving players a skill set so they can accomplish things on the pitch."
In the US Giabardo signed up for coaching courses through the National Soccer Coaches Association and completed week-long residential and weekend classes conducted by professionals from leading UK clubs such as Scottish giant Rangers and Leeds United.
"I'd go back to my local area, Nazareth in Pennsylvania, and coach at the local club.
"I became their technical director and coached some really good quality kids.
"One of our teams was ranked ninth in the country in their age group which was a real feather in the club's cap."
Yet when he returned to Melbourne 12 years ago he wasn't immediately welcomed with open arms.
"I didn't have a club so I spoke to Hampton soccer club and said I'd like to volunteer.
"They told me they didn't need anyone. I thought 'wow'. That really surprised me so then I went to Sandringham and they said 'sure' so I coached a team called Storm there.
"From under-10s and under-11s we coached their skill set and these guys became a wonderful group of players who ended up winning just about everything in Australia including their league, a Kanga Cup (held annually in Canberra), a Bendigo Cup, in fact I think we won six Bendigo Cups in a row."
But Giabardo eventually became disillusioned with what he saw as a switch in focus at Sandringham.
"It became hard to get anything done for the juniors as Sandy invested a lot of time and effort into senior football.
"I went to Beaumaris to help them because they were struggling with numbers and had around 200 juniors."
A year later Beaumaris had 630 juniors but again Giabardo encountered a focus on the seniors and that was a problem for him.
"I'm all about junior development and getting the juniors to go right through the club to the seniors if possible.
"That's how you develop clubs, develop culture, develop players."
At Beaumaris he met Dom Boccari, one of a group that had taken over Chelsea from its Croatian community backers who had moved to Dandenong City.
It was near the end of the 2013 season and Giabardo couldn't ignore Boccari's call for help.
"I'm like that. I like helping people when they are down and I liked the idea of what they were trying to do with Chelsea, to try and open it up rather than have just one ethnic identity.
"Plus Beaumaris was on fire, they had great juniors and some great coaches because we'd done a lot of work developing their coaches."
So Giabardo joined Chelsea as technical director but at the same time he answered the plea from parents he knew at Beaumaris to keep coaching their children.
He had been heavily involved in coaching two teams there but now most of the players in both squads had switched to George Andrews Reserve to join Dandenong Thunder.
A year on from these under-14 and under-15 boys joining Thunder Giabardo coached the under-18s to the NPL title.
"Most of these kids were pretty much under-16s when they did that."
The up side of his stay at Thunder was meeting current Langwarrin technical director Mark Cassar.
"I have great respect for Mark.
"I think he's brilliant, in fact I think he's the most underrated coach in the state."
The down side of his stay at Thunder was again dealing with a club focussed on its senior squad.
"At some clubs you just scratch your head at the way they are run.
"We didn't even have anyone from the club come to support us at the state final. I couldn't believe it.
"In the men's NPL there is a lot of money going into the seniors and some of these clubs have the most unbelievable budgets."
Giabardo's next move was orchestrated by Cassar who had been appointed technical director at Southern United for the 2017 season.
Giabardo linked with Bill Mihaloudis whose player contacts allowed them to effect a major makeover of the struggling senior squad.
It proved effective as Southern finished fifth that year, the only time it hasn't propped up the NPLW ladder.
Southern captain Candela Ferreyra-Bas was a runaway winner of the 2017 NPLW Gold Medal and Giabardo and Mihaloudis shared Coach of the Year honours.
However any prospect that Southern had of finally establishing itself at an elite level vanished suddenly as the club had made deals it couldn't keep.
"When we got told we couldn't get paid we could have walked but we said 'no, let's see the season out'.
"We were more disappointed for some of the girls who were promised money but didn't get anything."
Giabardo and Mihaloudis switched to rival NPLW club Bayside United at the end of the season and triggered a mass player exodus from Southern.
The local club never recovered and was eventually booted out of the NPLW at the end of last season.
"I feel bad about what happened there and I miss Southern.
"I love the club and I'd love to go and help them.
"Mrs Palmer (Shannon Palmer, club president in 2018 and 2019) did a great job under the circumstances and I felt so sorry for her when they lost their senior licence because she's a fantastic lady."
Throughout his time coaching back in Melbourne Giabardo has maintained a mantra about junior development and a commitment to go the extra yard to give young players the skills they need.
It hasn't been easy but he's never wavered as anyone at Chelsea can attest.
"When I first went there it was a very haphazard sort of club.
"The teams were like satellites. There was no unison and everyone seemed to be doing their own thing.
"We needed to bring everybody together and implement a coaching plan and I did a lot of work with George Perpina, a lovely guy who understands the importance of skills development.
"We needed to coach the coaches because they were doing AFL football drills and nothing with the ball and there was quite a lot of resistance to what we tried to do. I don't know why.
"It took us two or three years to get things right but when you get out of it two or three good coaches who are still coaching now it makes it worthwhile and it's made a huge difference to Chelsea over the past seven years."
A significant change in Chelsea's fortunes came when John Zeccola became president in 2015.
"John's been fantastic and for a guy whose got two kids there he never puts his kids before the club.
"He's all about Chelsea, how can the club be better and how can the club service the community.
"Together with him and a couple of other committee members everyone focussed on doing the best with what we had.
"We realised it was going to take a while but I think we are ready to go higher up the leagues."
Giabardo has overseen a transformation at Chelsea that is a source of pride not easy to mask.
He likes what the club has become.
"Right now I know just about every kid there and every parent and I can walk around the grounds and say hello to all of them.
"That's the kind of family culture that's developed here but you only get that when you have a leader like John who's got vision and that old-fashioned vision about playing for the jumper."
You also nurture that culture by applying the Giabardo method of player development.
"What the Japanese call the golden age of learning is between the ages of nine and 13.
"They are the most important years and what you learn then stays with you and comes back to you naturally when you are older.
"We are focussed on doing the best skill instruction, the best technique development for our juniors because they are our future."