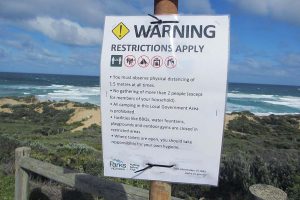 SURFERS have been cleared for take-off on Mornington Peninsula beaches by the Department of Health and Human Services and Parks Victoria.
However, they still may face a wipeout if they are caught by police outside a five kilometre radius of their homes.
Confusion last week saw police on the peninsula saying they would book surfers as surfing was a recreation and not exercise.
Under COVID-19 restrictions you are allowed to drive within a five kilometre radius of your house to exercise, but within days of the police interpretation of what constitutes, exercise both Parks Victoria and the DHHS confirmed surfing was allowed.
Surfing is also recognised internationally as a sport and was listed an event in this year's postponed Tokyo Olympics.
Surfing on the peninsula is subject to the existing COVID-19 restrictions of social distancing and a one-hour exercise time limit.
Police say they will use automatic number plate recognition (ANPR) technology to check if vehicles parked at surf beaches are within a five kilometre radius of their owner's home addresses. Surfers can also be fined $1652 for not maintaining social distancing in beach car parks.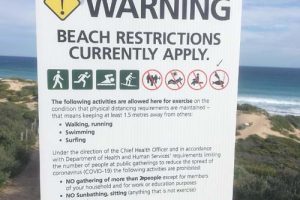 The confusion arose as surfing is not specifically listed as a permitted (or restricted) activity on the DHHS website. However, the DHHS has confirmed by email to The News that it is permitted.
Parks Victoria, which at the start off the level four restrictions erected signs saying surfing, swimming, walking and jogging were allowed, but then replaced them with another sign listing what activities were not allowed (such as no camping and no groups of two or more people except "members of your household"). Surfing, swimming, walking and jogging were not mentioned.
The Parks Victoria website states: "Beaches are open for exercise and recreation, which includes surfing and swimming"; DHHS told The News that surfing was allowed "as long as it meets the stage four restrictions for exercise".
Senior Sergeant Steve Wood, the officer-in-charge of the Sentinel Taskforce which polices COVID-19 restrictions on the peninsula, said he was "making further inquiries with DHHS in relation to surfing" to check whether it is or is not allowed.
This came after he rang the COVID-19 hotline and was "told it was prohibited."
Senior Sergeant Wood said no tickets had been issued to surfers inside the five-kilometre distance rule, up until 1pm, Wednesday 26 August. He said any tickets issued "would be subject to the normal review process".
The tendency for surfers to "stand around close to each other in the car park talking about the waves and the wind" with no thought as to social distancing or even wearing masks, may cause problems, Senior Sergeant Wood said. "DHHS doesn't care so much about the actual surfing when they are out in the water: it's the congregating in the car park talking that's the problem."    
With Stephen Taylor
First published in the Southern Peninsula News – 1 September 2020