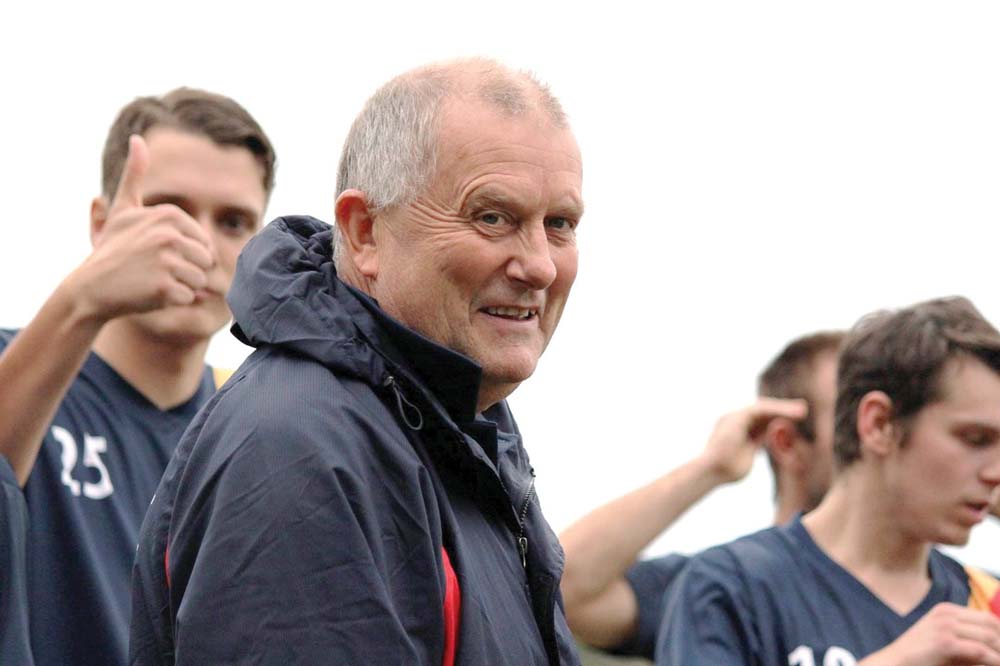 SOCCER
SOMERVILLE Eagles senior coach Stan Packer and assistant Paul Robinson have committed to the State League 4 outfit for 2021.
Packer filled the void last June created by David Greening's unexpected departure.
Director of football Zach Peddersen was delighted with the news and has given both coaches his backing.
"I'm really pleased to have Stan and Paul leading the club forward in 2021," Peddersen said.
"Both are keen to get stuck into pre-season as soon as restrictions allow us.
"Stan's been busy speaking with our squad from last year and Paul is looking into bringing youth into our reserves."
Packer's priority is to establish the senior team at State 4 level and he expects changes to be made to the current squad.
He has identified areas that need to be strengthened and will target players to do that.
His task is difficult given that Somerville doesn't pay players.
"The problem we've got is that you're competing against clubs who do pay players," Packer said.
"I have strong views about this and I think paying players at this level is ridiculous.
"There are a lot of very average players being paid to play and when you watch some of the local clubs you wonder how they can pay some of them.
"Amateur football should be about developing players not paying players."
One of the players Packer hopes can develop at Somerville is Nazif Mohammad, younger brother of ex-Morwell Pegasus, Doveton, Casey Comets and Frankston Pines striker Naseer Mohammad.
The brothers were signed a couple of days before the season start was put on hold then eventually scrapped.
"Naseer asked if he could bring down his younger brother and I said 'of course you can'.
"The young bloke is 16 and he can play alright.
"These are the types of lads you want and I've got no qualms about putting a 16- or 17-year-old in the first team if he can play, none whatsoever."
Nazif Mohammad is a striker and played with Casey's under-16s last year.
Somerville remains keen for former senior coach Billy Rae to rejoin the club.
Rae is held in high regard by Peddersen and talks have taken place between them.
"There's been nothing formal, but he's offered to help out in any way he can," Peddersen said.
"We're just working through a few structures at the moment and hope to have something in place where he's in a major role.
"His training and level of professionalism was brilliant for our group."
The Eagles have been active on the playing front in bringing in striker David Jones to the senior squad.
Jones, 28, played with Mount Eliza in the Bayside League last year but was keen to return to Saturday soccer hence the switch.
He's been on the books of Peninsula Strikers and Seaford United.
Central defender Ash Scholes has re-committed to Somerville for next season.
In NPL2 news Frankston council has opened the tender process for a major floodlighting project at Lawton Park, home of Langwarrin.
The $500,000 project is jointly funded by the state government and council with the latter hoping to award the contract by 22 September.
It is expected that floodlighting will be completed no later than April next year.
The project is one of 13 to share in $4.9 million in grants from the 2019–20 The World Game Facilities Fund, a state government initiative that assists soccer clubs and organisations to upgrade existing or develop new facilities.
The main pitch will definitely be floodlit to a 200-lux capacity enabling NPL night matches to be held while at this stage the top pitch next to the new entrances will be floodlit to 100-lux capacity.
Local Member for Eastern Victoria Jane Garrett acknowledged project partner Frankston council for its commitment and financial contribution to delivering this important upgrade at Lawton Park.
"Football is booming in Victoria and we're expecting growing numbers of boys and girls, men and women to sign up to play at local clubs," she said.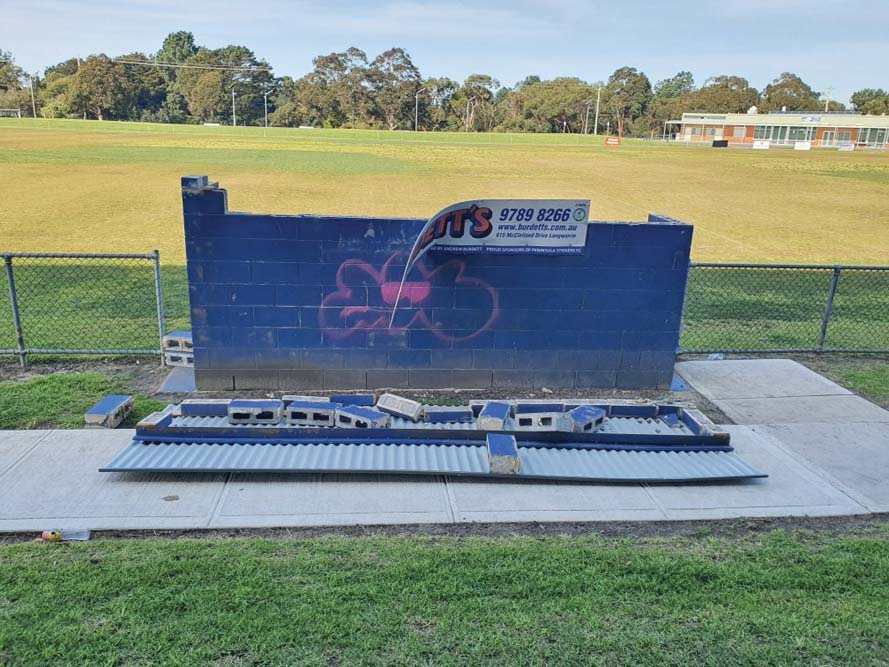 In State 2 news Peninsula Strikers were shocked to see the damage wrought recently by high winds.
The home team dugout at Centenary Park needs a rebuild and the club has contacted council.
"It was the wind storm a fortnight back, Friday I think," club president Adrian Scialpi said.
"I spoke to Fiona (Dalla-Rossa) at council and the parks team have cleaned it up, now we will start the process of lobbying council for new ones before next season."
In other news leading soccer identity and local resident Chris Taylor has settled a dispute with former club South Melbourne.
Taylor, head coach at Oakleigh Cannons, parted ways with South in acrimonious circumstances early in 2018.
It's believed that Taylor had a year to run on a long-term contract with South.
He lodged a formal complaint with FIFA's Players' Status Committee and was given advocacy support from Football Coaches Australia's legal consultant based in Kuala Lumpur.
FIFA ruled in his favour ordering the Greek giant to pay Taylor a substantial lump sum.
South Melbourne appealed against that decision to the Confederation of Australian Sport but both parties reached a settlement prior to a ruling from that body.
This was confirmed by FCA CEO Glenn Warry.
"This was one of three cases settled favourably in the past 12 months involving the advocacy support of Football Coaches Australia," Warry said.
"Two of these cases involved South Melbourne."