WASTEWATER being used on the Mornington Peninsula and pumped in-to the sea at the south-eastern outfall, near Gunnamatta is being checked and treated for the coronavirus.
The Eastern Treatment Plant at Bangholme is one of the sampling sites established across Victoria as part of the ColoSSoS (Collaboration on Sewage Surveillance of SARS-CoV-2) research project.
The Department of Health and Human Services says New Zealand, the Netherlands, Canada, Turkey and other countries also test wastewater as part of their coronavirus surveillance.
There are 25 sampling sites across state including the sewage treatment plant in Craigie Road, Mount Martha.
The DHHS says 20 of the 80 COVID-19 cases linked to Frankston Hospital are still active.
On Sunday (6 September) the peninsula had recorded 184 cases since the outbreak began, with 18 still active. Frankston had 229 cases (ever), 21 active.
Earlier in the week TLC Healthcare said all staff and residents at its residential aged care home Forest Lodge in Frankston North had tested negative for COVID-19.
CEO Lou Pascuzzi said it was disappointing that the DHHS had announced the investigation before test results were known.
"This has caused significant distress among staff, residents and resident family members. However, this is consistent with the questionable approach that the DHHS and certain sections of the media have adopted, and continue to practice, in the management and reporting of COVID-19 in residential aged care."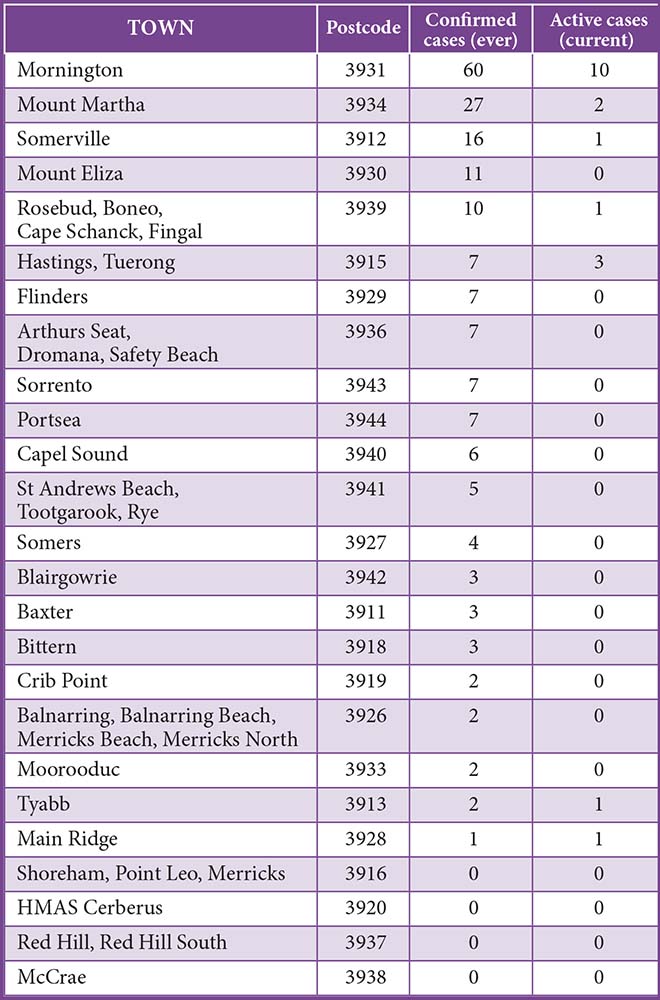 First published in the Southern Peninsula News – 8 September 2020