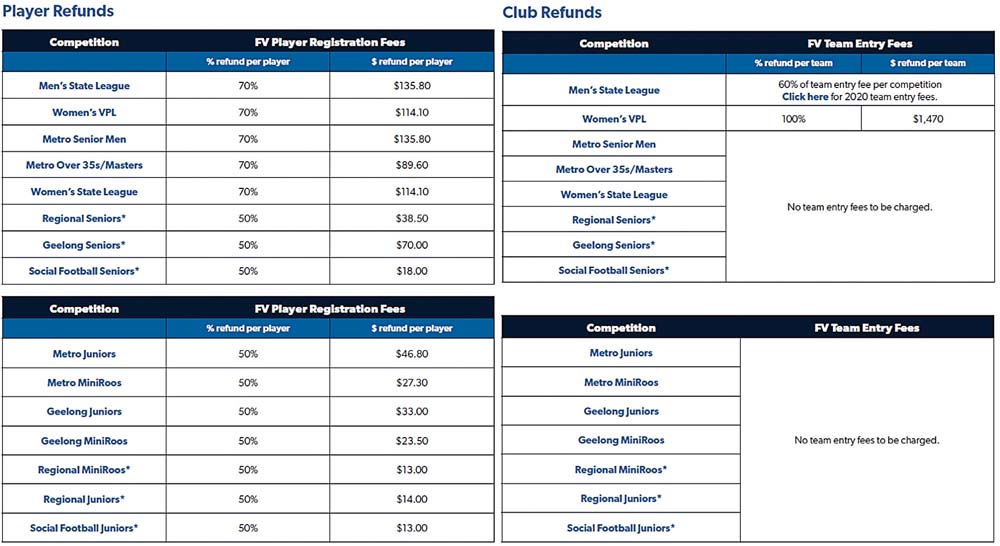 SOCCER
THE long-awaited announcement of Football Victoria's refunds policy was made late last week.
The policy was prefaced by a reference to a recent Australian Sports Foundation survey on the severe economic impact of the pandemic.
It estimated the total financial loss to Australia's 70,000 community sports clubs to be around $1.6 billion which jeopardises the survival of many.
FV hasn't been immune to the impact of having its competitions disrupted by suspension and eventual cancellation.
The federation stood down most of its staff from March and all of its staff from August.
It has been formulating a refund policy for weeks now and this process has taken much longer than clubs expected with most local clubs being forced to offer refunds well in advance of an official FV announcement.
However, not all Australian jurisdictions were tardy in announcing a refunds policy.
For example, Football Queensland announced its policy in March and Football West released its policy in May.
Albeit that these policies have since been tweaked their early release enabled clubs to make informed refund decisions and it can be argued that they were better-placed than their Victorian counterparts to deal with refund requests from players and parents.
FV's policy essentially deals with player registration fees and team entry fees but it includes the revelation that Football Federation Australia has decided to retain 95 per cent of National Player Registration fees.
FFA's 5 per cent refund equates to 70 cents for every registered junior player in Australia and $1.65 for every registered senior player.
"That's ridiculous," was the blunt response from Langwarrin president Tanya Wallace.
"And this has a knock-on effect for Football Victoria and in turn the clubs.
"I don't think that keeping 95 per cent of those fees is fair.
"What about the state federations that do all the work?"
Langwarrin is an NPL2 club and holds both senior and junior NPL licences.
It doesn't pay player registration fees for seniors, under-20s and under-18s as part of its senior licensing agreement but it pays a $20,000 team entry fee to cover all three squads.
FV is refunding 45 per cent of the team entry fee for NPL2 clubs and Wallace is surprised by the amount.
"I emailed Football Victoria and told them I couldn't understand how their refund for NPL2 and 3 was at 45 per cent because as far as I was concerned their only outlay for that league was match balls," she said.
"We'd only paid two-thirds of the team entry fee and I don't get how they can take $14,000 off us and only give 45 per cent back.
"That amounts to $6300 for balls as there were no competition fees incurred because there were no matches.
"We had to pay for referees ourselves for any practice matches so what are we paying for here?
"The brand? The name?
"Makes no sense to me."
When it comes to NPL senior and junior fees FV openly discriminates in favour of women and girls who have for some time now been the focus of the federation's attempts to grow the game through participant numbers.
The refund policy highlights this disparity.
NPL senior men pay a team entry fee of $25,000, NPL 2 and 3 senior men pay $20,000 and NPLW senior women pay $11,000.
The team entry fee refund percentage for NPL men in all three levels of competition is 45 per cent while the refund for NPLW is 75 per cent.
Junior NPL boys pay player registration fees while junior NPL girls do not.
When it comes to junior NPL team entry fee refunds again there is no gender parity as the boys will receive a 45 per cent refund while the girls receive 75 per cent.
Yet the state body can't be accused of masking a policy weighted in favour of female participation as it points to this discrimination in its policy announcement.
"Fortunately, FV has received substantial support from the Commonwealth and Victorian governments throughout this period, including JobKeeper and the Survival Package Fund respectively. These packages have subsidised our ongoing operations, return to play activities and allowed FV to make strategic decisions in relation to this policy – for example, the increased level of refunds to support football for women and girls."
Most local clubs fall into the category of community clubs and they will receive a 70 per cent refund of senior men's and women's player registration fees.
Men's State League clubs can expect a 60 per cent refund on team entry fees (which are different for different leagues) while Women's Victorian Premier League clubs receive a 100 per cent refund.
Team entry fees for women's State League clubs have been waived.
And now the process of refunding players and parents gathers pace but not before some difficult decisions are made.
Tanya Wallace best sums up the juggling act facing club administrators with her parting comment on this issue.
"The whole thing is an absolute nightmare.
"You try and look after the families at your club as well as protecting the future of your club and giving these families something to come back to.
"It's not easy."
If there's been anything positive to emerge from the season that never was it is the enhanced status of FV's southern region club ambassador Greg Hurvitz.
Throughout the sport's shutdown FV has trod a rocky path in terms of public relations.
However Hurvitz has received wide acclaim from local clubs for his role in fielding their concerns and for doing his best to keep them informed.