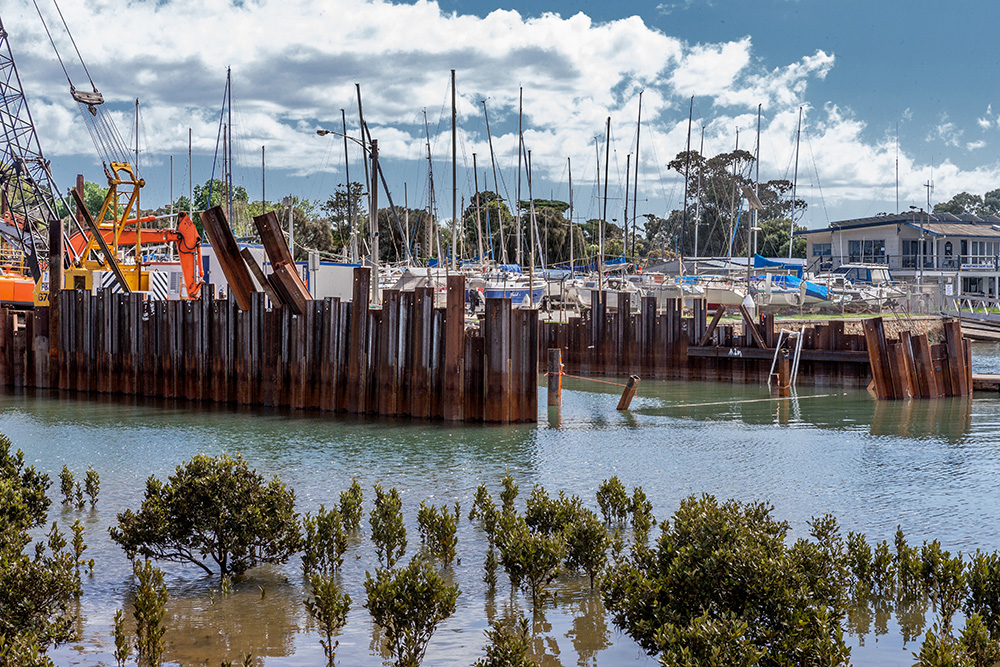 THE collapse of the steel cofferdam around the new Hastings boat ramp has thrown the reopening of fishing into jeopardy.
Work to complete potentially the busiest ramp in Western Port, which started 20 July, is now behind schedule and will not be completed in time for the remainder of the snapper season.
The cofferdam is a four-metre high dam or rectangular wall of sheet steel driven into the mud. Once erected water is pumped out to provide a dry area so workers can construction the all-tide concrete ramp and walkway.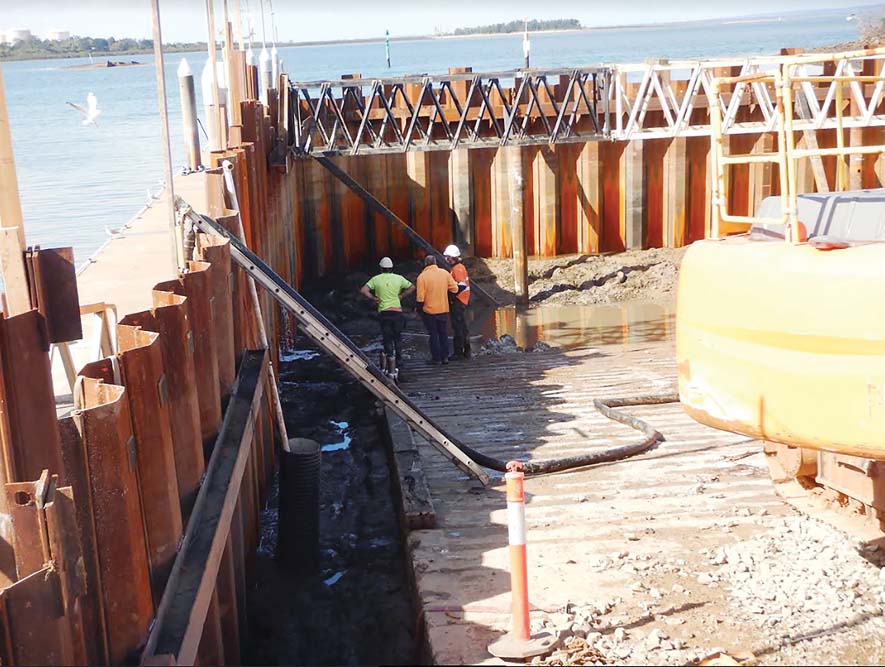 The deepest, most vulnerable section buckled under the weight of a high tide on Thursday 10 September with the exact cause of the failure being investigated.
A crane was brought in on Thursday to remove the buckled steel and prepare for another attempt at erecting a wall.
Fishing identity David Kramer said the "disaster" had set the Hastings boat ramp replacement "back to square one".
"I am fuming, but it's not the contractor's fault as things do go wrong."
Mr Kramer said delays in getting the project started and putting it at the mercy of high spring tides, were always going to be problematic.
"I told the authorities not to start this late," he said.
"The big tides do not start for another week, so god knows what they are going to do.
"Better Boating Victoria have just proved they are incompetent."
Mr Kramer said building the new boat ramp should be postponed until May with fishers allowed to use the existing four-lane ramp.
He said alternative ramps at Warneet and Stony Point "simply won't be able to handle the traffic when COVID-19 restrictions ease".
"With no AFL or kids' sports, we saw record numbers of people fishing from May to July. It is not going to be a pleasant November in Hastings unless this project is abandoned until next winter."
Mornington Peninsula Shire's manager project delivery Derek Rotter said the Marine Parade construction site had been "made safe and the contractor is working quickly to get the project back on track".
The works were planned in two stages: replacing the existing boat ramp with a longer ramp and a connecting walkway between the new boat ramp and the existing floating pontoon and dredging to accommodate the extended ramp and enable access during all tide levels. The works for stage two were planned for delivery late this year or in the first half of 2021.
"At this stage it is too early to say how this [cofferdam collapse] will affect the timetable for delivery, but we remain hopeful that it will have a minimal impact on the project," Mr Rotter said.
First published in the Western Port News – 23 September 2020