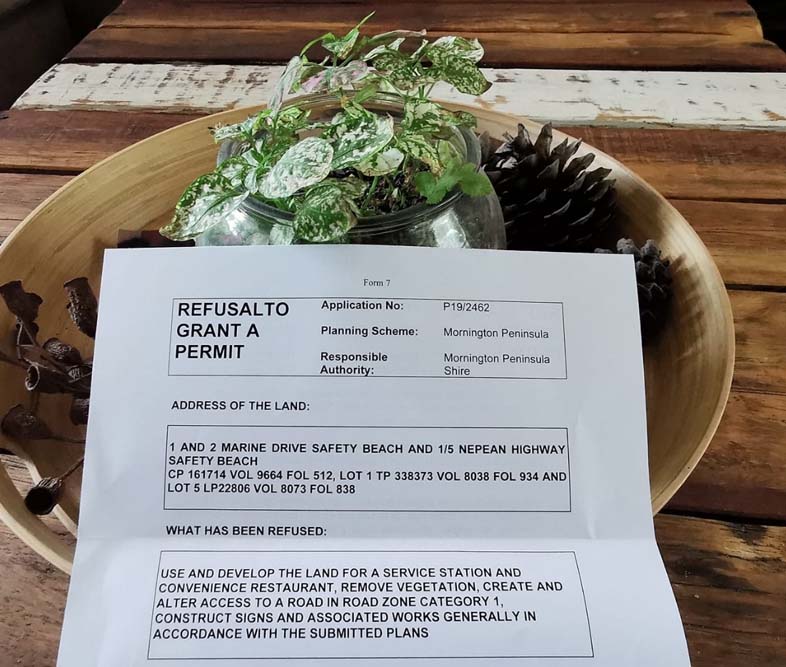 SMALL business owners are breathing a sigh of relief after Mornington Peninsula Shire Council knocked back plans to build a large convenience store on a busy corner site at Safety Beach.
The council received almost 1000 objections to AA Holdings' proposal to build a McDonald's restaurant on the site of the company's existing BP service station, corner Marine Drive and Nepean Highway.
The high level of local opposition prompted the council to hold an online community information session, 10 September, to "provide the community with more information and to answer your questions". ("Q&A session eyes fast-food outlet" The News 25/8/20)
Word of the proposal spread quickly among nearby small business owners who said they feared the fast-food giant would drive them out of business. ("No fries with that" The News 14/7/20). They said heavy traffic and litter would stifle trade and "change the whole dynamics and landscape" of the area.
AA Holdings has not commented publicly on its proposal, but it is expected to appeal against council's decision to the Victorian Civil and Administrative Tribunal.
The Beach Patrol Safety Beach/Dromana social media page lit up with comments when objectors received notice of the council refusal last week. Steve Armstrong said: "Even though this has gone to VCAT, it's still a great community achievement so far. Well done everyone. It just means we don't give up on the fight yet. It's not over until it's over."
Senior planner Rochelle Reinhardt told the planning services committee the proposed use and development of the site was inappropriate, and the applicant had not suitably responded to the applicable policies.
She said it was an overdevelopment of the site, and that insufficient information had been provided to assess its creation of light, noise, odour and litter, as well as contamination risks and impacts on neighbouring vegetation.
First published in the Southern Peninsula News – 29 September 2020