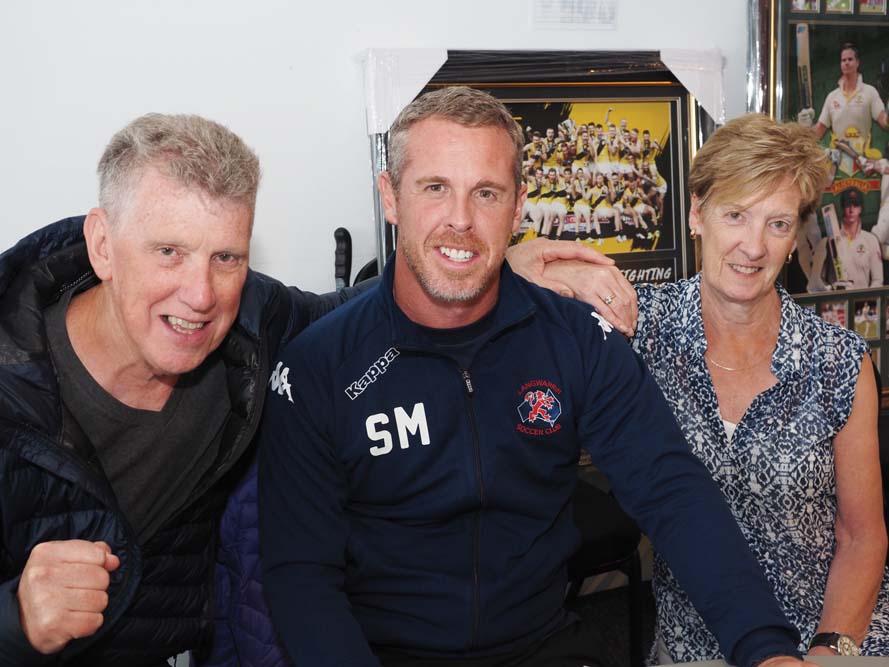 SOCCER
LANGWARRIN has re-signed Scott Miller as head coach for the 2021 season.
It will be the former Fulham and Socceroo assistant's third year at the helm.
"I signed on again because I've enjoyed my time there," Miller said.
"I think the club needed a little push in a different direction and that's what I like to think we've provided there.
"Obviously this year was out of our control but we'd put together a good squad and were performing well in pre-season and starting to play a game style we wanted to play.
"My intention and the coaching staff's intention was to go again and continue that momentum.
"It's really exciting with all the things going on at the ground."
That's a reference to an extensive makeover of Lawton Park which will deliver new lighting, training pitch and carpark upgrades with much, much more in the wings.
"If you want to entice the likes of Tom Youngs, George Howard, John Maclean and others to join your club and stay at your club then you have to give them proper facilities.
"It's not about them being prima donnas it's about enjoying your work environment so I'm grateful to the government for the money they've given us."
Heading towards what we all hope will be the 2021 season the Miller mantra of continuity and loyalty rings loud and clear when discussing the first team squad.
"Although it's too early to say I don't want huge changes at all.
"If you look at our first year if the club had got promoted it would have put it under a lot of pressure because the infrastructure and the support weren't there.
"The average age of our current squad is 22 and if you look at the life cycle of that team then within three to five years you'll have a core group of boys who have grown together and can sustain the club at a higher level.
"And the loyalty of this playing group has been remarkable."
Miller won't be drawn on discussing specifics in line with club policy but it's common knowledge that when the players met after Victoria's first lockdown earlier this year they all agreed to a hefty reduction in payments.
"To put it into perspective no-one's been paid from that playing group since last year," Miller said.
"We did a complete 16-week pre-season (training three times a week) plus a six-week post-lockdown training period for nothing and if that doesn't show commitment then I don't know what does."
Miller was on a steep learning curve when he first joined Langwarrin in August 2018 not only assessing what needed to be done to take the club to another level but he also learned much about what he was up against when it came to negotiating terms.
"I spoke to players about joining Langwarrin and was regularly blown out of the water by what other clubs such as (Moreland) Zebras and Bulleen were offering.
"We've got a lot of players that could earn more elsewhere but we've got a good product, they enjoy themselves here and we look after them.
"We are consistent in how we deliver our training and how we deliver our messages and it's not a political club.
"While the discussion around player payments is confidential I think people would be surprised where we'd fall among NPL2 clubs and I'd say we'd easily be in the bottom two or three at that level."
Despite operating under budget restrictions Miller remains convinced that Langwarrin can reach NPL1 and stay there in fact it's a prospect that continues to motivate him.
"Imagine if we were to get promoted.
"First what an achievement for the local area, second what an achievement for the club and third what an achievement for the players.
"I'm a firm believer that you need to have your environment set up to succeed as a business because that's what it is now.
"We needed to upskill certain people as to what it looks like when we get there (NPL1) and to operate without fear.
"If you get relegated then the only thing that takes a hit is your ego. The club doesn't disappear.
"And getting to NPL1 doesn't mean you have to double or triple your budget.
"If loyalty is one of your principal club values then the players that get you there deserve to be given the opportunity to play at that level.
"Look you may have to top up your squad with one or two experienced players but you do that within your budget.
"That's loyalty and that's respect and you live within your means when you go up there."
Miller paused for a moment as if to collect his thoughts then returned to the prospect of guiding Langwarrin to the highest level in the club's history.
"Why would you want to be involved with a club if you don't aspire to get to the top?
"Anything is possible and it would bring a different energy around the place and it would bring a different type of sponsor wanting to become attached to the club.
"Imagine being there at 7.30 on a Saturday night watching Langwarrin playing Oakleigh Cannons with a team that's essentially been at the club for two or three years, players like Callum Goulding and Jaiden Madafferi, for example, who have taken massive steps and are at the forefront of leading the club.
"How good would that be?
"If we link arms and everyone does a little bit we'll be fine but if people become selfish and put themselves first then they'll be gone.
"I think you've seen we're quite ruthless with players that aren't performing.
"They are out the door.
"That's nothing personal but we have a responsibility to the club to make these decisions if we want to get to where we want to be."
In other news late last week Football Victoria's football operations executive manager Will Hastie emailed clubs inviting them to the federation's "Football's Re-emergence" Club engagement session.
The online sessions will be split geographically (north, south, east, west and regional) and will provide "a road map of football activities as Victoria moves through the spring and summer period and into 2021 competition."
The email struck a distinct call-to-arms tone.
"It is time to wake our football community up and once again fill Victoria's football fields with laughter, spirit, social connections, camaraderie and organised physical activity."
Amen to that Mr Hastie.