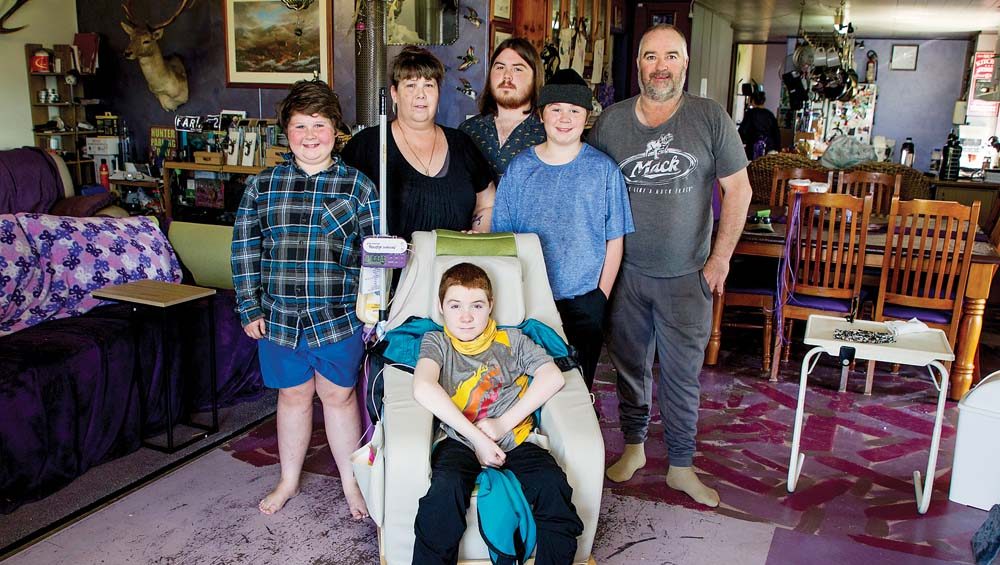 NEIL Farnsworth was buying hardware at Red Hill South when he learned his wife and two of his sons had been involved in a horrific car crash on the Point Leo Road, about five minutes' drive away, early in 2019.
What followed was a cruel race against fate and destiny with generous help from a close-knit rural community – help which Mr Farnsworth admits he will never be able to repay but for which he is eternally grateful.
"They are my saviours," he says.
The crash, about 4.30pm, Wednesday 13 February, turned family life on its head. Nothing would or could ever be the same again for the long-time Red Hill family. Even now, 20 months later, the heartache and stresses are apparent.
Lisa Farnsworth had just picked up twins Sam and Luke,12, from the school bus when her Holden Calais collided head-on with an Audi Q7 being driven by a 49-year-old man holding an international licence ("Community helps out as boy fights for life after crash" The News 18/2/19.)
Mr Farnsworth rushed to the horror scene: "I came around the corner and immediately started working on Sam with the help of a beautiful lady, an emergency nurse, who stopped to help."
The force of the collision at the crest of a hill "stopped the Calais in its tracks", reducing both cars to a tangled mass of twisted metal. Both were written off.
Sam's injuries were exacerbated when his airbag failed to open, while Luke's and Lisa's did. However, Lisa's feet were crushed into the car's firewall, trapping her.
Sam received severe head, chest and abdominal injuries. Police said he possibly suffered cardiac arrest and praised the desperate work of passers-by until emergency crews arrived. He was flown to The Royal Children's Hospital by helicopter ambulance in a critical condition.
Lisa, then 46, was flown to the Royal Melbourne Hospital by another helicopter ambulance in a serious condition with chest, leg and pelvis injuries. Luke was taken by road to the Monash Medical Centre in a stable condition with chest, abdominal and leg injuries.
The major collision unit was called in to investigate.
Reflecting on the crash and its aftermath last week, Mr Farnsworth said Sam was on life support in ICU for three months and 12 months in hospital overall. While in ICU, with the scope of his son's injuries readily apparent, the earth-moving contractor admits he was steeling himself to be asked to make some "hard decisions".
"Then we saw his eyes flicker and we knew we had him," he said. "We had to keep his mind positive."
The keen Tigers' fans were spurred on by Richmond players who gave up their time to drop in to cheer the boy up, take selfies with him and "talk footy". Josh Caddy had a tattoo of Sam on his leg.
Friends and members of the family visited him at every opportunity and the Farnsworths are especially grateful to one generous benefactor who provided a car so they could make the daily trip to Melbourne.
"After 10-and-a-half months in hospital, Sam came home on 23 December to his family where he belongs," Mr Farnsworth said in a post to family and friends, signed Neil, Lisa, Billy, Nicholas, Jamie, Luke and Sam Farnsworth.
"He is a much happier boy being back with his beloved cat Ollie in his own room and among his friends. He has made small improvements, needs 24-hour care, and he has carers to help with the load. The fact he is here is a miracle.
"Luke is doing well, he is the best twin brother, always there for Sam when he needs him. Getting back to school after about three months on a part-time basis to finish grade 6. He is now doing year 7 at Dromana Secondary College with two of his older brothers.
"Lisa still has a damaged left ankle that is requiring more surgery to fuse joints to, hopefully, rectify the ongoing pain and lack of strength and stability.
"We are back as a family – a very different family though," the 30-year CFA veteran said. "We still have a lifetime's challenges in front of us but, with all of the love and support around us, we know we will get through it with you all by our sides.
"We are lucky to live in the most amazing community and, from the bottom of our hearts, we cannot thank our community, friends and family enough."
Mr Farnsworth is bitter towards the driver of the other car. The now-50-year-old from Melbourne has been charged on summons with reckless conduct endangering life.
Last week the police informant in the case, Senior Constable Christopher Hurwood, of Somerville Highway Patrol, said procedural delays caused by COVID-19 had delayed the case since April. It is listed for mention at Dromana Magistrates' Court on 12 November where the magistrate can decide whether if it should be heard at a higher court, such as the County Court.
Senior Constable Hurwood said driving rules for overseas visitors were changed in October last year – eight months after the Farnsworth's world came crashing down – and now require internationals to obtain an Australian licence before being allowed on the roads.
First published in the Southern Peninsula News – 13 October 2020