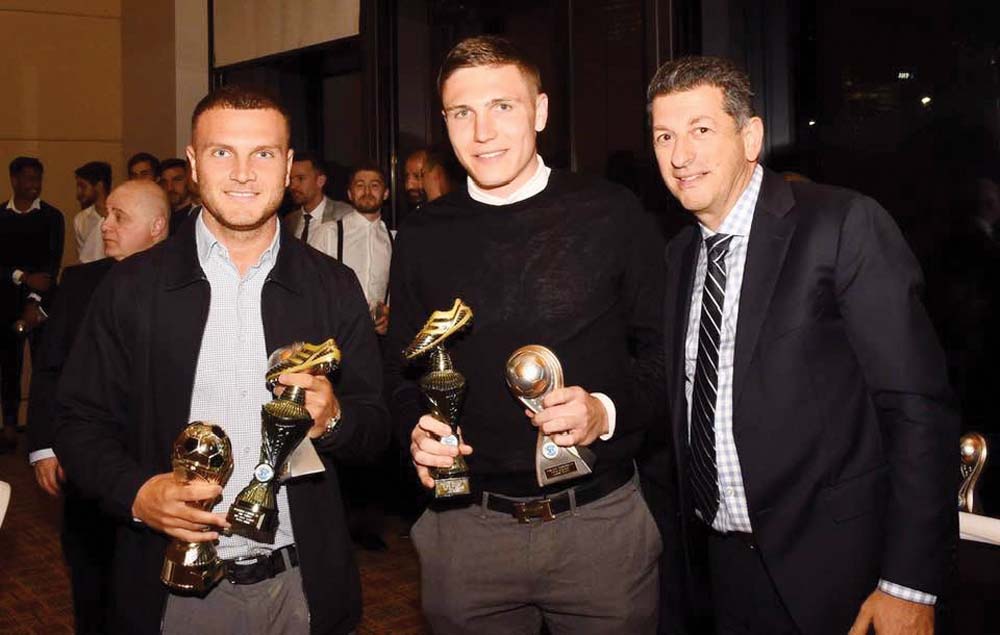 SOCCER
FOOTBALL Victoria held online meetings two weeks ago with senior and junior licence holders to discuss restructuring the state's NPL setup.
The game's governing body held a zoom meeting with NPL1 clubs on Monday 28 September, with NPL2 and NPL3 clubs the following evening then met online with junior NPL clubs on Wednesday 30 September.
The opening address at the meeting with NPL2 and NPL3 clubs was made by FV director Sezar Jakupi with the federation's Football Strategy Manager Emilio Amanatidis and NPL Competitions Manager Hakan Dogan participating.
At all three meetings clubs were told not to discuss the proposals put forward or the discussion that took place.
The meetings canvassed major changes to under-18 and under-20 competitions, the possible axing of the under-16s and allowing clubs to field two under-13s but reducing that age group to small-sided competition.
NPL2 and NPL3 clubs were told that if they reached the last 32 of the 2021 FFA Cup they would have to compete under the constraints of the Player Points System despite the PPS not applying during their respective league seasons.
It also was confirmed that NPL clubs would retain their respective league status next year and that promotion and relegation would again be in play.
Last week NPL senior and junior licence holders voted on these changes and it is expected that the federation will inform clubs of the outcome this week.
Proposals put to the vote included replacing the under-18s and under-20s with under-19 and under-21 competitions and introducing a finals series for 19s and 21s.
Clubs were told that they would be allowed to include three under-23 players not listed on their senior roster as part of their new under-21 squad.
But the most controversial proposal involved how the new under-19 competition would be run.
While remaining part of a club's senior NPL licence FV suggested that it should be run over 33 matches with the first 11 matches amounting to grading games as is the case presently with junior NPL teams.
Currently the under-18s are aligned with club seniors and under-20s in terms of fixtures but the FV proposal would regionalise a new under-19s competition during the grading phase.
Once grading is completed clubs would be placed in separate under-19 leagues which would not mirror the senior and under-21 setup.
One of the youth coaches involved at NPL level thought the under-19 proposal was doomed to failure.
"It's going to be a really, really hard sell," he said.
"The idea that the 18s will simply move on to the 19s is ridiculous.
"These kids will want to play senior football or at least be involved at senior level but this disenfranchises them by cutting them off from the seniors.
"They might still come under the senior licence but they won't feel part of the senior club having a completely different set of fixtures.
"It's a car crash.
"I don't understand how clubs are going to sell that to a player – you're doing your VCE and you're going to be playing more games than the seniors and 21s and against different teams.
"It won't work mate.
"They restructured then didn't even give it a season to find out how it turned out.
"There was bugger all consultation with clubs no matter what FV might say and none of the clubs I've spoken to saw this coming in fact they were completely blindsided by this one."
The proposed changes to junior NPL competitions also took clubs by surprise and it's believed that none of the three local licence holders – Langwarrin, Mornington and Peninsula Strikers – were happy with either of the two options presented by FV.
Option 1 was to run under-13, under-14, under-15 and under-17 competitions with the under-13s fielding two teams per club and reverting to small-sided (nine players per team) games with no results recorded and therefore no tables produced.
This was how the now extinct NPL under-12s were organised.
Option 2 was to scrap the under-13s and run under-14, under-15, under-16 and under-17 competitions.
Despite opposition to these options during the junior NPL meeting the options eventually put to clubs were never amended and remained as presented to licence holders from the outset.
When told of what took place at the junior meeting one of the club administrators responded with disdain.
"They are about to ruin football," the administrator said.
"There's a clause in the licence which virtually says Football Victoria can do what they want when they want so why they bother with these meetings beats me.
"We're going to add in the 17s age group no matter what but if it's 16s and 17s I can tell you right now that clubs on this side of town (south) won't have enough elite kids to get up 16s and 17s.
"My gut feeling is that the other side of town is driving this.
"The system wasn't broken in the first place but it was flawed because there are too many clubs draining the talent pool.
"I mean when you get a club like Dandy Thunder that has trouble fielding an under-16 side what more do you need to know?"