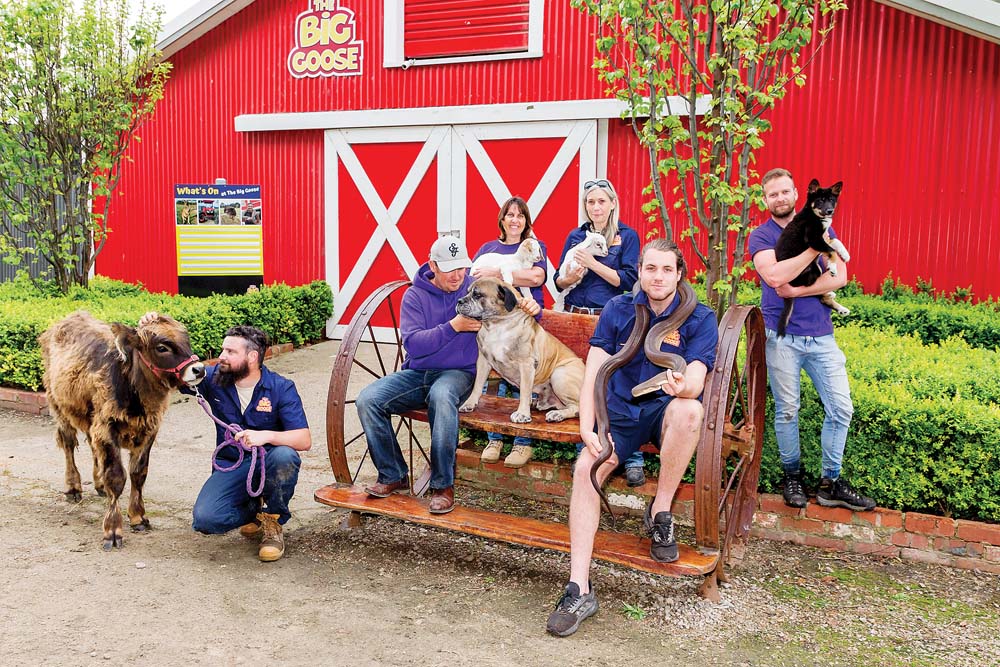 THE proprietor of the Big Goose animal petting farm Justin Orr says, with some irony, that he has never sought charity, but that's exactly who came to help as he battled to supply food to his animals during the COVID-19 closure.
Mount Martha mum Charity Cooper – who says Big Goose is the "saviour of sunny days and stay-at-home parents all year long" – started a campaign to raise money to feed the animals during the stage four restrictions and surprised herself by generating $4300.
The money went towards filling one of the Moorooduc farm's silos with feed for the animals.
"The Big Goose is the Saturday family outing we rely on and a staple for most of our kids down here. Bloody hell, it's a staple to keep us sane," she said.
"The question my five-year-old has asked me most during COVID is, 'When can we go to The Big Goose?' … I can't tell you how many times I have pushed that pram up that hill, holding another little hand beside me and into that gate, knowing I'll have four hours of peace while my children are entertained.
"I'll be damned if it's not there at the end of lockdown when I can finally, finally, let the kids off the leash."
A grateful Mr Orr said the business with its 30 staff and 200 animals had missed out on obtaining government relief. He said he'd done all he could since March in the way of mortgage and bill deferrals as well as tucking into his superannuation to keep the business afloat.
The budget didn't provide any surety either and JobKeeper, for personal reasons, has only been paying him half the headline amount.
As writ-large by Ms Cooper, the Mornington-Tyabb Road venue is a must-see for Mornington Peninsula youngsters who delight in petting its kangaroos, wallabies, emus, wombats, snakes, lizards, turtles, cattle, sheep, goats, camels, chickens, geese, turkeys, pheasants, deer – and even an ostrich.
"We were lucky we already had 80 round bales of hay when COVID started and two big silos holding eight tonnes each, and Charity's $4300 was enough to fill another silo," Mr Orr said.
"We've had other donations and they've all been tremendous support," he said, adding that the pending drop in JobKeeper "would become an issue" as the shutdown dragged on.
"We've been told we will need to have zero cases before we are allowed to reopen, while the playgrounds are packed with kids," he said. "We are on 60 acres [24 hectares] yet we are not allowed to have anyone.
"We will probably not be allowed to open until Christmas and we've lost the September school holidays. On top of this the shire has closed the foreshore camping grounds so those people aren't there [as a source of customers] either."
Mr Orr is confident the Big Goose, running six years, would survive despite the challenges because people are likely to want to make up for lost time when the shutdown ends. Indicators show a resurgence in similar parks in NSW after restriction eased there.
"We're hanging in there," he said.
That's good news for the hundreds of kids who enjoy getting up close and personal with the huge range of animals living there.
Anyone wanting to help can contribute towards supplies of kangaroo food, guinea pig and rabbit pellets, golden yolk chicken feed, bird seed, oaten chaff, Lucerne chaff and hay.
Visit thebiggoose.com.au for advice on donations.