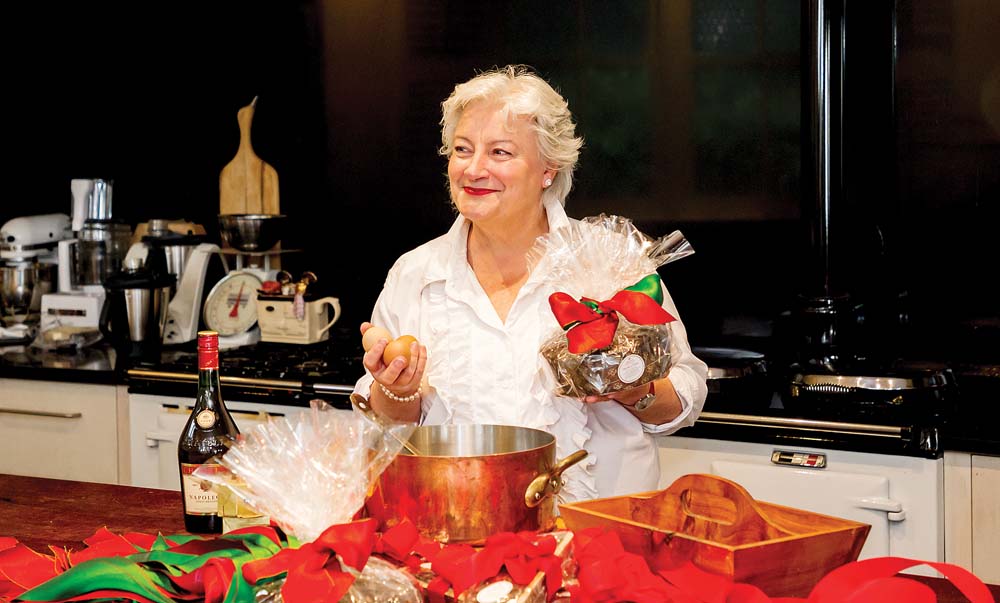 MOUNT Eliza resident Joanne Gunnersen believes Christmas is a time for giving, not receiving, and has seen her bountiful taste treats raise more than $162,000 for the Cancer Council of Victoria over the past 12 years.
The founder of Christmas Cakes for Cancer, Ms Gunnersen has worked diligently to develop Joanne's Handmade Christmas Cakes from baking 200 cakes at her home when she started in 2008 to a high of 10,500 in 2017.
The money goes to fight bladder, pancreatic and kidney and other "insidious and hidden" cancers which, she says, tend to be under funded.
This year, because of dampened demand caused by COVID-19, the number of gift wrapped cakes is more likely to be much lower.
"If I do 2000 I will be over the moon," she said. A trial of shortbreads will add to the tally.
That's still a monumental task for one woman, but help from volunteers, friends, friends of friends, and sports and community groups who come to her home to wrap, load and deliver the taste treats has made Ms Gunnersen's task a little easier but no less rewarding.
While busily cooking the cakes at home in the early days, Ms Gunnersen tripped and fell over, breaking her leg and arm. Frustrated at not being able to stir her big copper pot with its 10 kilograms of cake mix and brandy, she realised she needed to get someone else to do the cooking.
Enter Gen-U in 2010 – which used to be called Karingal – but which is now a Geelong based disability organisation. Professional chefs supervise the cooking process that gives jobs to those with mental and physical disabilities.
"I couldn't get over what they accomplish there," she said. "They are very clever and to see the joy on their faces is wonderful."
Employees at Gen-U call Ms Gunnersen the "Cake Lady" as they bake and wrap and send the cakes off to volunteers in Ms Gunnersen's converted workroom, who finishes them off with the traditional red bow.
Always with a "couple of cakes in the oven" when she's at home, Ms Gunnersen said her grandmother gave her the recipe for a traditional boiled Christmas cake when she was a child. They contain only the best quality ingredients and are packed full of fruit, but these days include a "bit more butter and brandy".
She sources ribbons, cellophane, sticky tape, printing and brochures from peninsula suppliers.
There is no doubting the cakes' popularity as all her corporate customers make repeat orders and this year came her first overseas order, from Los Angeles. A wealthy English couple takes back 40 cakes each year after spending six months in Australia.
The cakes range from a stocking filler (200 gram), at $10, Star (300g) $15, Log (800g) $25 and round (2kg) $60. There is a minimum order of 20 stocking filler cakes.
The dates and locations for cake collections – usually the first few days in December – will not be known until the government releases new restrictions and dates.
"We are planning many scenarios and the front runners at the moment are having various contactless collection points," Ms Gunnersen said.  "Those locations will be published on the website and Instagram as soon as we know them."
Details: email jogunnersen@gmail.com