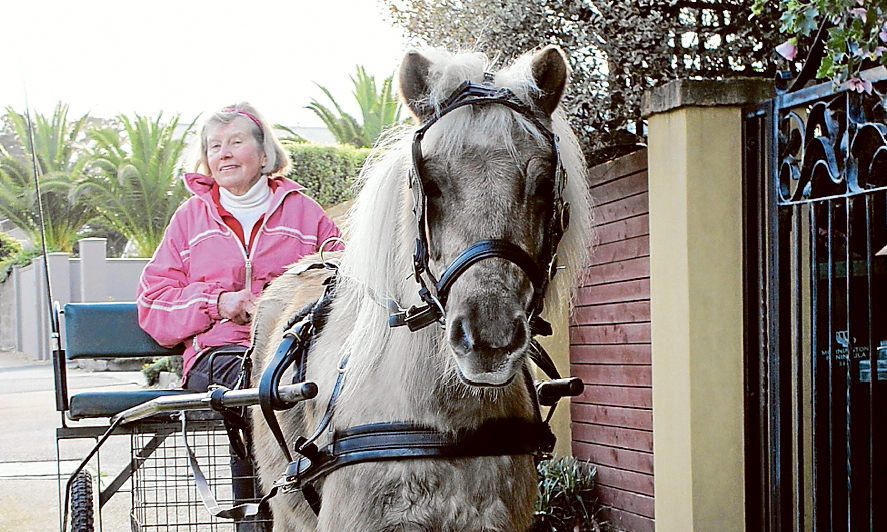 THE days of spotting the small horse pulling a made to measure jinker along Mount Martha streets and footpaths have gone.
Taffy the horse has died.
On vet's orders, his owner, Simone Kelly, had been exercising Taffy by getting him to pull the jinker.
Taffy had become a bit overweight and unfit, grazing with his cow and goat mates in the paddock which forms part of the six-hectare Woodclyffe property off the Esplanade. The vet gave him his marching, or trotting orders, when checked for a hoof complaint.
Ms Kelly and Taffy soon became popular regulars along the Esplanade and nearby streets, especially with children.
"It's amazing how many people stop to chat, especially parents with little children," Ms Kelly told The News in 2015 ("Taking Taffy for a stroll" 20/7/15).
Sadly, it seems horses can sometimes have too much of a good thing. Ms Kelly called last week with the news that Taffy had died of colic, a result of eating too much "rich, spring grass".
The 16-year-old horse had been operated on in vain at a Narre Warren animal hospital.
"I used to limit his time in the paddock and make sure that he also had his proper feed," Ms Kelly said. "It's very sad because he could have lived to twice his age."
Mount Martha-based equine vet John Bowers said colic in horses "equates to abdominal pain or a sore tummy".
"It can be as mild as we have with overeating, such as when horses eat feeds that increase bowel gas. This expands the bowel and produces pain.
"Or it can be severe when the bowel is twisted or severely compromised and can cause death."
Colic is one of the main causes of premature death in horses.