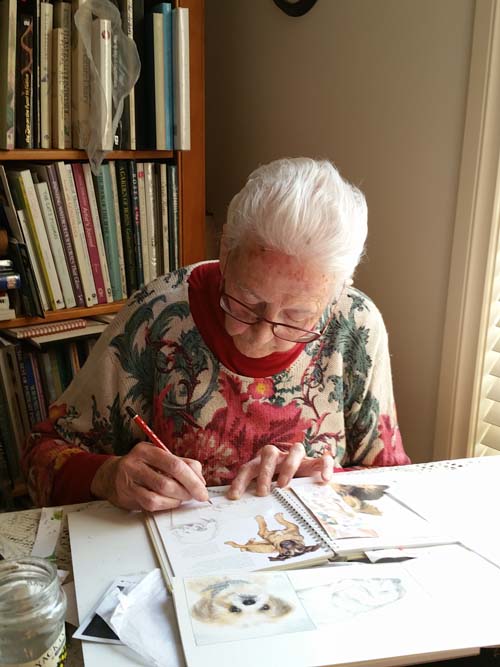 JUNE Alderslade, pictured, is precise in her art. Hours of research and a magnifying glass have always contributed to the realism she achieves in her paintings of insects and birds.
Daughter Linda Mitchell says her mother, now 95, has always painted, with one of her paintings featuring in a Bacchus marsh newspaper when. She was 10.
Ms Alderslade, who has spent half her life on the Mornington Peninsula, worked as a mechanical tracer before the introduction of computers when "everything they traced had to be precise".
"This showed in her art as she always used magnifying glass and often two hairs in her brush," Ms Mitchell said. "Family came first so mum never painted professionally, but always painted her flowers and portraits for the love of painting."
These days the pictures "are smaller but still incredible".
"She complains she can't paint the way she used to. Her portraits are so real," Ms Mitchell said.
A stroke and a broken hip have had little long term effect on the quality of her paintings, mostly created with a mixed media of water colour and pencil.
A resident at Mecwacare Park Hill, Mornington and in lockdown, Ms Alderslade has been known to spend 30 hours researching her subjects before picking up a brush.
"She is mostly self-taught from what she learned from books," Ms Mitchell said.
"Using water colour, pastels and pencil her pictures came to life."
First published in the Southern Peninsula News – 10 November 2020