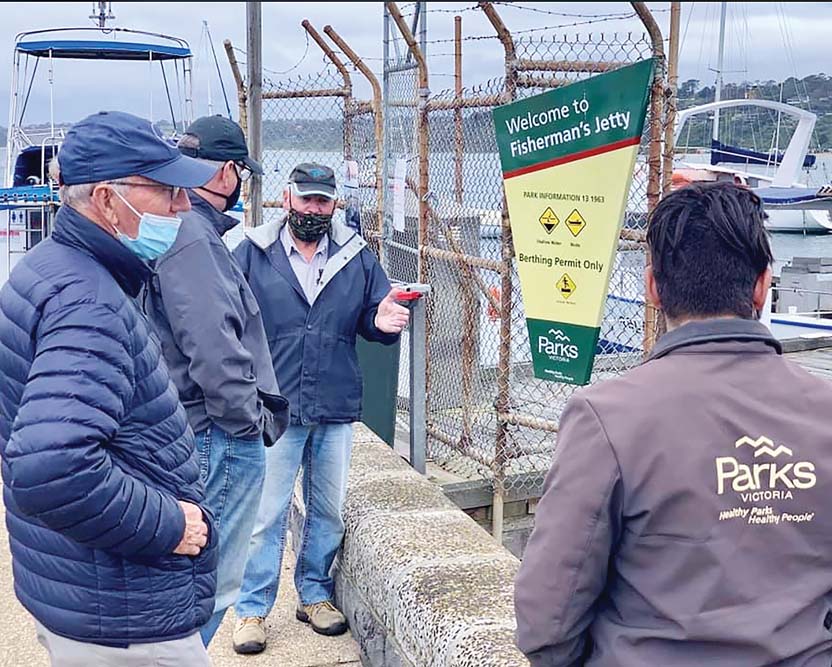 BOAT owners upset at being shut out of Fisherman's jetty in Mornington harbour met as a group on Sunday (15 November) to discuss their future mooring arrangements.
The boaters – members of the Mornington Harbour Association and Mornington Jetty Group – were dumbfounded when told by Parks earlier this month they had only days to move their boats "for safety reasons" despite paying $1000-$1500 annual mooring fees.
The Mornington Harbour Association's Facebook page said Parks Victoria was being "most unreasonable" and described the eviction notice which came into effect on Wednesday 4 November as a "bombshell".
Association representative Robbie Warden said the state government authority had used a "Band-aid approach" to jetty maintenance but was now saying it was unsafe and past the point of no return.
"These past years they have known about the pylons' deterioration but chose to neglect them and just replace the deck boards and paint the posts," he said.
"Now they have condemned their own jetty which we have been paying for. Whatever happened to tenants' rights?"
Parks Victoria district manager, Port Phillip Western Port, Graeme Davis said: "The safety of the public and staff is our priority. As part of our regular maintenance program, [we] undertook a condition assessment on the structural integrity of the jetty.
"The assessment identified structural issues and so the jetty was closed until further notice to ensure public safety."
Parks Victoria said it would "engage further with stakeholders and users of the jetty when determining the function and future of the 30-year-old structure".
Six of the 23 berth-holders have been allowed to continue using the jetty because pylons in their section are not considered dangerous.
Mr Warden said members of the jetty and harbour groups met on Sunday to consider their options. One idea was to run a ship's chain, or section of railway line, along the bottom near the jetty to which they could attach their mooring lines and then paddle out to their boats from the shore. This would mean they wouldn't need to access the jetty, and contractors working on the jetty could simply move the boats when they needed access.
The groups want a written undertaking from Parks – which they believe they were promised – that they will be given first option on berths when the jetty work is completed. This could take up to five years.
"Parks Victoria is not replying to our emails," Mr Warden said.
"What we would really like is a written guarantee that we can stay at or near the jetty until work starts and then we can move our boats."
Both groups are keen to see a copy of the engineer's report assessing the jetty's condition.
First published in the Mornington News – 17 November 2020