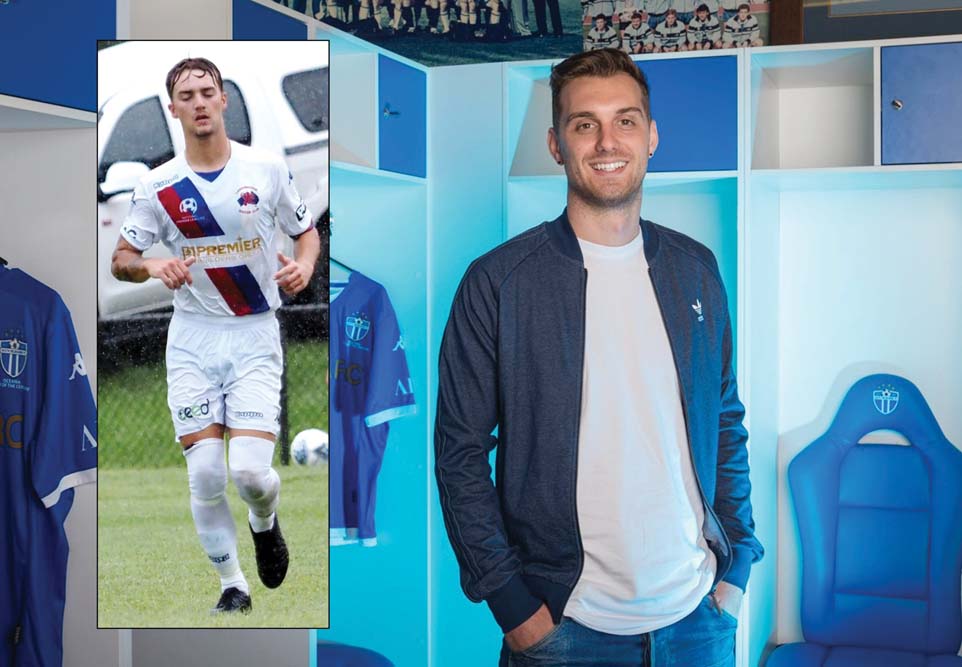 SOCCER
MORNINGTON has clinched the signature of NPL scoring legend Milos Lujic.
The 30-year-old has dominated Golden Boot honours at club and league levels throughout the decade and next year he'll be wearing Seagulls' colours as the Dallas Brooks outfit builds towards an assault on the State 1 South-East championship.
Lujic has a massive profile in Victorian soccer.
Starting with Northcote in 2013 he won his first NPL Golden Boot award then for the next three seasons after his switch to South Melbourne he made that award his own.
He has won NPL championships, an NPL premiership, a Dockerty Cup and a Community Shield as well as a host of individual honours including NPL Player of the Year, NPL Players' Player of the Year and Media Player of the Year.
From 2014 to 2018 he was South Melbourne's top scorer and in 2016 he created a club record for the most league goals in a season (including finals).
In 2019 he played with Oakleigh Cannons and in 2020 he played the opening five matches of the NPL season with Port Melbourne.
His decision to drop down three tiers of competition to join Mornington is likely to surprise many observers but the son of Footscray JUST legend Zdravko Lujic is confident that he has made the right move.
"I wanted away from the whole NPL scene and I wanted to enjoy my last three or four years of senior football," Lujic said.
"I have a few friends at Mornington and they kept telling me what a good family club it is and that's a perfect fit for my life at the moment.
"I'm there to play well, to score and to win but I really want to enjoy my football again."
The timing of Lujic's signing is ideal given that Mornington head coach Adam Jamieson and his coaching staff had talked about revising possible team structure for 2021.
"We've lost a couple of players with Kane Bentley going back to China and Dylan Fairclough's decision to travel," Jamieson said.
"Losing Kane made us think of how we set up and bringing in Milos who is a natural number 9 allows Josh (Hine) to float about up there and do what he is really good at.
"And you've got 'Buzzer' (Wayne Gordon), Matty Harrington and 'Deki' (Dejan Radojicic) up there too."
It is a formidable array of attacking talent and the expectation is that the Dallas Brooks outfit had to dig deep to clinch Lujic's signature.
Not so according to Jamieson.
"Through the middle of the year we had Ryan Paczkowski and a couple of boys from Bentleigh Greens knock on the door and talk to us regarding money and we said 'no, we're not paying that kind of money'.
"Milos was absolutely more than reasonable with what we were wanting to pay to be honest.
"We have not broken any budgets to go and sign Milos Lujic which is great because his goalscoring record is second to none."
How the Lujic-Hine partnership develops could be key to Mornington's title push next year and Lujic is looking forward to linking up with the English striker.
"Obviously I don't know much about the league in general having been involved with the NPL for most of my career but I did hear that Josh is a very good player and I know that Adam has plans for how we might link up," Lujic said.
"I'm a typical number 9 that gets into the box, can hold the ball up and score goals so I'm happy for Josh to work off me and provide a few assists and score goals as well.
"I've played all sorts of systems but usually I've been the 9 so I'm very comfortable with that.
"Look whatever the system is good players can play together so hopefully we'll have a good connection up there.
"I know that Mornington is an ambitious club and wants to get promoted."
Lujic was one of three signings announced by the Seagulls this week.
The others were Luke Goulding from Langwarrin and Campbell Steedman from Bulleen.
Goulding, 20, is a former Dandenong Thunder and Melbourne Victory player who joined Langwarrin for the 2019 season.
Mornington has made a number of attempts to sign him and he's been told by Jamieson that he plans to use him in a central midfield role.
"Joining Mornington was an easy option due to my work commitments and how close it is to home," Goulding said.
"I've been playing mainly on the right but back in my younger years I played centre mid with Thunder and I'm looking forward to getting back into that role and taking control of games and getting on the ball as much as I can.
"I'm just hoping to get as many games under my belt as I can and get as many wins as we can.
"Hopefully we can get that promotion spot (to NPL)."
At Langwarrin Goulding played alongside older brother Callum who remains a mainstay in the Lawton Park squad but at Dallas Brooks he'll link up with teenage brother Ethan who is one of the peninsula's emerging talents.
"I think my parents' wish is that we all play in the same team one day so who knows what can happen in the future?" Luke Goulding said.
Steedman, 19, is a forward and has come through Bulleen's NPL under-18s and under-20s programs.
"Campbell's a super-quick boy and one that we really wanted," Jamieson said.
"He's from the Mount Eliza-Mornington local area and we asked ourselves why are these boys travelling all the way to Bulleen and not playing first team football.
"Both Campbell and Luke fit into the new culture we've created at the football club as we now have nine players out of the current 18 in our squad who are 21 years or under."
Last weekend Mornington officially confirmed its senior coaching panel for 2021 with Jamieson as head coach and Nathan Peel assistant coach.
Andy Martyn is goalkeeping coach, Marty Ashton strength and conditioning and David Waring is team manager.
Jamieson plans to return to training on Thursday 26 November pending council approval and hopefully a further easing of pandemic restrictions to allow contact training.
First published in the Mornington News – 17 November 2020