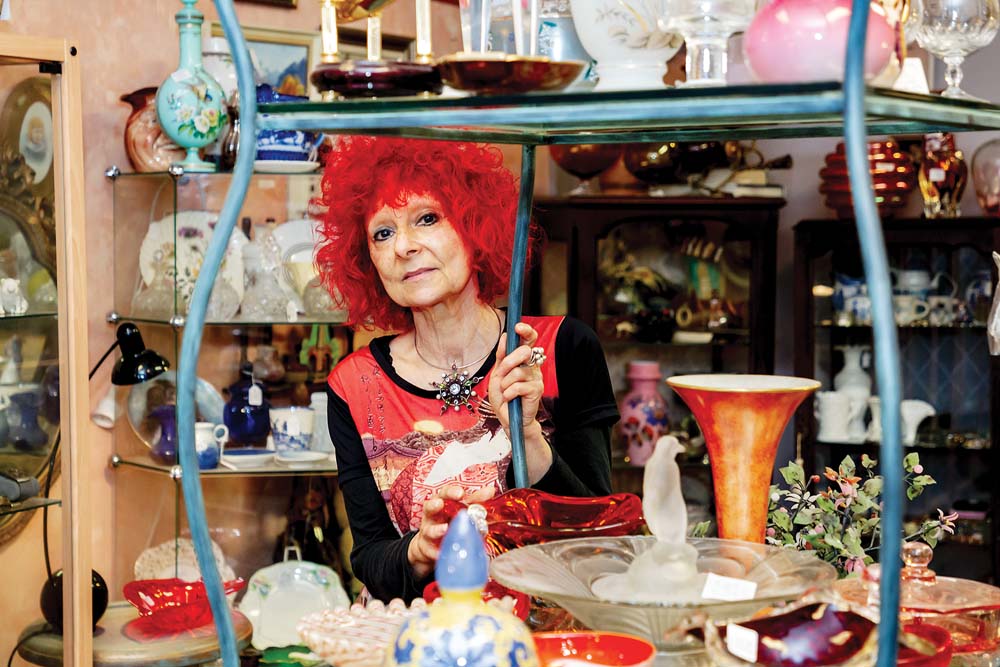 ANTIQUES and collectibles have been a feature of Susanna Sandler-Mead's life for so long that it took a while for her to remember when they first took her fancy.
The recollection of buying a Shelley vase at a church fete at Kew as an eight-year-old takes her back to the wellspring of her career.
"It was yellow and black – my first piece of china and I still remember it well," Sandler-Mead says. "I was from an artistic family and was always interested in art and antiques and was intrigued by the beauty of artistic things.
"I have been collecting since then."
While that was the beginning of a lifetime's interest in the field, Ms Sandler-Mead is now looking at the finish as she prepares to close Mead's Antiques and Collectibles at the Clock Tower Arcade, Mount Martha.
She and Philip, her late husband and business partner, sold eclectic art glass, retro, ceramics, jewellery, figurines, memorabilia, porcelain, pottery, kitchen collectibles, and vintage clothing to their "wonderful friends and clients" for 21 years.
Theirs was a meeting of like minds. "Philip was interested in art, music, antiques and collectibles too," she said. "We both enjoyed helping people get something beautiful into their lives."
Friend Clare Harwood added: "Susanna and Philip were well known to many on the Mornington Peninsula and much loved by people in Mount Martha.
"Philip was irreverent and lots of fun and people were truly shocked at his sudden death in June last year.
"He was considered by many to be an 'ico' of the area. Locals often chatted with him and loved his quirky sense of humour. Always by his side was their beloved poodle Jasper.
"The [closure of the shop] is sad and emotional for Susanna and will most certainly be sad for the residents of Mount Martha and the surrounding peninsula."
As Mornington Shire councillor in the early 1980s, Ms Sandler-Mead was on the committee which set up the Mornington Peninsula Regional Gallery, in Dunns Road. "I was part of a group on the council at that time which felt we achieved a lot for the community," she said.
Other committee members were Betty Meagher, inaugural gallery director Alan McCulloch, Vin Kennedy, David Collings and Tom Hast.
Reflecting on her shop's closure, Ms Sandler-Mead said she would "miss all the wonderful people, many friends who would come to the shop, often just to talk about life and, especially, politics".
"Philip called me 'the ear' because I spent so much time listening to my customers and friends."
There's no time limit to antiques, she said. "You can go back forever. I'm currently reading a book on the History of Prague set in the 1300s and they were talking about antiques then."
She laments that much of their appeal is lost on the young. "Interest has waned," she admitted. "Nowadays they buy everything off the internet."
After closing the shop Ms Sandler-Mead said she was looking forward to spending more time in her "other life" as an artist. During the pandemic she completed enough work for an exhibition but is not sure where, or when, it will be held.
Antiques and collectibles' enthusiasts will no doubt flock to her clearance sale which will include many treasures from her own collection.
Mead's Antiques @ Collectibles is open Fridays and Saturdays, 12.30-3.30pm.
First published in the Southern Peninsula News – 17 November 2020