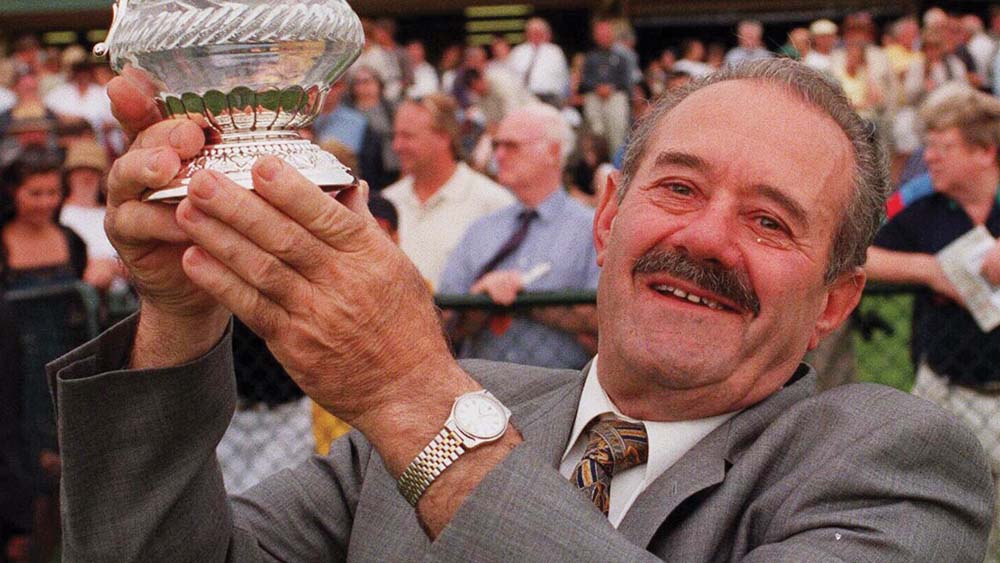 HORSE RACING
CHAMPION Mornington-based racehorse trainer Jim Marconi passed away last Monday 23 November aged 87.
Leaving behind a remarkable legacy, Marconi swiftly moved from a late-blooming picnic trainer in his mid-40s in 1978 to becoming a multiple Group One winning professional owner/trainer over the next two decades with the feats of Cossack Prince, Rancho Ruler and King Marauding to name a few.
But, it wasn't just racing that Marconi succeeded at. Despite setbacks throughout his life, he always found a way to turn it into an opportunity.
Before immigrating to Australia in his mid-20s, Marconi found a way to overcome poverty and suffering as a child in Italy as war broke loose and Mussolini's Italy became occupied by the Germans.
Listening to the stories from Jim's son, Carlo Marconi, he said his father would talk about the day's when kids would find themselves in possession of vast caches of explosives and weapons as the fighting worsened.
"[Jim] would even sneak through the woods to provide food for a boy who was being chased by the German's for graffitiing one of their occupied buildings," Carlo said.
At the age of 13, Jim began working alongside his uncle to build transmission towers, and by the age of 23, he had made a small fortune to be able to move to Australia and start a new life.
Arriving in Australia penniless, Jim secured work as a builder in South Australia and occasionally joined workmates at the races where he began to gain a liking for the sport.
Changing hands and becoming a tiler, Jim created his second fortune with the importation of tonnes of black marble from Italy and later sold his company, Marble Tiles, for big money. This allowed him to indulge in his newest passion, owning racehorses.
Accompanying Hall of Fame trainer George Hanlon to a New Zealand yearling sale, Jim picked out a yearling for $13,500 who would later become Tara's Bulba. Owned by Jim, Tara's Bulba went on to win the 1974 AJC Derby and the Rosehill Guineas as well as finishing second in the Cox Plate, WATC Derby and Perth Cup.
Not long after and Jim's passion grew from owning to wanting to train the racehorses himself.
Marconi, who set up a farm in Baxter called Tara's Lodge – named after Tara's Bulba – started out his training career on the picnic circuit in 1978. Within five months, Marconi had trained eight winners from 11 starters thanks mainly to the deeds of Fiddledee, who won the 1978 Balnarring Cup with apprentice jockey Ray Douglas aboard.
With his rapid success, Marconi was awarded an owner/trainers licence and soon notched up his first city winner in July of 1979 with Tara's Regent, a horse who was returning from a bowed tendon. Aquatorial secured Marconi's first stakes win in the Victoria Handicap in 1981 before his first star galloper, Cossack Prince, made his stamp on the racetrack.
Carlo said "it wasn't what [Cossack Prince] won, it was what he didn't win that made him so special", having placed many times at the elite level.
Carrying Marconi's red, white and green silks, Cossack Prince finished second in the Caulfield Cup, Underwood Stakes and Caulfield Stakes of 1983. He won the Group Two Peter Pan Stakes and Hill Stakes in Sydney of 1982, defeating the 'Sydney Champion' Kingston Town in the latter.
Marconi's fame was further enhanced with the gifted Rancho Ruler who won the Group One Marlboro Cup, now known as the Sir Rupert Clarke Stakes, in 1988. He won the Maribyrnong Plate as a two-year-old, as well as the Chirnside, Manikato and Memsie Stakes at Group Two level later in his career. The Manikato and Memsie now carry Group One status.
On top of winning another three races in his 29-start career, Rancho Ruler placed multiple times at the elite level. He finished second to Midnight Fever in the 1987 Blue Diamond Stakes before placing in the Oakleigh Plate, Lightning Stakes and Futurity Stakes as a three-year-old.
Marconi secured another Group One win with King Marauding in the 1992 Manikato Stakes. He also won the VRC Sires' Produce Stakes with the colt earlier in the year before backing it up a year later with the Rancho Ruler-sired Pride Of Rancho in 1993.
Jim Marconi's daughter, Fiona, put it brilliantly in a tribute to her father on Tuesday posting that "whilst having many professional successes, [Jim Marconi's] greatest achievement was his family, who truly adored him".
"Dad lived an enormous life filled with an abundance of love, laughter, dedication and passion. He could be both fiery and tenacious and kind and loving," she wrote. "We are so fortunate to have had so much time with him. He will be desperately missed."
Jim Marconi held a trainer's licence until 2011 and spent his last days in an incredible home overlooking the Mornington Harbour, a testament to his hard work throughout his life.