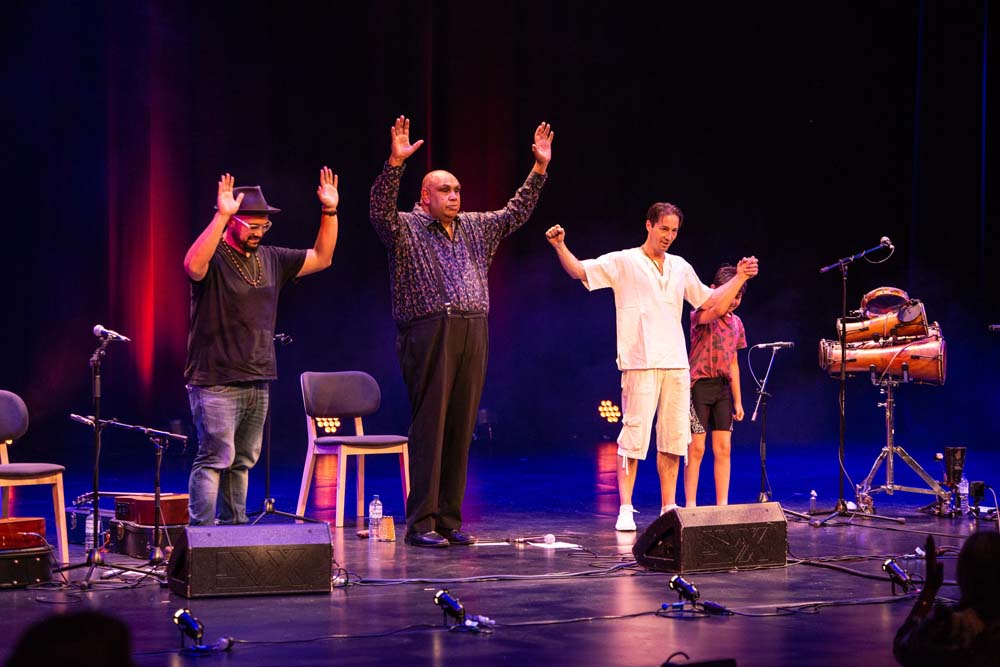 FRANKSTON Arts Centre welcomed back its first live audience in 258 days on Saturday 28 November for a musical performance of Spirit Lines: A Musical Reconciliation.
Frankston City Manager Arts and Culture Andrew Moon said it was fantastic to welcome an audience of close to 100 invited guests as Centre staff trialled new COVID-safe practices.
"The guests were socially distanced throughout the 800 seat theatre. Other safety measures included all audience members wearing masks, regular cleaning of touch points and new layout of the foyer space to improve traffic flow and encourage physical distancing," he said.
Originally programmed as part of the 2020 Theatre season and re-scheduled twice, Spirit Lines: A Musical Reconciliation embarks on the journey of harmony and reconciliation. Joining the musical energies of Indigenous Australian singer Uncle Kutcha Edwards, three-time Latin Grammy guitarist Daniel Jauregui and Anglo-Brazilian percussionist and scholar Adrian Hearn, it was a fusion of traditions.
Regular theatregoers Colin and Myrtle Hughes said the reopening of Frankston Arts Centre had brought them great joy.
"Thank you so much for opening the theatre and your hearts to us. It was glorious to be back among you all and the show was very special. We just loved Uncle Kutcha's rich voice, Daniel's delicate guitar playing and Adrian's sensitive percussion."
Spirit Lines was filmed on the night and will be made available on the FAC YouTube and Facebook channels from 7pm on Sunday 6 December. It's free to view online, but if patrons can support by buying a ticket it would be appreciated.
Frankston Arts Centre will host a Christmas Variety Special on Thursday 10 December at 1.30pm starring musical theatre star Michael Cormick.
There are many shows scheduled for 2021, however, most will not open for ticket sales until six weeks prior to ensure that the venue complies with the latest capacity restrictions.
Patrons are encouraged to join a waiting list for particular events on the FAC website to be the first to know about ticket sales.
Frankston Art Centre Box Office and main foyer are open for reduced hours Monday to Friday, 11am to 4pm.
For more information, visit thefac.com.au or phone 9784 1060.