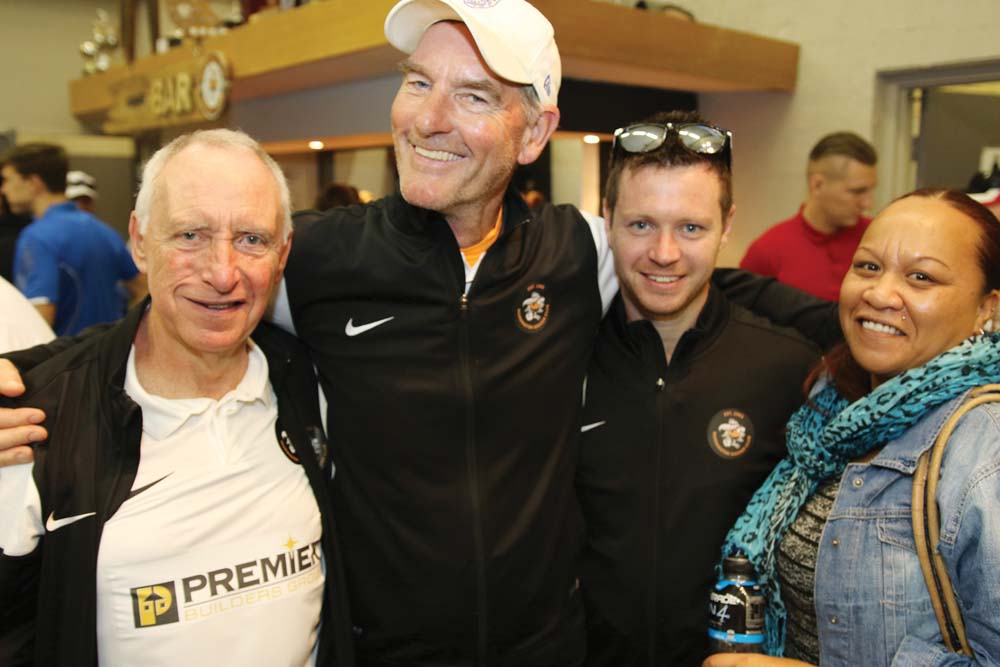 SOCCER
MORNINGTON will celebrate the life of long-serving team manager Tony McKay on Friday when it takes on Manningham United Blues at Dallas Brooks Park.
McKay was 77 when he died at the Alfred Hospital on Sunday 15 March after collapsing a week earlier prior to a practice match against Caroline Springs George Cross.
Friday's commemorative event starts at 6.30pm and the Tony McKay memorial will be unveiled at 6.45pm.
The match kicks off at 7.30pm and Mornington's facebook page last week invited the family and friends of the much-loved figure and the local football community to attend.
"Tony would have loved nothing more than to have all his family, his many friends and football family getting together to enjoy and celebrate his life and we can finally do this appropriately now that restrictions have been lifted," the club said.
"We have all been cooped up for too long and we finally have an opportunity to re-connect with each other over football, so please share the word … and come on down to Dallas Brooks Park … for a football celebration."
There will be an outdoor bar and BBQ as well as other fundraising activities.
Proceeds from the evening will go to the Tony McKay Foundation which was established to support families of young players who find the cost of funding their children's involvement in the sport prohibitive.
"We are in the process of setting up a website and families will be able to apply for assistance," club president Matt Cameron said.
"It couldn't come at a more appropriate time given the situation with COVID and a lot of parents doing it tough and not working.
"The foundation will be separate from the club committee and will be run by people directly linked to Tony."
In NPL2 news while welcoming star goalkeeper Fraser Maclaren back to the fold Langwarrin also has had departures from its senior squad.
As previously reported Luke Goulding has joined Mornington and goalkeeper James Burgess is now at South Melbourne.
Midfielder Jordan Avraham has left Langy and is training at former club Frankston Pines, flying winger Delarno Pharoe is now at Dandenong City while defender Reese Cox has returned to New Zealand.
Defender Alex Van Heerwarden had been training with Strikers as he weighed up his options but a training mishap two Saturdays back has had devastating consequences.
Scans last week confirmed an ACL tear which will sideline him for the 2021 season.
It's a hammer blow for Van Heerwarden who now faces a second knee reconstruction.
In State 2 news Scott Morrison has stepped down from his role as assistant coach of Peninsula Strikers for family reasons.
"The year off helped me realise how much time I was missing with my boys," Morrison said.
"Archie's going to be playing closer to lunchtime which will make it a bit more difficult for me and Ollie will start doing his own little sports stuff.
"Work is ridiculously busy as well."
Donn Delaney will become head coach Paul Williams' assistant and the club is looking for a reserves coach to fill the role vacated by Delaney.
Skye United continues its efforts to secure a decent venue that can accommodate its growing needs.
An audit of other local clubs in the Frankston council area reveals that Skye has the worst team to ground ratio in the municipality (12.5) having just two grounds at Skye Recreation Reserve and 25 teams.
And Skye is a co-tenant at its home ground so it only has use of the two pitches from April to September.
During the season Skye is forced to stagger training throughout the week and the senior men's and women's sides often have to wait for another group's session to end before their session can begin.
It's a challenging situation for the progressive club to be in given that its senior men have won promotion to State 2 and its senior women are the only women's State 1 outfit in the entire peninsula.
The women's program will enter the 2021 season aiming to clinch promotion to the women's Victorian Premier League.
Skye's attempts to arrange a pre-season venue have become an annual battle.
The club is understood to have approached council having identified nine potential venues that could be used before Skye Recreation Reserve becomes available.
Skye believes that some of these venues are used by cricket on weekends for spillover purposes and are not used throughout the week.
The club also has asked council to allow it to use the Wedge Road multipurpose facility on Wednesday nights until late March.
In State 3 news while Frankston Pines' players are champing at the bit to face Doveton in a friendly at Monterey Reserve on Thursday night at 7pm the club also is looking forward to hosting Melbourne Victory's local communities weekly football program which starts today (Tuesday) and runs from 4pm to 6pm.
The program is targeted at primary school children however juniors of all ages are welcome.
In State 4 news Chelsea could lose attacking midfielder Nate Giabardo next season.
Chelsea head coach Carlo Melino was waiting on Giabardo's decision on which sport to pursue.
"Nate has taken up jujitsu and if he chooses to do it on a serious level then he won't play football next year which will be a big loss as he was our MVP and Golden Boot winner in our 2018 championship season," Melino said.
The club also expects to see Lachlan Davies back in action by round 3 or 4 next season after recovering from ACL surgery.
Davies was injured during the 2020 pre-season.
In State 5 news Aspendale Stingrays' president Derrick Berends announced on the club's facebook page last week that membership fees for 2021 had been capped for the fourth straight year.
Fees for Minroos (under-6 to under-11) are $290 per player while under-12 to under-20 fees are $350.
Stingrays senior coach Lee Barber looks set to sign 30-year-old striker Ugur Erdem from Tullamarine.
"We are excited by his goalscoring abilities, his size and the wealth of experience he can share with the younger players," Barber said.
Mount Martha announced last week that Rhys Piper was the club's new president replacing Dean Whitehead who had stepped down.
Piper has been a Mount Martha resident since 2007 and joined the local club in 2017 when he started coaching his sons' teams.
He played in Wollongong and Canberra prior to moving to Mount Martha.
In other news Football Federation Australia announced last week that it had struck a three-year partnership agreement with Priceline to support women's and youth soccer in Australia.
FFA and Priceline will co-develop sponsorship toolkits that will encourage Priceline's franchise network to support local football clubs and associations.
The national body also announced that it is currently transitioning to the new company name Football Australia after this change was approved at FFA's AGM late last month.