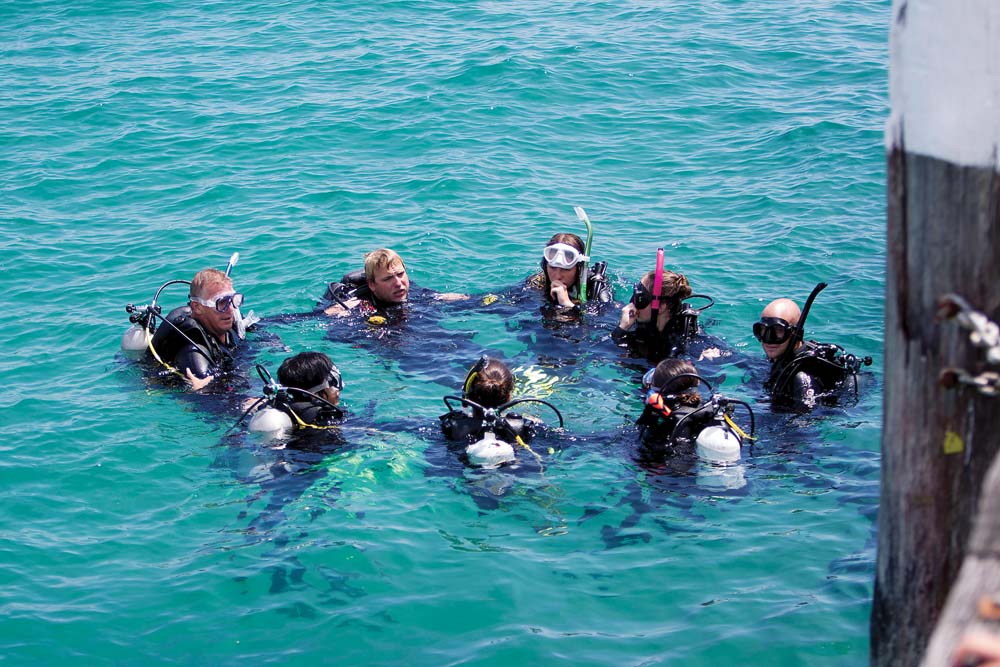 ASPECTS of the proposed Rye Foreshore Plan are so detrimental to divers that would likely go elsewhere, a dive shop owner says.
More than 1000 objectors have signed the Rye pier Access-Under-Immediate-Threat petition indicating their dislike of proposed changes by Mornington Peninsula Shire Council, especially towards removing car parking near the pier.
Lloyd Borrett, who owns the Scuba Doctor Dive Shop, said even enthusiastic participants would be reluctant to dive at Rye pier were the proposed changes to go ahead. "This would be a real shame given the resources Parks Victoria has invested in providing a world-class diver entry-and-exit point out towards the end of the pier," Mr Borrett said.
"The dive industry [has] indicated how the proposed changes would transform Rye pier from being the go-to location for diver training into a place to avoid.
"Adding extra distance to the already very long walk out would be a game changer."
The petition – presented at the 23 November council meeting – requested the shire "conduct further consultation" with divers, snorkelers, swimmers, fishers and sightseers, and that a revised plan "take into account the needs of the community and that the revised plans be made available for public consultation".
The petitioners are concerned no extra car parking spaces are included in the plan and that the car parking area is far from the pier. This discriminates against those who are less physically capable, wheelchair users and other disabled people, they say.
The shire's urban designer James Bryan said "submissions were being reviewed and that adjustments would be made based on feedback received".
"While not all requests … will be able to be accommodated, council has heard the concerns from the scuba community and how the current proposal could be improved to assist with the usability by scuba divers," he said.
"Council must factor in all user groups when making adjustments to the plan."
Reconfiguring car parks in a linear design along Point Nepean Road was to create large, connected areas of unencumbered public open space and plenty of pedestrian spaces, Mr Bryan said. "One of the key drivers for the Rye Township Plan and this foreshore revitalisation project is to improve the pedestrian amenity and open space areas of the foreshore.
"At present, carparks dissect the foreshore in multiple areas and (along with building, infrastructure and camping) have slowly eroded the usability of the foreshore and the larger areas of contiguous green space."
Mr Borrett said during a meeting with planners the dive industry had indicated "they would simply be forced to go elsewhere" if aspects of the plan were implemented.
"The dive industry is concerned about the negative impact [the plan] would have on Rye shops and cafes," he said.
Mr Bryan said:  "We are currently reviewing the layout of the car parks near the pier … and we have also had an access consultant review the plan from an all-abilities perspective.
"We are also looking at how we can accommodate the other recommendations within the petition, such as a 'changing facility', all-abilities access and amenity block upgrades."
First published in the Southern Peninsula News – 15 December 2020