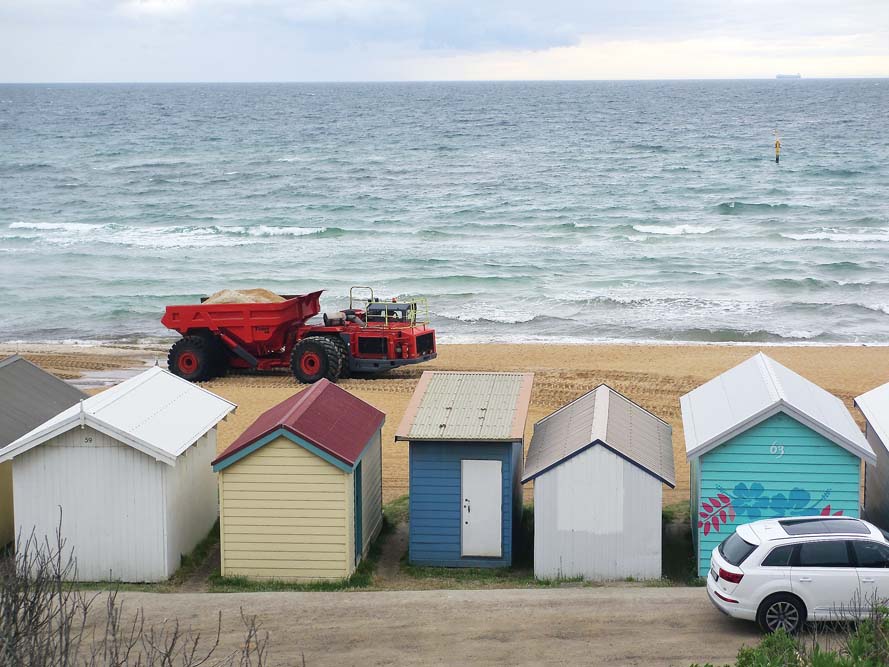 BEACH box owners at Mount Martha North Beach have missed out on what was planned as a sand-filled beach Christmas present courtesy of the federal government.
Plans to move 10,000 cubic metres of sand from Mount Martha Beach South were abandoned on Thursday 3 December following concerns for public safety.
WorkSafe Victoria wanted the beach closed while earth moving equipment was being used to shift the sand, but the Department of Land, Water and Planning said it had no intention "to fully close Mount Martha Beach to complete works during summer nor at any other time of year".
Storms also delayed work and the earth moving contractor had other work commitments.
The work was being carried out by the state government with $1.5 million from the federal government, an election promise by Flinders MP Greg Hunt.
A similar bid to "renourish" Mount Martha North with 12,000 cubic metres of sand in 2010 was all but washed away within three years.
Experts hired by the state government have stated that building a rock groyne to protect the beach would cause adverse effects elsewhere.
However, both Mr Hunt and the Mt Martha Beach Group Committee want the money spent on providing sand and building a rock groyne in the water that they claim will retain the trucked-in sand. The group has told Energy, Environment and Climate Change Minister Lily D'Ambrosio that sand could be imported to neighbouring Hawker Beach ("on an as required basis") if it further deteriorated as a result of the groyne.
Meanwhile, cracks have again appeared in the bitumen along the Esplanade between Balcombe Creek and Alice Street, apparently as a result of the eroding cliff.
The DELWP has hired consultants Water Technology to investigate future beach renourishment works at Mount Martha North, focussing on using sand dredged from offshore.
"DELWP is aware that some in the community believe that construction of hard structures, particularly groynes, are the right solution at Mount Martha North Beach," the department stated in its December "Stakeholder Update" newsletter.
"However, the advice from a series of expert studies is that such engineering solutions are not appropriate at this particular location because of significant adverse impacts they would cause along the adjacent coast, and because they would not be effective in keeping sand on the beach in the long-term."