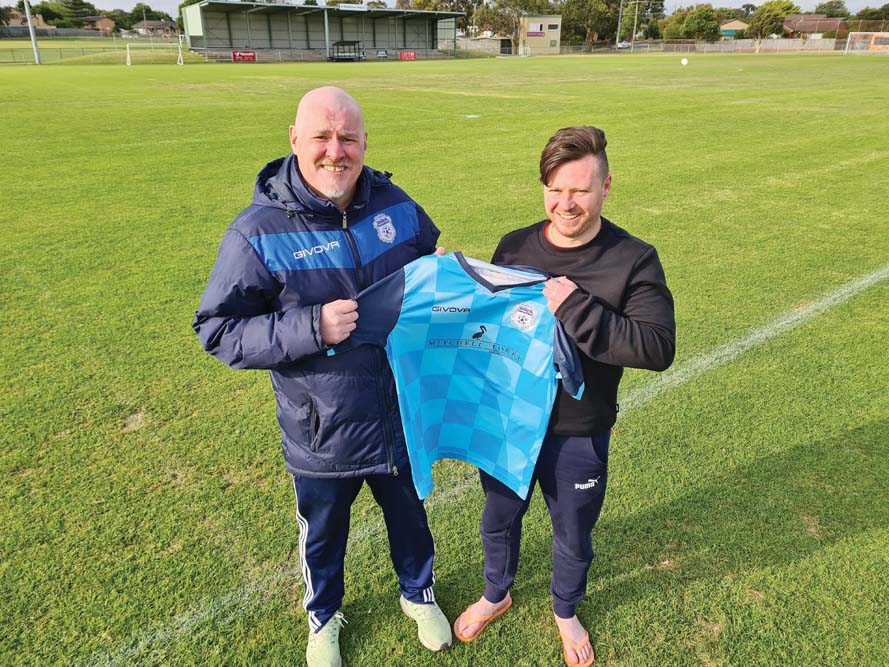 SOCCER
FIFTEEN years after his last game for Frankston Pines veteran midfielder Scott Webster has returned to Monterey Reserve.
He last played in Pines' 3-3 home draw with Fawkner-Whittlesea in the final round of the 2005 league season.
Webster's impressive CV also includes stints at Eastern Pride, Oakleigh Cannons, Dandenong Thunder, Morwell Pegasus, Casey Comets, Mornington, Doveton and Seaford United.
His sole appearance for Seaford came in an FFA Cup tie against Brunswick Zebras last March which saw Seaford win 7-6 on penalties.
The 38-year-old adds much needed experience to the Pines' midfield and looks certain to sit in front of the defensive line in what looms as one of the better midfields in State 3.
"I want to use pre-season to get as fit as I can and I really want to try and get promotion with Pines," Webster said.
"I'm looking forward to playing under 'Squizzy' (head coach Kevin Taylor).
"He likes a laugh and he can be serious too which fits in well with me."
Pines lost 3-1 to Doveton's under-21s last Thursday night at Monterey Reserve with Logan Crouch, Keegan Myatt and Sam Maggs giving the Doves a three-goal lead before Lachie McMinimee hit back for Pines.
The home side featured a couple of trialists and one was former Langy and Hampton Park United attacking midfielder Ahmad "Sosa" Suleiman.
Pines have kept the other triallist under the radar so far but it's Alirezah Alizadeh who played on the left wing.
"Ali" played for Bollnäs in Sweden in 2019.
Former Langwarrin and Phillip Island player Max Boulton has trained with Pines as he makes steady progress in his comeback from an ACL injury incurred during the 2019 pre-season when training with Casey Comets.
The 23-year-old has not played since.
This Saturday (19 December) Monterey Reserve will host a clash between a Mauritius Select and a Fiji Select which kicks off at 3pm.
Bar and canteen facilities will be available and a number of internationals will take part.
Pines' pre-season match schedule resumes on Saturday 16 January when it takes on Bunyip District at the multipurpose sports facility at Wedge Road in Carrum Downs (times to be confirmed).
In NPL2 news Langwarrin announced on facebook late last week that it had signed Vojo Milojevic from Springvale White Eagles.
Milojevic, 25, is a former Avondale winger who usually operates on the right.
"Langy's a great club with a lot of great people around the place," Milojevic said.
"There's a lot of talent in the playing group and they're a good group of boys.
"Obviously winning the league is the aim but on a personal level I just want to give my best week-in week-out and be consistent with my performances."
And followers of English League One may be interested to know that two former Langwarrin players could go head to head on Sunday at 2am (AEST).
Matt Millar should be in Shrewsbury Town's matchday squad while Socceroo Bailey Wright is expected to be in the Sunderland line-up.
Shrewsbury hosts the Black Cats at New Meadow with the home side involved in a basement battle while the visitors are pushing for a play-off spot.
In State 4 news Peter Schwellinger is the new senior coach of Seaford United.
The club recently announced that Schwellinger and Matt Morris-Thomas would be joint senior coaches but Morris-Thomas has stepped down due to work commitments.
Schwellinger has coached at Frankston Pines, Old Carey, Melton Phoenix and Whittlesea United.
In 2017 he guided Whittlesea to a runner-up spot in State 3 North-West and the following year he led the club to the State 2 North-West title.
He didn't coach in 2019 but his hunger for success hasn't diminished.
"With the facilities and the players we have at Seaford if we can get a few additions I want to go for promotion," Schwellinger said.
"The players we already have should make us a top four team so I'm working on new players now so we can finish in the top two and maybe get promotion.
"I think State 4 is one of the hardest leagues to get out of as only the top team is automatically promoted and the second team is in a play-off."
Morris-Thomas told Schwellinger of his decision to step down last Tuesday and it came as a surprise.
"I initially signed on just to help Matt as I live in Pascoe Vale and work in Truganina so it can take me a couple of hours to get to training but I have taken the job on now so we will do what we can do.
"I love Matt as a player and I've told him that I want him to play. He's an outstanding player.
"And I want to help this club because it's a great club with such great people."
Schwellinger has reached out to former senior assistant and club legend Andy Lancaster asking him to become his assistant and is waiting for his response.
On the playing front he already has attracted ex-Waverley Wanderers, Peninsula Strikers, Doveton and Heatherton United striker Aziz Bayeh to training as well as Rosebud striker Blake Hicks.
"I used to coach Aziz in the Super League in the juniors with Dingley and I've also coached Blake in the past as well.
"Blake may bring down his brother and Hayden is a good goalkeeper and we need two good goalkeepers."
Meanwhile State 4 rival Chelsea has arranged four pre-season games starting in January.
Chelsea takes on Aspendale Stingrays on Saturday 30 January at Browns Reserve, Pakenham United on Saturday 6 February at IYU Recreation Reserve, Casey Panthers on Saturday 13 February at Prospect Hill Reserve and Lyndale United on Saturday 20 February at Lyndale Secondary College.
Both reserves and senior matches have been arranged with 1pm and 3pm kick-offs but these times are subject to change depending on weather conditions.
In State 5 news Aspendale Stingrays have arranged friendlies for January and early February.
Senior coach Lee Barber confirmed that his club will play Noble Park United on Thursday 21 January at 7pm (venue to be confirmed), Peninsula Strikers on Saturday 23 January at Centenary Park (reserves and seniors, times to be announced), Chelsea on Saturday 30 January (see State 4 news above) and Ringwood City on Saturday 6 February at Jubilee Park (reserves and seniors, times to be announced).