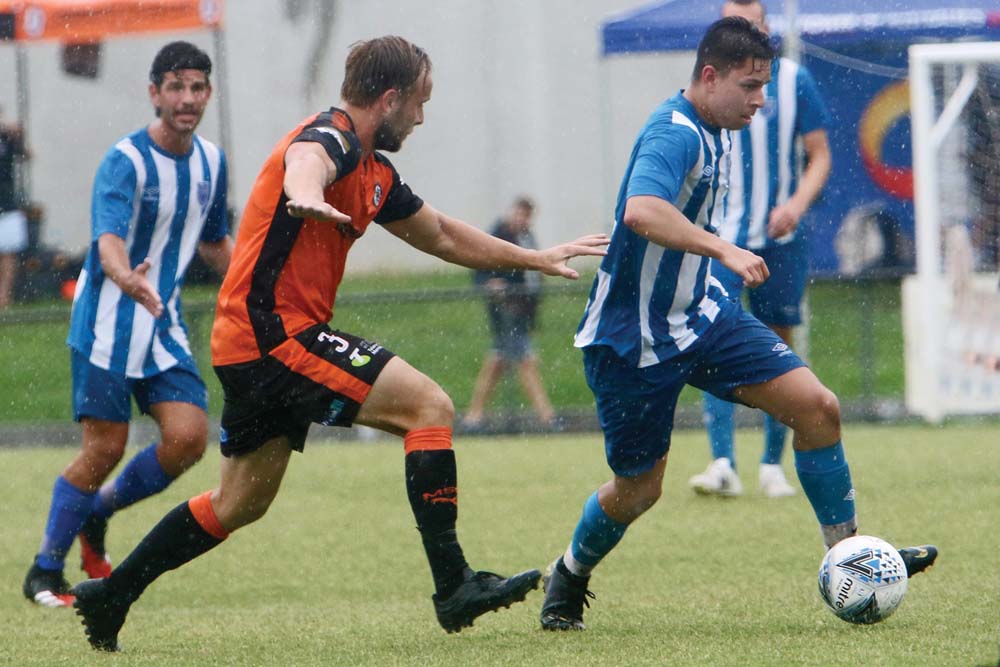 SOCCER
MONTEREY Reserve will be the venue for the ninth staging of the Wallace Cup on Saturday 6 February.
Somerville Eagles and Mount Eliza make their tournament debuts and will be placed in two groups of five.
The other contestants are Langwarrin, Mornington, Peninsula Strikers, Frankston Pines, Skye United, Baxter, Seaford United and Rosebud.
The annual charity event kicks off at 12 noon with the top two teams after the round-robin stage qualifying for the semi-finals.
The four semi-finalists will be drawn from a hat to determine the matches for the tournament's penultimate stage and the kick-off for the final is scheduled for 5.15pm.
The event is a celebration of the local game and honours Stephen William Wallace, Langwarrin life-member and former club president, committeeman, coach, player and Bayside League referee who died on 19 July 2011 at the age of 54.
Langwarrin president Tanya Wallace is the event organiser and is keen to further develop the day that honours her father's contribution to local soccer.
"I think getting two new entrants from our area is a positive and hopefully going forward we can include all the clubs in our area," she said.
On the club front Wallace announced that Langwarrin has slashed its NPL underage player fees by $400 to $1800 for the 2021 season.
"I think we needed to acknowledge the COVID situation and the impact it has had on families financially," she added.
"Our program is now well established and we have a great bunch of coaches and a technical director (Gus Macleod) who is committed to player development.
"We want to prove to players and families that there is a senior pathway and we have already promoted players from our under-21s to our seniors and we want to continue doing that.
"The great thing throughout our entire NPL program was our ability to retain the majority of Langwarrin players who were given first preference for squad places rather than immediately looking externally."
Langwarrin has also established a scholarship scheme for its NPL under-17s.
"It's a tough age group as there are players wanting to play senior football and there often are study requirements as well so the demands of training and playing are high but we're delighted to have secured Premier Builders Group to offer financial support for those that find the costs of participation prohibitive."
The club also recently received confirmation from council that the $500,000 lighting upgrade at Lawton Park will provide the main pitch and the top pitch next to the two new entrances with 200-lux NPL-standard floodlights.
The project is scheduled for completion by the end of next March.
As we went to press we received news that Langy's second string keeper Colby Jones had signed with State 1 outfit Beaumaris.
The 19-year-old felt that opportunities at Langy were limited after the return of Fraser Maclaren so he has headed in the opposite direction and joined Maclaren's old club.
In State 2 news Peninsula Strikers have confirmed some pre-season friendlies (1pm and 3pm unless noted):
Saturday 16 January v Noble Park Utd (Centenary Park), Saturday 23 January v Aspendale Stingrays (Centenary Park), Thursday 28 January v Frankston Pines (seniors Monterey Reserve 7.30pm, reserves Centenary Park 7.30pm), Saturday 13 February v Dandenong South (Centenary Park), Saturday 20 February v South Springvale (Centenary Park), Saturday 27 February v Doveton (Crinigan Road Reserve, Morwell 1pm), Saturday 6 March v Keilor Park (Centenary Park).
The February clash with Doveton is part of Fortuna 60s Friendly Games and it gives Paul Williams' side a great opportunity to test itself against an opponent preparing for its maiden NPL3 season.
In State 5 news there has been a changing of the guard at Rosebud with Melissa Osorio stepping down and John Grbac taking over as club president.
"This year I decided to stand down as president after three fantastic years due to a health condition," Osorio said.
"In those three years myself and our wonderful committee have accomplished so much.
"I want to thank everyone for their support over the years – parents, players, past players, Greg (Hurvitz) from Football Victoria, Mornington Peninsula Shire council and of course my husband Rob (club vice-president) and kids.
"I'm confident that John, Rob and the new committee will continue to do fantastic work for our club."
There may also be a coaching change at Rosebud as both Scott Morrison and Mark Pagliarulo were sounded out recently regarding the senior coaching role currently filled by Pat Sabatino who did not respond when invited to comment.
Morrison recently stepped down from his senior assistant's role with Peninsula Strikers and his connection with Rosebud dates back to 1994 when watching his father Jim playing.
He's a former Rosebud player and coach however he shunned the club's overtures and "Pags" did likewise.
The veteran Scottish striker informed the club of his decision on Sunday morning and is undecided whether or not to stay there as a player.
"Who knows where I'll end up next season but I'll play somewhere," he said.
"The committee have amazing plans for the club and the new president, vice president and treasurer were brilliant with me but my personal and work commitments are my focus and I wouldn't have been able to fully commit to being the manager there.
"Great club and great people but I'll decide on where I'll play after Christmas."
As reported last week Blake Hicks has been training with Seaford United and there's also doubt about Ben Gamble staying at Rosebud.
In other news A-League outfit Melbourne City announced last week that it would relocate its training and administrative base to Casey Fields.
In what is a major boost for the sport throughout the broad south-east and peninsula regions City along with Dandenong and Casey councils have a Heads of Agreement in place after year-long negotiations.
City will set up the Etihad City Football Academy (CFA) at Casey Fields which will boast an elite training pitch, four full-sized floodlit pitches and a two-story elite performance headquarters building, with space for a 4000-capacity mini-stadium.
It's expected that City's NPL programs will play home games at Casey Fields next year with its senior teams and administration to start relocating from Bundoora in July.
Dandenong council is hopeful that the move will add impetus to its push for a 15,000-seater boutique stadium next to Dandenong train station.
First published in the Mornington News – 22 December 2020