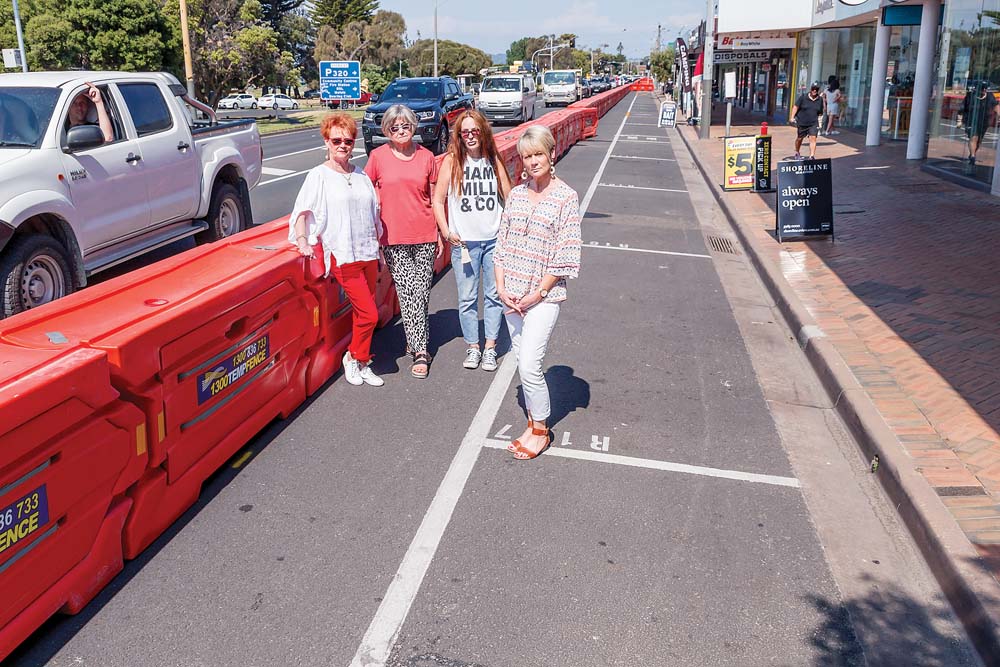 MORNINGTON Peninsula Shire Council has reversed plans to use 50 car parking spaces in the busy Rye shopping strip for outdoor dining.
The plans to "help local businesses bounce back from lockdown" also involved removing one lane on Point Nepean Road between Weir and Dundas streets heading towards Sorrento for a bike lane and reducing the speed limit from 50kph to 40kph.
The proposed moves – slammed by traders – were reversed over the weekend after deputy mayor Cr Sarah Race gauged the views of traders, residents and visitors.
"Yes, all the barriers are coming down today," Cr Race said yesterday (Monday).
"I spent most of last week speaking with traders, residents and visitors, and taking phone calls, [and] it was obvious the [plans] weren't working well in practice.
"Unless you are actually on the street listening to people you don't really know."
Cr Race said the changes were made "with the best intentions".
"The parking spaces were to have been replaced with [50] timed spaces on the foreshore, but [this left] some traders having problems with their deliveries.
"The council now knows what the traders want and it shows how we listen to them."
Despite the shire putting a positive spin on its contentious plans last week, traders were already labelling them a disaster: Jennifer Ellen, of Flock of Seagulls, said: "All the shops rely on parking for their customers and to lose spaces doesn't help.
"In summer we never have enough space, with people like my dad needing to park right outside – not in some space out the back where it's too far to walk."
Ms Ellen said after "trying to stay afloat during winter" her shop was being hit again because "customers can't pull up outside".
Karen Harkin, of Little Shop of Shoes, said the proposed arrangements were a "logistical nightmare" for customers – especially delivery drivers. On Wednesday one was forced to go around the back and carry nine cartons the long way instead of parking in what would have been a loading zone out front.
"He was upset at me," she said.
"They [the council] sold it to us by saying the cafes wanted it, but the cafes needed it months ago … and they were able to open for takeaway whereas I've been closed for four-and-a-half months. Now this.
"I've had no customers today when I would normally have a lot. The traffic's impossible now and we are not even in the busy summer season.
"They've created a situation where it's impossible to do business."
Resident Pam Davis wrote to the shire to warn there was "going to be a serious accident as cars attempt to merge into one lane near Weir Street, towards Sorrento, and cars attempt to turn into Point Nepean Road from Weir Street.
"No one is going to sit at tables bordered by those orange barricades for fear of a multiple car pile-up," she said. "I am told shop owners protested about the erection of barricades, but were not listened to."
Ms Davis said on Wednesday 16 December traffic to Sorrento was banked up from Lyons Street to beyond Hygeia Street. "What it will be like during the holiday season is beyond imagination," she said.
"Streets away from the highway will be more clogged than usual."
Other owners of businesses between Weir Street and Dundas Street wrote to the shire saying the rethink on parking and traffic "makes our town of Rye look like the Monash Freeway construction zone".
"An informal walk through by council officers does not equate to businesses accepting what was happening," the letter said. "No formal plans have been shown to enable us to make a decision … and no starting date was conveyed until a week before it occurred.
"We believe it is of no benefit to our businesses having the parking area in front of our businesses removed. [We] rely on customers being able to park nearby to shop locally and removing 50 parking bays will affect our trade."
It is believed a catalyst to the shire's backflip occurred when a cafe customer suffered a heart attack last week and the ambulance found it difficult to get through to treat him.
So, what began as a "great opportunity to trial and evaluate the longer-term plans to reduce the influence of Point Nepean Road on the atmosphere and environment of Rye" has been scrapped.
Traders will be breathing a sigh of relief now the council is just letting them get on with doing what they do best without further hindrance.
As one said: "Hasn't the year been bad enough already?"
First published in the Southern Peninsula News – 22 December 2020