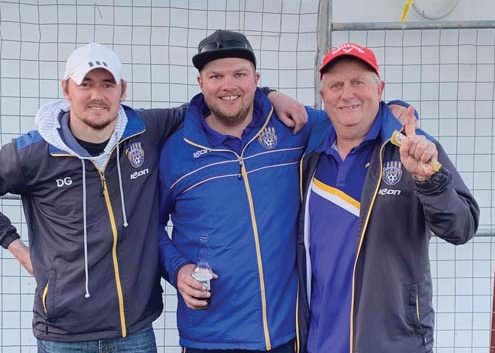 SOCCER
FAMILY reasons have forced Stan Packer to step down as head coach of Somerville Eagles while Rosebud is expected to announce Tommy McShane as its new head coach this week.
Packer will remain with the Eagles as director of coaching and will serve on the committee.
The hunt is now on for his replacement.
"We are interviewing for both the senior men's and senior women's roles and should have an announcement in coming weeks," president Luke Mulder said.
It's believed that discussions have taken place with former coach Scott Morrison and former club leading scorer Mark Pagliarulo now with Rosebud.
Meanwhile new Rosebud president John Grbac has wasted no time in pursuing a replacement for senior coach Pat Sabatino who resigned in December.
He spoke with former Buds player McShane on Saturday and they reached agreement for the 48-year-old to take charge of the senior squad for 2021.
"It's Tommy's first go at senior coaching but he's got a great soccer brain and I think he'll do well," Grbac said.
The club boss has made promotion from State 5 South his main short-term priority.
To that end he is keen to revive the Pagliarulo–Dave Greening striking partnership that served Somerville Eagles so well.
He met with Greening last week but the goalscoring legend remains undecided as to where he'll play this year.
"It was good to meet John and hear his plans moving forward," Greening said.
"I haven't thought much about playing this year and it depends on who they get as coach.
"I'll see what happens and make a decision late February early March as to whether I'll play at all and if so where."
Somerville won the State 5 championship in 2019 and scored 79 goals in the process with the Pagliarulo–Greening combination boasting a combined total of 49 goals.
The rivalry between "Pags" and the "Green Machine" is well known and if harnessed by the new Rosebud coach can be a powerful motivating force.
"I'm more than happy for Greening to come here," Pagliarulo said.
"You can't deny his goalscoring ability and any team would be daft not to get him in.
"I'd love to play with him again and give him a chance to get the Golden Boot back off me after I stole it from him at Somerville."
Like Greening "Pags" was unsure whether or not to commit to playing with Rosebud this year.
Mount Martha senior coach Chris Sanderson had been in touch and at one stage the striker was keen to go there.
"Chris is a nice guy, he's got good plans for the club and I love the fact they have such a young team.
"I think my experience could have helped them but after speaking to the Rosebud treasurer last week I am very interested to go back there now."
In NPL2 news Langwarrin has appointed injured defender Alex van Heerwarden as senior team manager to replace Ritchie May who is travelling interstate.
Van Heerwarden suffered an ACL tear and a meniscus tear late last year while training with former club Peninsula Strikers and is due to undergo surgery on Monday 1 February.
"Coaching has always been something I looked forward to doing when I stopped playing football so being offered the team manager's position and given the opportunity to learn off Scott (Miller) and Jamie (Skelly) was something I jumped at," van Heerwarden said.
"The way the club has progressed over recent years is something that I am really pleased to still be a part of even if it's not in a playing capacity."
Langy has confirmed its friendly against Eastern Lions at Gardiner's Creek Reserve, Saturday 30 January.
The day will feature under-19, under-21 and senior matches with kick-off times still to be announced.
In State 2 news Peninsula Strikers defeated Stars United 3-1 in a friendly on Saturday.
Maintenance work at Centenary Park forced a switch to the back pitch at Monterey Reserve and Strikers' scorers were Danny Brooks, Riley Anderton and Tuach Ter.
Centenary Park is expected to be available for this Saturday's friendly against Billy Armour's Noble Park United.
In State 3 news both work and family commitments have forced Darren Roberts to resign as senior assistant at Frankston Pines.
His son Alex, a former Seaford United, Bentleigh Greens, Skye United and Brandon Park player, has signed with Pines for the 2021 season.
In State 5 news Chelsea reserves coach Chris Porteous has been unable to sign up for 2021 due to work commitments and has stepped down.
His replacement is David Farrell who has been involved in the sport in both Scotland and Norway.
In Scotland Farrell worked with various community clubs and also coached juniors at Livingston and Hearts and in Norway he was involved in weekly coaching camps at Drammen FK.
In other news a landmark announcement was made by Football Australia on New Year's Eve.
FA and the newly formed Australian Professional Leagues (APL) announced that terms had been agreed to 'unbundle' the A-League, Westfield W-League and Y-League from FA.
This unbundling of the professional leagues brings the Australian football structure into line with global best practice by separating FA as the regulatory body from the operation of the professional leagues.
In accordance with the FIFA Statutes, the professional leagues will operate under the FA umbrella and be recognised as the top tier of domestic league football competitions in Australia.
However APL will take over the operational, commercial, and marketing control of the professional leagues and all revenue-generation responsibilities.
FA will retain regulatory functions in respect of the professional leagues, including on- and-off-field disciplinary and integrity matters, the registration of clubs, players and officials, the transfer system, and the domestic match calendar.
The regulatory functions of FA also include a new club licensing framework for the professional leagues and control over access to the professional leagues (whether by expansion, contraction, or promotion/relegation), the AFC Champions' League, FFA Cup and all other domestic and international competitions.
FA will also retain 'good of the Australian game' rights in respect of the professional leagues, which apply to a variety of matters aimed at ensuring the ongoing growth of those leagues.
The new model for the professional leagues will be implemented throughout the course of the A-League 2020/21 and Westfield W-League 2020/21 seasons.
The APL board will comprise five directors from the clubs, three independent directors and one person appointed by FA.
An independent chairperson to be elected by the clubs and ratified by FA will have a casting vote on the APL board.
This weekend's friendlies:
SATURDAY: Peninsula Strikers v Noble Park Utd (Centenary Park 1pm & 3pm), Frankston Pines v Bunyip District (Monterey Reserve 3pm & 5pm).