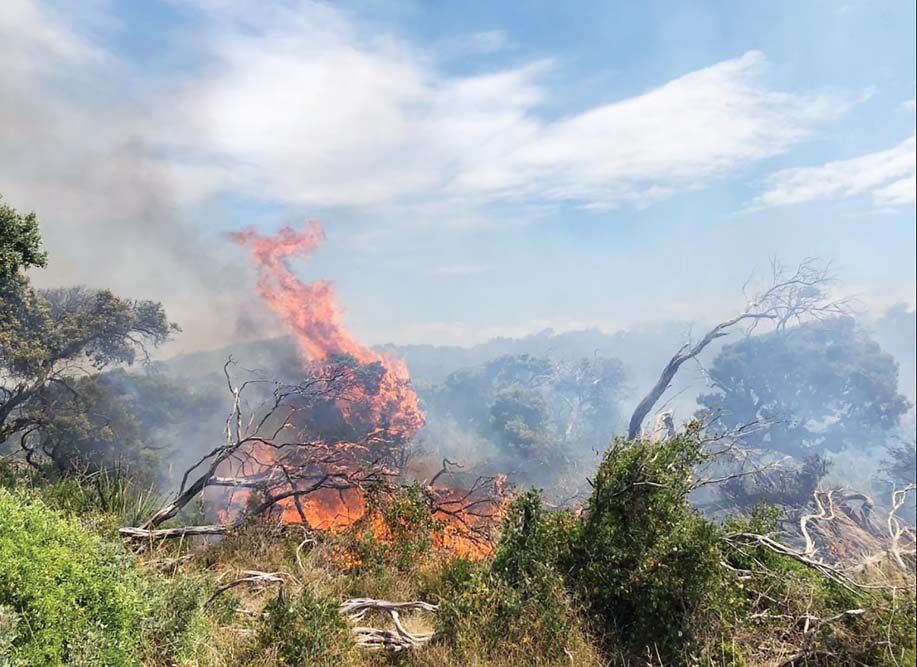 A PARACHUTE flare set off by New Year's Eve revellers is being blamed for a potentially devastating scrub fire in Mornington Peninsula National Park on New Year's Day.
Reports suggest young people had congregated at Dimmicks Bushland reserve, Blairgowrie, in the lead-up to midnight.
Sorrento CFA Captain Mike Versteegan said the flare was launched just before midnight over dense bush off Mungala Crescent.
CFA crews from Sorrento and Rye searched for the smouldering flare in vain – fearful that it would begin a blaze and rage overnight.
"We couldn't find it," Captain Versteegan said.
"Then next day at about 11.30am we got reports that a wind change had brought it to life and we raced back down there."
CFA crews from Sorrento, Rosebud and Rye attended but the size of the blaze, and the difficulty accessing it in two-metre-high scrub, forced them to call in helicopter water bombers. It took 90 minutes to bring the blaze under control.
Parks Victoria staff used a backhoe to clear firebreaks.
"The fire was started by someone irresponsibly setting off a flare which is intended to only be used in distress – and that was not the case at midnight," Captain Versteegan said.
Senior Sergeant Steve Duffee, of Rosebud police, said four police attended the blaze which damaged about one hectare of bushland. He said the cause was "unknown at this stage".
"Fireworks are illegal and should only be used and observed at organised events," he said.
"The cause of this fire is still under investigation but the potential for fireworks to start fires and cause injuries is a real risk. I would urge people to follow the rules and not play with illegal fireworks."
First published in the Southern Peninsula News – 12 January 2021