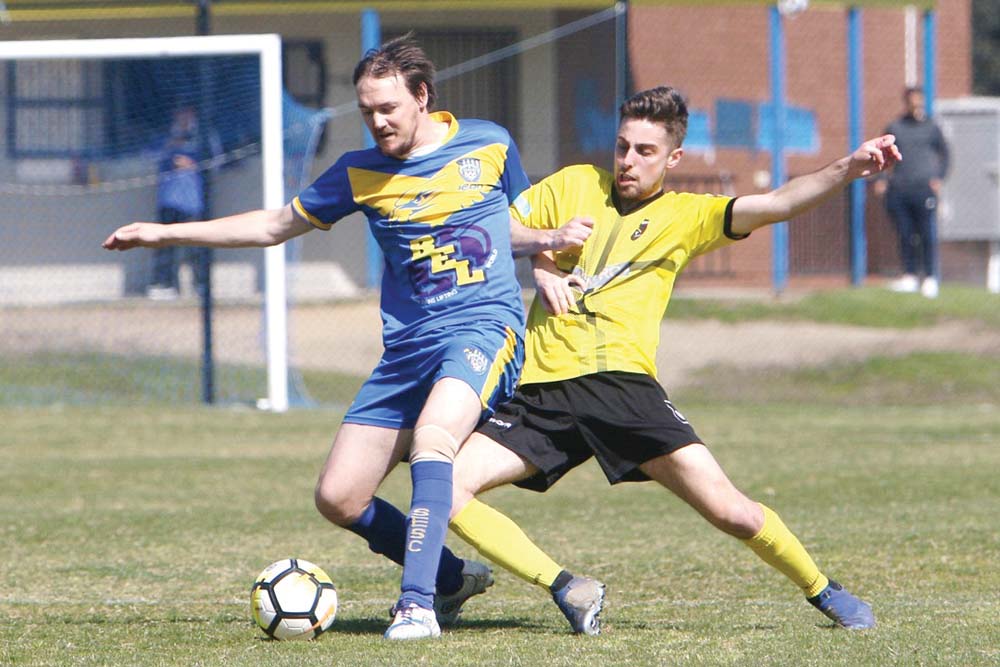 SOCCER
THE topsy-turvy relationship between Dave Greening and Somerville Eagles took another twist last week when the club appointed him senior player-coach for 2021.
The peninsula goals king with nine league Golden Boot awards to his name was re-appointed last week for his third stint as player-coach.
He resigned from the role last June but recent changes at the club played an important role in his return.
Close friend Stan Packer stepped down as senior coach earlier this month and took over as director of coaching and he supported Greening's return as did club president Luke Mulder.
"I'm thankful to Luke and Stan and the rest of the committee for their efforts in getting me back to the club," Greening said.
"After what was a really tough year for me personally in 2020 it feels fantastic to be back as those that know me well know that this this club is very close to my heart.
"I had some interest from other clubs but I didn't have the drive and passion to succeed that I have here.
"This is the sort of family club where I can bring my wife Emma and son Alfie to and it's a place where I can see out my playing days while continuing to learn from a fantastic mentor in Stan whom I have the highest regard for.
"Over the past eight seasons I've also played under and worked alongside successful coaches like Scott Morrison and Kevin Taylor and I've taken a huge amount of positives from them.
"That has served as a good apprenticeship for me.
"This will be our first ever season at this level (State 4) which is super exciting and something to embrace.
"It'll be great to pit our wits against some of the big hitters in this league, many of whom have deep pockets along with the challenge of coming up against some very well-respected coaches."
In State 1 news Mornington coach Adam Jamieson confirmed late last week that the club had re-retained defender Lachlan Hogben for the upcoming season.
Hogben joined Mornington from Eltham Redbacks last year.
Jamieson now oversees a 21-strong senior squad which includes a number of teenagers.
Here is the current squad with the previous club of new signings in brackets:
GOALKEEPERS: Taylor Davidson, Nathan Lynders. DEFENDERS: Joshua Heaton, Steve Elliott, Lachlan Hogben, Andy McIntyre, Andrew Goff, Charlie Gunning. MIDFIELDERS: Craig Smart, Sam Scott, Luke Goulding (Langwarrin), Dejan Radojicic, Kyron Kerr, Ethan Goulding, Thanasi Matziaris (Langwarrin). FORWARDS: Josh Hine, Milos Lujic (Port Melbourne), Wayne Gordon, Matt Harrington, Campbell Steedman (Bulleen), Zach Hutchison.
In State 2 news Peninsula Strikers and Skye United continued their pre-season programs with friendly matches last weekend.
Strikers defeated State 5 outfit Aspendale Stingrays 4-0 at Centenary Park while Skye lost 2-1 to State 3 side South Yarra at Comets Stadium.
Strikers' New Zealand forward Riley Anderton continued to impress with a second-half double after Tom Hawkins had put the home side ahead in the first half when he beat the offside trap on the right and hammered the ball home from close range.
Aspendale's failure to quickly close down Aaran Currie in the second period allowed the Scot to pick his spot from just outside the area and his strike eluded the diving attempt of young Stingrays' keeper Matt Self.
The pick of Anderton's goals was his second, a firmly struck finish from inside the area following a cutback from the right.
Strikers featured newcomers in former Langwarrin and Hampton Park United attacking midfielder Ahmad "Sosa" Suleiman and ex-Langy and Mornington defender Tim Millar.
Former South Australian striker Chris Mara (ex-Northern Demons and Modbury Jets) played wide on the right for Strikers as Jai Power was rested but injury forced Mara to go off in the first half.
Teenage central defender Noah Berends, Self and Kenan Nuhanovic were the visitors' best and coach Lee Barber must have been pleased that his side was able to create chances against a higher-ranked opponent.
Nuhanovic could have levelled from inside the area early in the second half but his shot struck the post.
Last Thursday night Aspendale lost 4-2 to State 4 opponent Noble Park United at the Serbian Sports Centre in Keysborough.
Ben Garside and Matt Bruce scored for Aspendale.
The best for the Stingrays were Sam Timuska Carr, Garside and Bruce.
Meanwhile Skye went into the clash with South Yarra with eight senior squad players unavailable so head coach Phil McGuinness was forced to use some newcomers and some young players to get through three 30-minute periods of play.
The newcomers were right-sided defender/wingback Naveed Ali (from Olimpia FC Warriors, Tasmania), striker Rod Saavedra (Berwick, Churches League), striker Duol Jang (Sandown Lions) and midfielder Denis Mujcinovic (Langwarrin).
A thumping Marcus Collier drive from outside the area late in the first period put Skye 1-0 up but South Yarra took advantage of the many changes McGuinness made for the second stanza and goals from Ronan Kelly and Leo Holmes gave it a 2-1 lead.
McGuinness made further substitutions and changed his side's formation for the final 30-minute period but South Yarra ran out a deserving winner.
"The game was probably better than any training session I could hold and you can't beat match practice and fitness," McGuinness said.
"We have a long way to go to get back to the fitness we are accustomed to but it was our first hit-out and we also got the chance to give the new boys a run.
"Huge thanks to South Yarra for making it a tough one and best of luck to them for the rest of the year."
A feature of the match was the return of Skye striker Travis Ernsdoerfer who had been out of the game for two years due to illness and last season's shutdown.
In other news the inaugural Mount Eliza Soccer Sevens tournament was concluded a fortnight ago.
It involved 432 games played over six weeks with around 700 players and 72 teams from the peninsula and surrounding suburbs.
Age groups from under-7s to under-15s participated in the tournament held at Mount Eliza Secondary College.
Mount Eliza soccer club is embarking on an expansion program which will be boosted shortly with the installation of new lights at Emil Madsen Reserve as the club targets State League membership in 2022.
This week's friendlies:
THURSDAY: Frankston Pines v Peninsula Strikers (Monterey Reserve, 7.30pm, reserves Centenary Park, 6.30pm).
SATURDAY: Peninsula Strikers v Chelsea (Centenary Park, 1pm & 3pm), Frankston Pines v Skye Utd (Monterey Reserve, 5pm & 7pm), Baxter v Mooroolbark (Baxter Park, 3pm), Aspendale Stingrays v Tullamarine (Kingston Heath Soccer Complex, 7.30pm).
SUNDAY: Langwarrin v Eastern Lions (Lawton Park, 2pm, U19s 12 noon, U21s 4pm), Seaford Utd v Hampton Park Utd (North Seaford Reserve, 11am & 1pm), Mount Eliza v Mount Martha (Mount Eliza Secondary College, 12 noon).