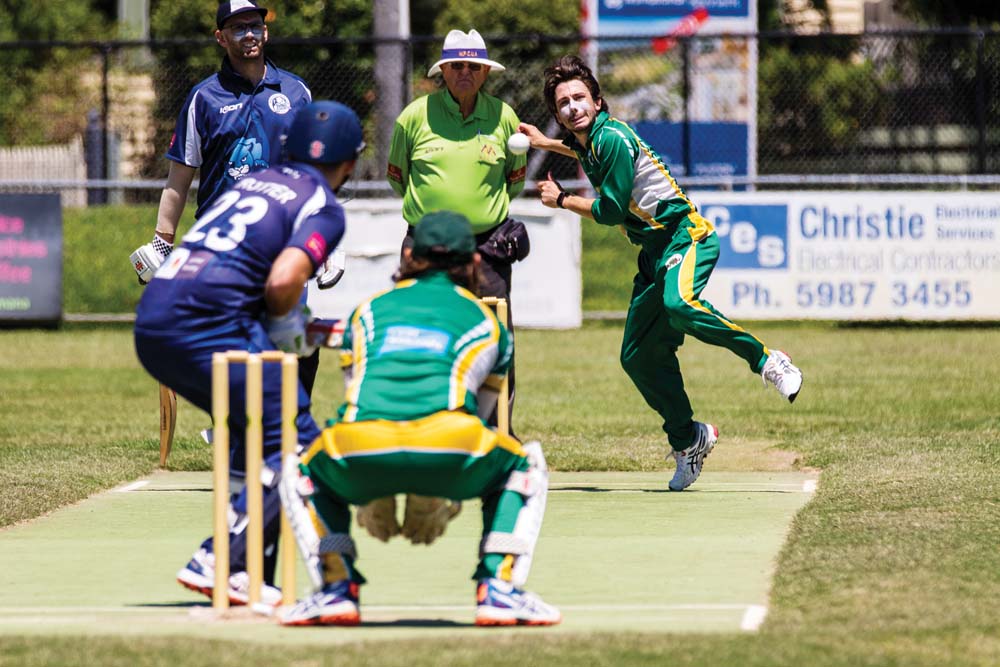 CRICKET
PENINSULA
A GREAT performance by Somerville's batsmen got them a win over Flinders on Saturday.
Somerville looked comfortable out in the middle, and set a huge total. Opener Brenton Alp and number four Bradley McDonald top scored with scores of 83 and 85 not out respectively.
Flinders worked hard to get within reach of a target of 282, but fell short. A middle order collapse proved costly, and they ended up all out for 229.
Flinders opener Kane Hawkins can hold his head high after scoring a half century.
Long Island's bowlers were in fine form on Saturday, helping their side defend a total of 172 against Seaford Tigers.
The Tigers stumbled out of the gates, and at 9/49 were no chance to win. Their tail end batsmen were gutsy, and dug their heels in to help get their side to 125 before being bowled out. The Tigers were defeated by 47 runs.
Daniel Kelly was the pick of the bowler, taking four wickets.
At Ditterich Reserve, Heatherhill notched up a win over Main Ridge.
Main Ridge set a target of 148, which proved to be too small. Heatherhill hit the winning runs with four wickets and four overs to spare.
Pines had little trouble dealing with Moorooduc. They won by seven wickets on their home deck.
DISTRICT
A HALF-CENTURY from opener Dewayne Bowden set Dromana up for a victory on Saturday.
Pearcedale hit the road to take on Dromana. The travelling outfit chose to bat first and put 174 runs on the scoreboard before being bowled out.
Dromana's run chase started well, and at 1/96 they were in pole position for the win. Despite losing a few late wickets, Dromana were eventually able to claim the points. They hit the winning runs with three wickets left.
First drop batsman Matthew Whelan's knock of 79 was the highlight of the day as his Delacombe Park side took on Carrum.
Delacombe Park set 157 runs for Carrum to chase down. Carrum struggled badly, and their run chase came to an end when they were bowled out for 96.
Whelan also starred with the ball, posting figures of 3/5 off eight overs.
Hastings bowled impressively to defend a total of 156 against Frankston YCW. The Stonecats were toothless, and were bowled out just 88.
SUB DISTRICT
SEAFORD let a good chance at victory go to waste on Saturday. They failed in their run chase against Mt Martha.
On their home deck at Ferrero Reserve, Mt Martha struggled with the bat. They got off to a rough start when they lost their first three wickets for just 11 runs.
When Mt Martha's innings came to a close they were at 9/111.
Seaford's run chase was shaky. At 5/43, a win was far from assured.
They got things back on track and were in the driver's seat at 7/100, but then disaster struck for Seaford. The side lost their last three wickets for nine runs and ended up all out for 109.
Mt Martha emerged victorious by just two runs.
Balnarring claimed a win over Rye in another low scoring clash on Saturday.
Rye chose to bat first but did no damage on the scoreboard. They were bowled out for 78, with just two batsmen making double-digit scores.
Balnarring were hardly convincing, but managed to get the job done. They won by just two wickets.
Tootgarook defended a total of 202 against Skye. Travis French top scored for the winning side with a knock of 87.
Skye opener Ishtiaq Ahmed scored 80 runs to give his side a chance, but they still lost by 42 runs.
Around the grounds Tyabb defeated Ballam Park by 90 runs at Bunguyan Reserve, and Carrum Downs defeated Boneo by 25 runs at Boneo Rec Reserve.
PROVINCIAL
SORRENTO scored the narrowest of victories over Baxter on Saturday.
Thanks to a half-century from Joseph Rule, Baxter set their opponents 146 to chase down.
Sorrento set themselves up well during their run chase. First drop batsman Robert Wilson scored 50 runs to put his side in a good position.
At 7/143, Sorrento were moments away from claiming the win. They lost two quick wickets in a late scare, but eventually scored the winning runs with one wicket in hand.
Mt Eliza fell just short in their run chase against Peninsula OB.
The Old Boys took to the crease to bat first, and put 138 runs on the scoreboard.
Mt Eliza took the game down to the final over, but couldn't drag themselves over the line. Stumps was called with Mt Eliza four runs short of a result.
Langwarrin bowled out Mornington for 114 to claim a 66 run win at Lloyd Park. Baden Powell also secured a comfortable win last weekend, defeating Red Hill by 94 runs.