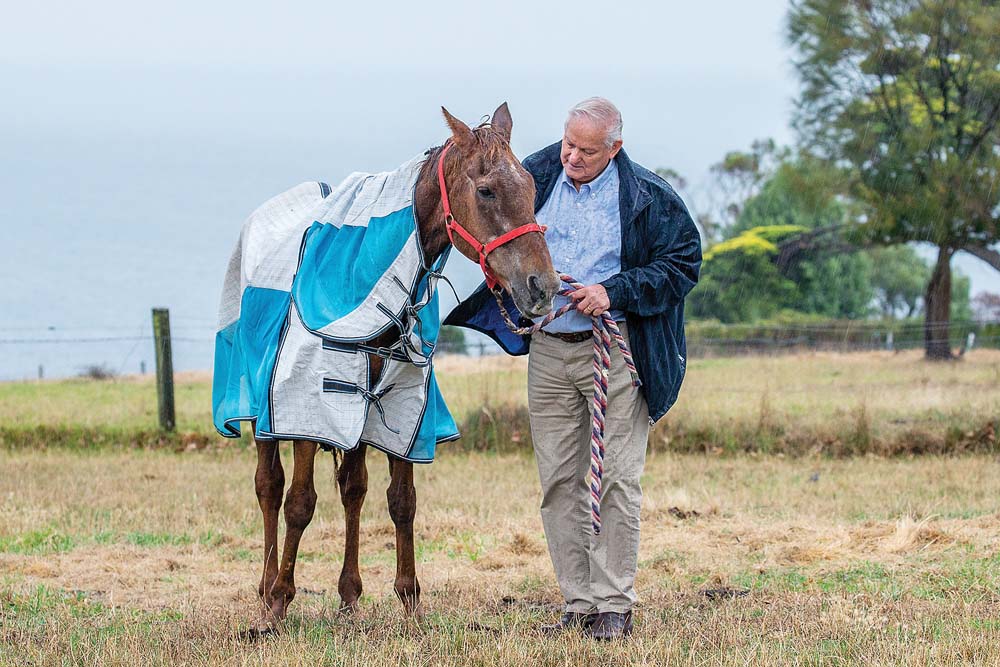 A FORMER racehorse living out his final years at a large Mount Eliza property is starting to feel his age.
That's understandable because at 32 – or possibly 100-plus years in human terms – Silver is entitled to take life easy after a stellar racing career.
Owner Hugh McLean has thanked well-wishers for their kind words after many saw the horse losing weight and possibly thought he was in need of loving care.
Mr McLean has agisted the former group 2 winner at a property owned by aged care provider Chas Jacobsen in Kunyung Road since 2000.
"I just want to say thank you for the kind thoughts about my horse, Silver, who is living out his retirement in a wonderful place after a very good racing career.
"He has been there since 2000 after Mr Jacobson graciously allowed him to stay on when he bought the property, which is very much appreciated.
"His real name is Silver Neon, and his dad was Silver Bounty who won the Caulfield Cup and was owned by Alan Richards who had the Bounty Shop in Frankston," Mr McLean said.
A former instructor at Mornington Peninsula Pony Club, Mr McLean says many children have learned to ride on Silver, but his favourite is Lily Williams "who absolutely adores him and wrote a little book about him for school".
"Unfortunately Silver, who was foaled in 1988, is starting to show his age and I have noted in the last weeks that he is losing weight, even though he is fed daily with chaff and supplements.
"Rest assured that Silver is a very much loved member of our family and we will do everything possible to make his remaining life happy."
A vet on Wednesday said Silver "seems OK with only a small heart murmur".
"The main thing is the loss of weight which is expected with an old horse," Mr McLean said. "He is still bright in himself and is now being fed twice a day with an extra supplement recommended by the vet and mentioned by [resident] Anne Serato [on a Mount Eliza social media page]."
Mr McLean said a new cotton summer rug would help "help keep [Sliver's] body heat in".
"We now just have to wait and see how he goes and whether he puts any weight on."
Neighbour Richard Ward said: "My wife goes across the road to feed Silver whenever she can. It's a privilege looking at your beautiful animal and what you've done in its retirement."
Mr McLean said Silver's "old mate" Hero died about eight years ago. "They were both loved by the local kids and when Hero died they put flowers on the fence in his memory."
Resident Pamela Robinson said she saw Silver every day. "He brings so much joy to many," she said. "I recall when Hero died how Silver stood under the gum tree for many hours just looking where he had been buried."