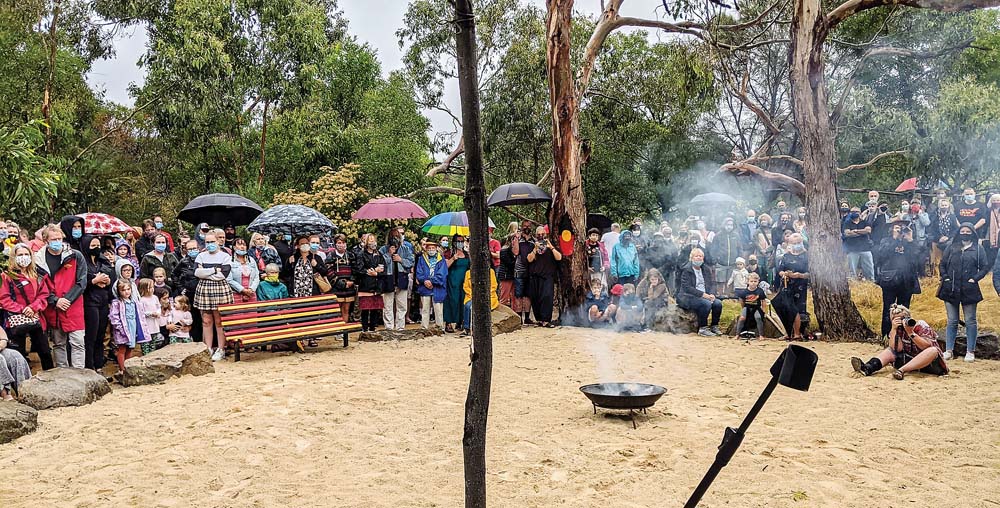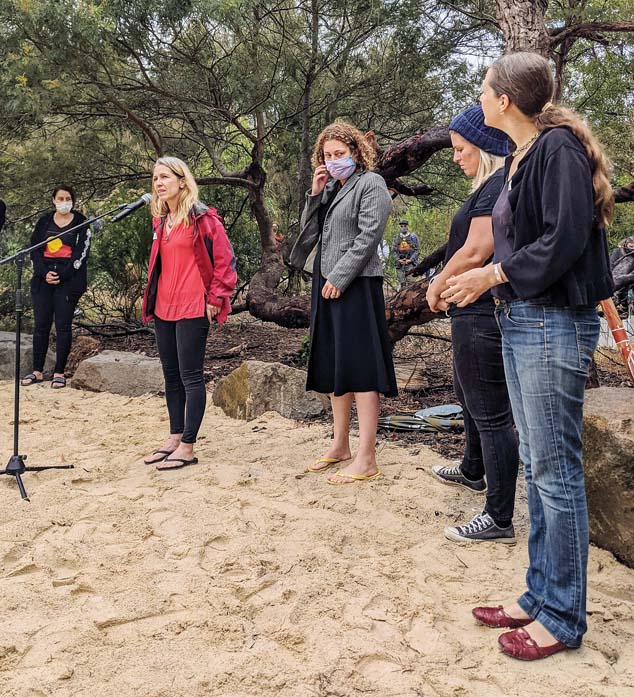 ORGANISERS were pleased to see a large crowd of supporters at the Changing the Date Yarning Circle event at Willum Warrain Aboriginal Association on Australia Day, 26 January.
"Many of our mob are feeling that, at last, our voices are being heard regarding the date," executive officer Peter Aldenhoven said.
"We thank all our non-Indigenous allies and supporters for attending in such large numbers."
Mr Aldenhoven said from the gathering place in Pound Road, Hastings: "It is always a sombre day for our local mob when we least feel part of Team Australia."
He said the group was "especially heartened by the strong commitments made by Mornington Peninsula Shire mayor Cr Despi O'Connor, deputy mayor Cr Sarah Race, Cr Kerri McCafferty and Frankston Council's Cr Claire Harvey to listen to First Nations' peoples and advocate for change".
He thanked the Southern Women's Action Network, Mornington Peninsula church communities, and "everyone who contributed to this powerful gathering".
"We really appreciate your support, interest and advocacy because this date is not a date for celebrations."
Speaking off-the-cuff, Cr O'Connor said she gained inspiration for her talk by standing on the beach at dawn and reflecting on her role and position in life. "When I was invited to speak I felt it was my duty to stand up and listen and show support. It was like a call to action."
She said being a person of "white privilege" meant it was often hard to understand what First People had been through.
"We need to listen more and seek to understand," she said.
"I'm committed to that. It's part of our education and truth telling. If we don't listen, we won't be educated."
Cr O'Connor said the passing of oral histories through Aboriginal generations was often undervalued by white society. "They told stories as their way of handing down knowledge and understanding and we should listen to them and not just dismiss them."
She said just sitting and talking over issues, as is done in the Yarning Circle at Willum Warrain, was an effective way of coming together and learning to understand another's point of view.
Later, Cr O'Connor said the Nationality and Citizenship Act 1948, which came into effect on Australia Day 26 January 1949, did not offer any special benefits to Aboriginals who could not vote in federal elections until 1962. Similarly, the First Peoples who fought for this country in the world wars didn't get government assistance afterwards, such as cheap loans or land, they "just went back to their missions".
"Those attitudes account for much of the trauma."
Cr O'Connor said she had learned much in the past decade about Aboriginal history and culture. "The history I was taught didn't include their voices as it does now [so] it's up to us to share what we are learning. If we stay silent, we will not get anywhere."
Cr O'Connor said any shortcomings in the treatment of Aboriginals were "not anyone's fault". "That's the legacy we have been left and it is up to us now to listen," she said.
"I believe we are at a tipping point for the first time in our history. The time is right for conversation."
The Changing the Date gathering came after a prayer service the evening before called Change the Heart supported by the Village Uniting Church, Mount Eliza, and led by Aboriginal Christian leaders.
"[The service] seeks to explore deeper relations between First Australians and non-Indigenous Australians as we all reflect on Australia Day and the need for a more inclusive, less distressing, date," Mr Aldenhoven said.
"Another date would be less problematic."
Mr Aldenhoven said the origin of the current NAIDOC Week was a Day of Mourning commemoration held in 1938.
First published in the Southern Peninsula News – 2 February 2021