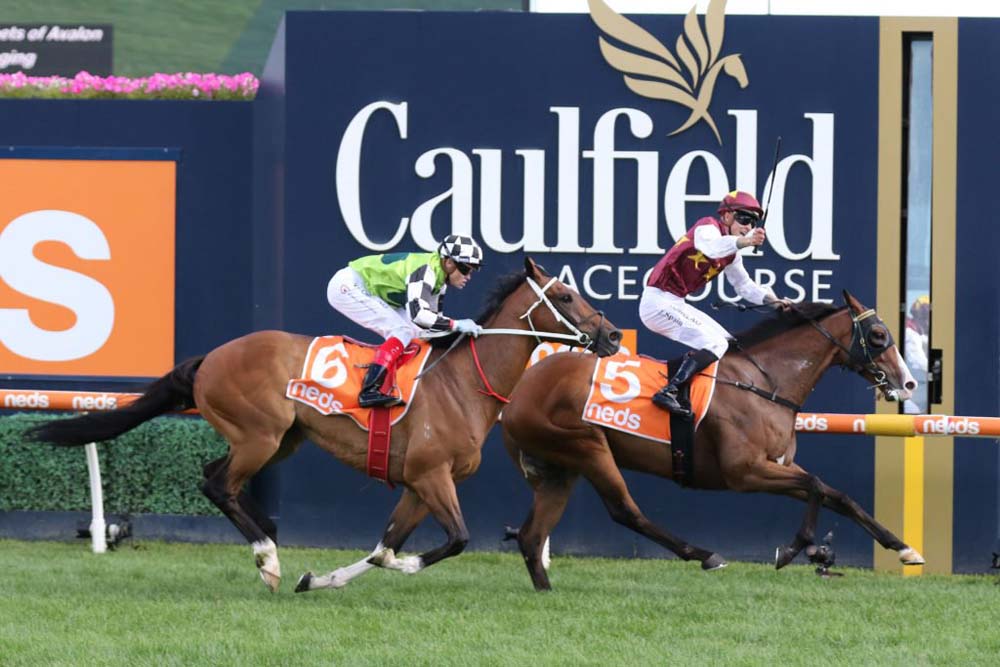 HORSE RACING
SHANE Nichols' gutsy galloper Streets of Avalon has dug deep to bring up his second Group One victory in Saturday's C.F. Orr Stakes (1400m) at Caulfield.
Having claimed the Group One Futurity Stakes over the same track and trip a year ago, Streets of Avalon once again fought hard to fend off the challenges and land a half-length victory over the Chris Waller-trained Imaging in Saturday's feature race.
There was a roar on course as jockey Zac Spain saluted aboard the gelding to ride his first Group One winner and bring up Mornington-based trainer Shane Nichols' third Group One success.
Nichols, who last year overcame a heart attack to return to the training ranks, was ecstatic to see his tough gelding continue on his unbeaten preparation having won first-up in the Group Two Australia Stakes in January.
"The heart was racing. It was given a test out and it came through in flying colours," Shane Nichols said post-race. "I don't know if mine (heart) quite works as good as [Streets of Avalon's] but when Imaging came to him I thought we're in a bit of strife here but he just came again. He found and was holding the other horse on the line. It was a remarkable performance by a tough horse."
"For a horse that has had as many runs as he has and to still be fronting up and winning Group Ones is a remarkable performance not only from the team at home but also the track and the staff at Mornington."
Nichols said it was days like Saturday that every trainer lives for.
"I was pretty emotional after the Australia Stakes but now I'm just pumped. It was a tough time but the get well wishes made it all seem a little bit easier and then days like today – that and family is what you live for," he said.
Jockey Zac Spain was absolutely thrilled to land the milestone victory aboard the six-year-old gelding.
"I celebrated a bit after the line and was calling out a fair bit but he's just been such a super horse for me and career changing really. He was my first Listed (winner), Group Two and now Group One (win) so I can't thank Shane and Phil Warren and the whole ownership group enough. They've stuck strong with me throughout and to repay them with a Group One win is just fantastic," Spain said post-race.
"He's just tough as nails and rock hard fit and it just shows how good of a trainer Shane is to have him spot on for today."
Streets of Avalon's win on Saturday brought up the gelding's tenth career victory from 54 starts. He has earnt just over $1.7million in prize money.