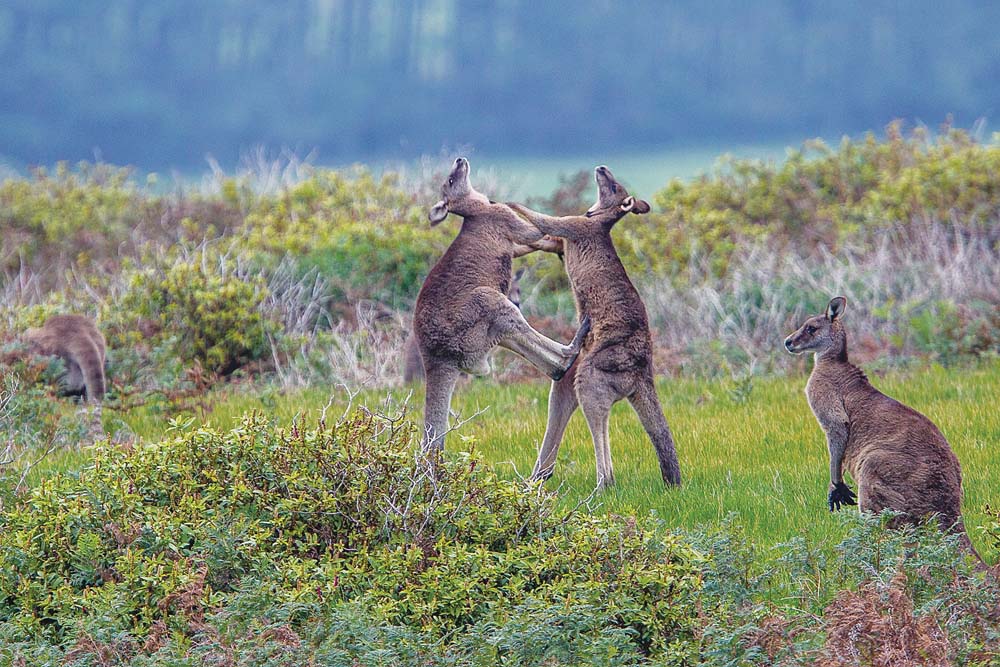 ENVIRONMENTALISTS, animal protection groups and landowners are concerned that kangaroos may become extinct on the Mornington Peninsula.
There are no reliable statistics of kangaroo numbers on the peninsula, but estimates range from 1500 to 3500.
Fears for their survival have  grown since the state government announced it would lift the number of kangaroos that can be killed each year, along with allowing them to be "harvested" and sold for human consumption.
Mornington Peninsula Shire councillors were this week asked to seek a ban on killing kangaroos on the peninsula "until scientific research is undertaken justifying the need for this practice and determining the long-term ramifications on our kangaroo population".
The Department of Environment, Land, Water and Planning (DELWP) says surveys in October 2020 showed that at a "conservative estimate" there are about 1.9 million kangaroos in Victoria, "up almost 40 per cent compared to 2018".
However, the department will only release the number of kangaroos allowed to be killed on the peninsula – included in the Gippsland "harvest" zone – through a FOI request.
Cr David Gill said most of the information about kangaroos "is misleading and based on further developing the human consumption industry".
"Our kangaroos are no more pests than koalas; kangaroos eat different grasses to sheep and cattle and do little damage to farm land"
"Governments and some large property owners believe that shooting kangaroos is OK. However, many are wounded and joeys are often left to die of starvation".
Australia has a dubious distinction of being one of 29 countries of the 195 recognised by the United Nations that eats animals from their national emblem.
They are used to lure tourists, brand industries, products and football teams.
Most of the peninsula's kangaroos live on public and private land around Greens Bush (near Boneo), Cape Schanck, Devilbend, Merricks, Dromana and Arthurs Seat.
The state government has been accused of using inflated and "deliberately falsified" numbers to justify lifting the number of kangaroos that can be killed and used for per food or human consumption.
The DELWP provides farm managers with details of how to get their kangaroos "harvested" for free.
Chris McEvoy, whose family runs wedding receptions and grows grapevines on more than 40 hectares at Merricks North, says many Australians mistakenly believe kangaroos "are in plague proportions" and are pests.
"This couldn't be further from the truth; their habitat is rapidly shrinking and so are their numbers," Mr McEvoy said.
"In Africa, it is a natural wonder when one million wildebeest migrate through the Serengeti and tourists come from the around the world to see. Australians see 100 kangaroos in their natural habitat it is considered a plague and these magnificent animals are identified as vermin that need to be culled."
Mr McEvoy said scientific studies had shown kangaroos did not compete with livestock for grass, or eat crops, or destroy fences "and they only  get caught in poorly maintain fences without access points or when terrorised by shooters or dogs".
"Studies have shown a cow eats seven times more grass than a kangaroo and generally they are eating different grasses."
He said it was in the best interests of the kangaroo meat and skin industry to "keep the myth going that kangaroos are vermin and in plague proportions".
"For a healthy Kangaroo population to prosper it needs wooded shelter next to large open grasslands that can easily be accessed without lots of fencing. They also like to be away from urbanisation and activity, so the more private the area and the more they feel safe and welcome the better," Mr McEvoy said.
"We should be embracing these remnant natural populations of kangaroos. It's amazing that with all the development that has gone on in our area we still have any.
"The designated green wedge zones have probably saved them.
"These are an iconic native animal that currently is a  great tourist drawcard and could be promoted even more."
Mr McEvoy said most peninsula residents would be unaware that the "barbaric practice" of culling kangaroos was occurring on the peninsula.
"Kangaroos play an extremely important role in the peninsula's biological diversity and help restore the natural environment and keep it in balance.
"If we lose the kangaroo, we may end up with only introduced wild cats and foxes, which harm our natural environment.
"We are not mad loony animal activist, but sensible people who have looked into this and started to ask questions.
"We are lucky enough to have an amazing property which is in a kangaroo hot spot. We are taking down fences and making  access points.
"In the meantime, there are property owners around us still applying for, and obtaining, licences each year for culling. This has to stop."