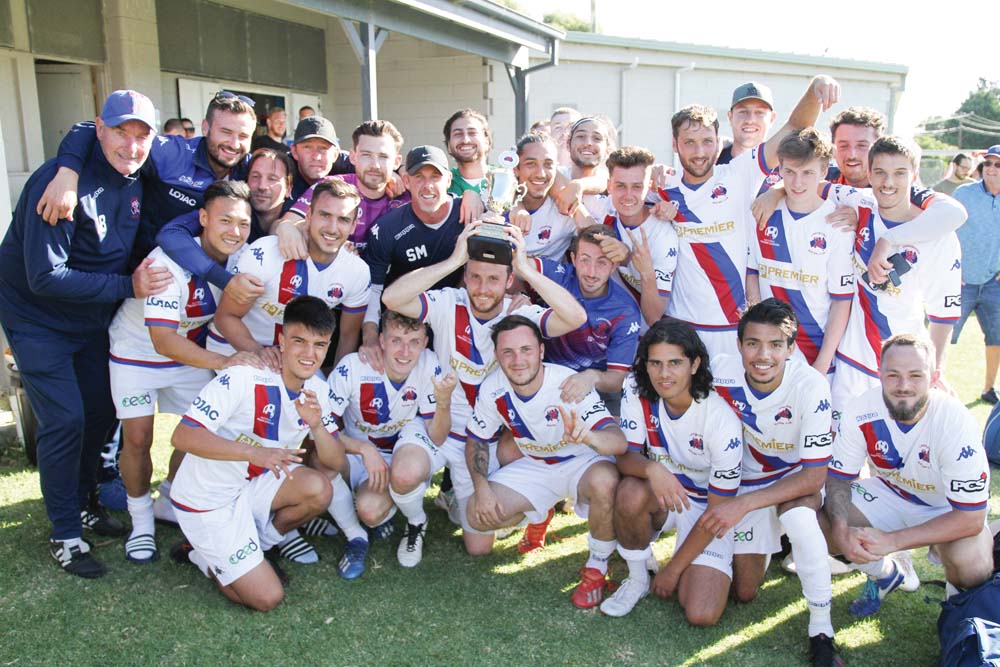 SOCCER
LANGWARRIN's pre-season preparations went according to plan last Saturday at Monterey Reserve when it won back-to-back Wallace Cups.
As fate would have it Langy's 1-0 win over Mornington in the final came thanks to Sammy Orritt who was brought here by the Dallas Brooks boys back in 2017.
He'd scored a belter earlier in the tournament, a fiercely-struck volley that rocketed into the net and the decider in the final was a deftly curled shot into the far corner from the left of the box.
Mornington took a young squad to the annual tournament with most of its high-profile players either injured or rested and the slick interpassing on show bodes well for the future.
Langwarrin was without Wayne Wallace, Tom Youngs, John Maclean and Marcus Holmes and one of its standout performers was recent signing Alex Kubenko whose pace, movement and disposal were highlights.
Kubenko has just turned 18 and was signed from Springvale White Eagles.
"We put an importance on winning the tournament while also looking after the players' welfare and we are pleased with the outcome," Langy assistant coach Jamie Skelly said.
This was the ninth staging of the Wallace Cup and the first hosted by Frankston Pines.
A large crowd, a fine day and some spirited performances were features.
And there were surprises too.
The sudden appearance of Colin McCormack in goal for Rosebud was one of them albeit that his was a cameo performance.
The former Langy, Peninsula Strikers and Knox City custodian had been retired for two years and plans to return to the demands of parenthood and work.
A notable absentee from Rosebud's Wallace Cup squad was striker Mark Pagliarulo.
The big Scot is undecided about where he'll play this year but apart from discussing his situation with Rosebud the usual suspects are also in the frame – Somerville Eagles, White Star Dandenong and Baxter.
In the Wallace Cup first semi-final Langy prevailed with a 1-0 win over Skye United.
Seventeen-year-old Seb Fernandes scored the decisive goal after Daniel Walsh gave the ball away but former Langy player Mitch Blake blew a gilt-edged chance to level when he failed to hit the target from close range.
In the second semi Mornington came from behind to beat Pines 2-1.
Sava Baledrokadroka gave Pines a half-time lead after Tito Vodawaqa put him through but a Kameel Khan own goal in the second half levelled the scores and Tom Wood nabbed the winner.
In practice match news Skye United lost 4-1 last Wednesday to State 1 side Beaumaris.
Skye's goal came from Marcus Anastasiou who finished off a near post cross with a first-time finish.
"It was a good hit-out against a very good Beaumaris side and a great learning curve for my players," Skye coach Phil McGuinness said.
On the same night Seaford United cantered to a 9-0 win over Mount Eliza with goals from Dylan Waugh (3), Blake Hicks (3), Mitch Lander, Adam Daniel and Tom Simmons.
Seaford seem set to sign striker Hicks from Rosebud and his brother Hayden, a goalkeeper, also looks like joining.
Senior coach Peter Schwellinger coached the Hicks brothers at Old Carey a few years ago.
"They feel very comfortable playing in this side and they enjoy playing with my sons (Matthias and Jeremy) again after they were all together at Old Carey.
"The friendly against Mount Eliza was a great little training run to work on shape.
"I want to implement a different formation so it's early days and I'm really not concerned about scores until we play in the FFA Cup in a few weeks."
Last Saturday Aspendale Stingrays defeated Dandenong South 2-0 at George Andrews Reserve with goals from Kenan Nuhanovic and new signing Ugar Erdem.
Former Berwick City and Heatherton United player Hayden Nuhanovic made his first appearance for the Stingrays whose best were Kenan Nuhanovic, Noah Berends and Matt Self.
Fellow State 5 outfit Mount Martha lost 6-4 to Endeavour Sporting Club on Saturday.
Mount Martha's scorers were Alex Giordano (2), Jett Higgins and Ethan Sanderson (penalty).
"It was a cracker of a game with a lot of end-to-end stuff," Mount Martha coach Chris Sanderson said.
"We bossed the first half and only let the game get away towards the end but there were loads of positives, especially the performance of 17-year-old Jack Poole in goal."
In other news the draw for the qualifying round of the 2021 FFA Cup took place last week.
This year's tournament involves 210 Victorian clubs.
On the weekend of 20/21 February three local State 5 South clubs will participate: Aspendale Stingrays v Bundoora (from State 5 North), Mount Martha v East Kew (State 5 East) and Rosebud v Lara United (State 5 West).
State 4 South clubs Baxter, Seaford United, Chelsea and Somerville Eagles enter the draw for the first main round.
This draw will be held on Monday 22 February at noon and will be live-streamed on FV's facebook page.
This week's friendlies:
TUESDAY: Casey Comets v Peninsula Strikers (Comets Stadium, 7pm; reserves v Somerville, Centenary Park, 6.30pm).
WEDNESDAY: Mornington v Bentleigh Greens (Dallas Brooks Park, 7.15pm).
THURSDAY: Endeavour Utd v Skye Utd (Reema Reserve, 7.15pm).
SATURDAY: Peninsula Strikers v Dandenong South (Centenary Park, 1pm & 3pm), Frankston Pines v Beaumaris (Monterey Reserve, 5pm & 7pm), Craigieburn v Seaford Utd (Aston Fields, 1pm & 3pm), Hampton Park Utd v Baxter (KM Reedy Reserve, 1pm & 3pm), Chelsea v Macedon Blues (Edithvale Recreation Reserve, 2pm & 4pm), Somerville Eagles v Albert Park (Somerville Secondary College, 1pm & 3pm).