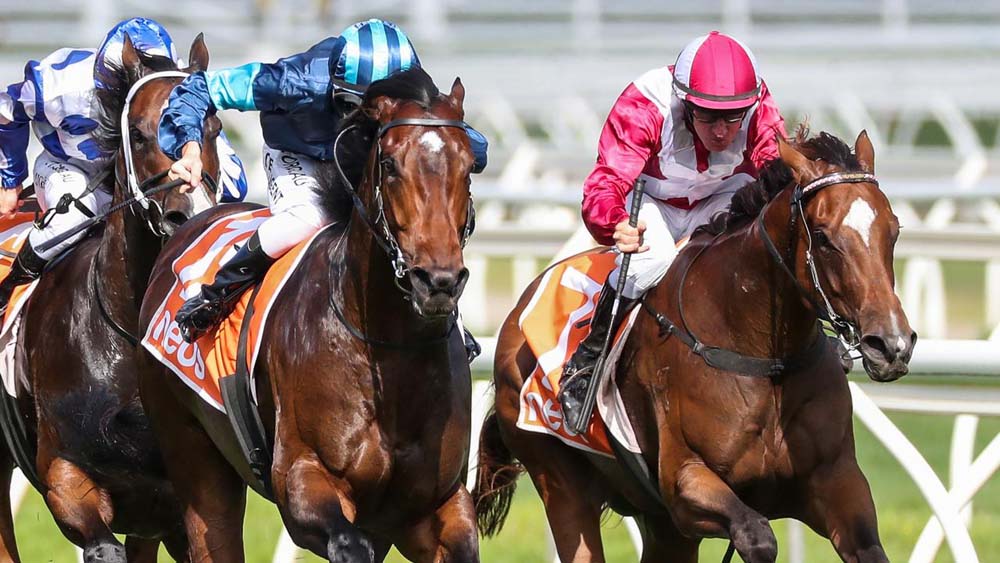 HORSE RACING
IT was a day to remember for Mornington-based trainer Matt Laurie and the Pinecliff, Mt Eliza-based partnership of Anthony and Sam Freedman as they rose to the fore in two of the three Group One features at Caulfield on Saturday 20 February.
Bypassing a winnable Group Three Zeditave Stakes (1200m) on the same day, Matt Laurie masterfully pulled the right string by running his up-and-coming three-year-old colt Portland Sky in the Group One Oakleigh Plate (1100m).
Utilising his natural speed and his allocated light-weight of 50kg, apprentice jockey Teodore Nugent shot clear aboard Portland Sky half way down the straight before a late surge from the Grant and Alana Williams-trained Celebrity Queen called for the judge's photo finish.
After a five-minute wait, it was declared a dead-heat as the two speedsters were unable to be split on the line. Sharing top honours, the success provided Nugent with his first Group One winning ride and Laurie's second success at the top level.
"In the end we thought if [Portland Sky] doesn't perform, we won't have lost too much, it just wouldn't be his time, but if it comes off, there's a lot of reward. I'm glad we took the punt today," Laurie said post-race.
Nugent was thrilled to hold on and share the honours in the time-honoured handicap sprint.
"It was a long way to the post about 50 metres out with 'The Wizard' (William Pike) blowing down my neck," Nugent said. "My horse took me a long way into it. Full credit to Matt Laurie and the team today. We'll share a dead-heat but it's a first Group One (for me) and a big thank you to the team."
Claiming the day's feature juvenile sprint, Anthony Freedman and his son Sam combined to win the Group One Blue Diamond Stakes with their precocious two-year-old colt Artorius. The victory provided Sam Freedman with his first Group One victory as a trainer and the fifth Blue Diamond Stakes winner to be trained by the Freedman family. Anthony has been involved in all five feats having trained Lyre to win in 2019 as well as being instrumental in the success of his brother Lee's three Blue Diamond wins with Alinghi (2004), Danelagh (1998) and Knowledge (1997).
Settling in the back half of the field, Artorius showed a fine turn of foot to reel in the leaders in the straight and win the $1.5 million feature by a three-quarter-of-a-length margin over the Godolphin colt Ingratiating.
"It's a big thrill," Sam Freedman said following his first Group One training success.
"There's a big team behind us both and you can't do it without all of the staff. This horse has spent a lot of time at both Pinecliff and Flemington. It's just a huge thrill.
"It's (winning a Group One) a great feeling but there's so many people behind this horse. Rebecca Smith at Pinecliff, Steve Adams, Brad Taylor, Leanne Fielding, all of our riders at Flemington."
The victory was just as sweet for jockey Luke Currie who had to give up his ride on Freedman's second-placed Hanseatic in last year's Blue Diamond Stakes after suffering a fall at The Valley the night before.
"It's been a much better week and weekend than this time last year," Currie said. "It makes it all worthwhile.
"I knew he was getting a good run through, but I thought he might struggle late, just because he hadn't really had a chance to travel down and quicken, but he just kept coming. It was an amazing feeling the last bit."